DAY 248
Continued from Day 247: Last Year, This Month
Wednesday morning, the news blared on Mr. T's ancient radio alarm clock warning me that it was time to get up. It only took one step.
My back pain had returned. I took small, tight steps to the bathroom. A shower, two Ibuprofin and one 25-minute commute later, I was in my desk chair trying to adjust my body in a way that would make sitting less painful.
I made the mistake of not bringing my gym bag on Wedneday and, therefore, sat at my desk at lunch, writing. It was sunny and warm outside – I felt it through the window. I resolved to run after work, even if it meant pushing T Junior in the BOB.
By the end of the work day, my back (or more like my left butt cheek) still hurt. From past experience, I knew running wouldn't make the pain any worse, so I was still set on going for my 3-miler (a day earlier, actually, because Thursday's forecast was dreary and I wanted to enjoy the sunshine).
I'm never as fast at getting ready to run as I am in my mind. I thought I would just go home, throw on my running gear and head out the door. But really, it's not that simple. The first problem was getting T Junior to go in the house so I could, in fact, change my clothes.
On the 60-second drive from day care to our house, I told him we were going to get some exercise and go running. I parked the minivan in the driveway and removed him from his seat, setting him down on the concrete to let him walk inside on his own.
"Exercise," he whined and stopped walking.
I was already halfway into the garage, my arms full with my luggage-size purse, his lunch box, my lunch bag, coffee mug, water bottle, the mail. "T Junior, come on. Mommy has to change her clothes first."
"Owssiii-iide. Ex-er-ciii-iise." More whining.
We battled for a minute. I don't remember what I said that got him to come inside. Probably something about toys.
Once in the house, there was the whole routine and then finally I changed into my running clothes, although I had to run up and down the stairs three times to assemble a complete ensemble: pink plaid running skirt and white short-sleeved Champion shirt. Finding two socks was the real problem.
Earlier in the day, I fantasized about running with T Junior and the dogs. The weather was so beautiful, I wanted our boxers to enjoy it, too.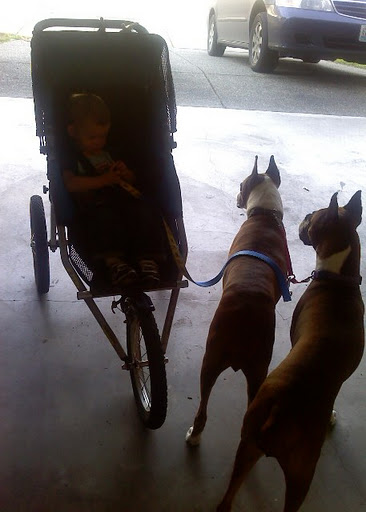 After I got T Junior all set up in the jogging stroller, I found the split lead, and hooked Lucy and Annie together. This was difficult as they were bouncing up and down and punching each other in their upturned noses. I hooked up the leash and we went out the door to join T Junior. I was excited to take all three of them out for a run. This is gonna be great. I decided we would walk to the trail and then start our run on a nice, easy straightaway.
Then we left the garage.
Crossing the street, Annie was her usual self trying to pull me, Lucy and the stroller in the opposite direction of where I wanted to go. Lucy didn't know whose lead to follow so she was being yanked left and right and forward and back, but was mostly trying to stay away from the wheel of the BOB. And it was windy. My skirt was going all Marilyn Monroe on me.
A woman with two older kids eating snacks in a double jogger got to the corner just before the entry to the trail at the same time as we did. She had on black capri sweats and a track jacket. I smiled and told her to go in front of my crazy crew. "I don't know why I thought this was a good idea."
I waited for her to disappear down the hill to the trail, then hit start on my watch. Anyone want to guess how much time passed before I took the dogs home? Anyone?
Ten seconds.
We didn't even make it onto the trail.
But it was a good thing I took them home. I had a tough run. My back was stiff, my legs were sore and the gusts were strong. Running with the BOB was like pushing a sailboat head-on into the wind.
I made one loop on the smooth sidewalks through the center of town, but unfortunately I was fighting the breeze, my skirt filling with air and lifting up. Lovely. I was glad I had the stroller in front of me for that reason alone.
I finished up the 3-miler on the trail, passing the woman with the double jogger on my way out. She grinned and I yelled, "Yeah, that only lasted 10 seconds!"
The run was hard, but as always, I was glad that I got out there and did it. And my back didn't feel worse, as I suspected.
I let T Junior run the rest of the way home.
DAY 249
Thursday morning, I woke up with no back pain! I felt tiny twinges throughout the day, but that was it.
I should've worn my Garmin at work Thursday because I was working on a project that had me running from my office to the Mac in the art department to the printer on the other side of the floor all day. It was nice to be up and out of my chair, walking around!
Since I switched Wednesday's workout for Thursday's, I had to do cross training after work. It was dumping rain outside, so walking with T Junior in the BOB was out.
I pulled up a Self workout on Netflix, and T Junior did some of it with me. I should've grabbed the video camera for his version of "dumping dacks!" Hilarious!
I took it easy on the jumping moves because of my back, but otherwise it wasn't too bad. The hard part was working out around wrestling dogs and 22-month-old tantrums.
The pictures (see them here) from the half marathon came in Thursday and they are not great. There's one good one of me and Zoë at the start, but the other two look like they were taken on a hill! I look like I'm dying! And no finish pictures, which makes me sad.
DAY 250
Good news. I lost 2 pounds! This week, I've been paying attention to my food and it paid off!
You know what I realized? I was eating the same amount of food each day, as if I had a long run every day of the week. Duh!
This article by RunnerDude really helped me figure out how much I should be eating. I was a little hungry yesterday just before lunch and after work, but I drank more water and that helped. I think my body will need to get used to the smaller amount of calories on the days that I don't have a run. There was an adjustment period when I started Weight Watchers, too, so I know it will get easier.
Today is a rest day, and I want to enter a couple of races in May, but I just realized they are back-to-back and right before my marathon. I may have to pick one. I hate choosing!