I have 90 Virtual Running Buddies! I hope you all are finding something useful in this here blog. I never dreamed I'd have "followers" when I originally started Mom vs. Marathon. I just wanted a new adventure to write about! I just wanted to follow through with something for once and I thought blogging about running toward my marathon dream would help. And it definitely has. I hope I've helped some of you, too. Thank you for reading and for the support!

DAY 252
Sunday. Rest. An adorable little boy's 4th birthday party. Friends. Food. Fun.
DAY 253
Facebook status update on Monday morning: "I'm really glad I'm not out running right now." 
I wrote that while sheets of small ice pellets came down from the sky. The hail was so thick, you couldn't  see through it. I thought about Amanda (5 Miles 2 Empty) because we'd just been talking online about when she was going to be able to get out for her long run. I hoped she hadn't left yet.
I only had a 3-miler and hills scheduled. Because I failed to get up early, the hills were nixed since I'd be pushing the BOB. Not that I couldn't do hills with the jogging stroller. I just didn't want to, okay?
I put T Junior down for a nap, then changed into my running clothes so I could not back out of my workout. I did some chores in my sapphire Mercer Island Half Marathon shirt and gray capris while my son slept and slept.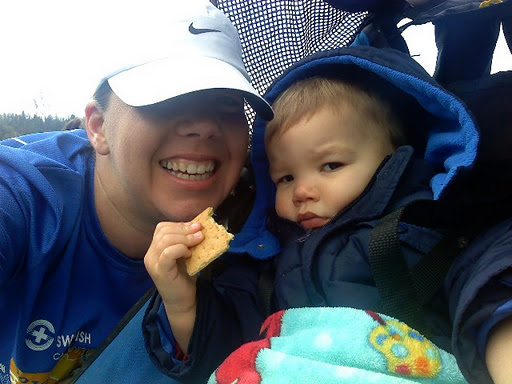 Me: Excited to be done with a windy run. T Junior: Why are we out here again?
When he woke up, I loaded the stroller in the minivan, along with the rain cover and other things I need for running with T Junior, including water, snacks, the Discman and a CD (important). I also brought a huge sweatshirt that covers my rearend so I could throw it on for our trip to the grocery store afterward.
We drove to the paved Cedar River Trail because I didn't feel like running on gravel because it can hurt my feet. When I got out of the van, I discovered it was colder outside than I expected because of the wind. At least I dressed my son warmly and thought to bring my gloves for both of us. At least it wasn't raining or hailing.
On my first 1.5 miles, I ran north-west on the trail. It was easy. Wow, I'm getting faster with the BOB, I thought when I looked at AJ II and saw a 9:45 pace. I was happy to be running to 1950s-era Disney music. I was happy to be running. Then I turned around.
Severe and gusty winds slammed the front of the rain-covered BOB and my face. Ooooooh, so that's why I was so fast. (Insert SNL's funny wah-wah-wah Debbie Downer music here.) The second 1.5 miles was me pushing a giant brick on wheels versus the wind. T Junior kept yelling, "Hut Two Four Two!" (what he calls the song Colonel Haithi's March) and I just pretended I couldn't hear him. 
I only have two hands and they were both busy. If I had to stop to hit back on the Discman so my son could listen to the same song over and over again, this run would be all over. Finally, it was over. After a quick picture, I loaded the kiddo back into the van so we could go to Safeway for groceries. 
I slid on my huge sweatshirt and was happy I brought it because it covered some very unfortunate sweat marks on my pants. Gray capris, I love you. You are very comfortable, but you are embarrassing me. Your days are numbered. Black capris, you just got a promotion.
One more adventurous day of running in the books!
3/29/10 – 3 Miles – 31:00
10:24 Average Pace
(NOTE: Exact Garmin stats are not with me right now, I will update this tonight.)
COMING UP:
A dark and stormy 7-miler at night
These vitamins are making me sick!
Friday weigh-in results