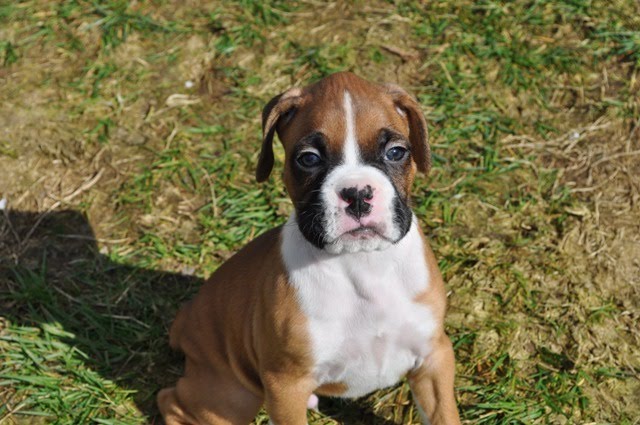 DAY 271
Isn't he cute? This little dude is why we went on a six-hour road trip on Saturday up to the Canadian border. He's from B.C. and his breeder brought him down so we could take him home with us. I didn't know when I'd be ready for a new dog after AJ's death, but one look at the picture of this guy and I knew I was.
His name is Levi, sort of a play on the New Orleans levee because his AKC name is Dorado's Who Dat? He was born on Super Bowl Sunday.
But we weren't really ready for the puppy-toddler combo. Yikes. He's a pretty good pup, though, and all the dogs are getting along really well. Lucy and Annie are wiped out. So are we.
He woke us up every two hours Saturday night/Sunday morning on the dot (seriously) to go potty, and a couple times in between the 2-hour intervals.
DAY 272
That's why I was super tired on Sunday morning and not looking forward to a solo 16-miler. Plus, I was still not 100%. Every time the puppy would finally quiet down, then I would have a coughing attack. It was pretty frustrating. I probably got a total of four hours of sleep, and they were not consecutive hours.
Luckily, Mr. T was fine with letting me go later in the day. God bless him. Almost four hours with a puppy and a toddler.
I drove down to the park that is situated near the middle of the Cedar River Trail, a paved pathway that is typically busy on the weekend and runs along a loud highway. It's flat and straight and, unfortunately, mostly in the sun. Since, it was warm and sunny out, I wore a tank top. But like a complete dummy, I did not put on sunscreen. I should know better since I had a cancerous mole removed from the area between my shoulder blades when I was in high school. I did wear a hat to protect my face, though.
Running while taking pictures is not my forte. Usually, I stop, but I didn't want to.
My plan was for an out-and-back totaling 8 miles, refill my water at the car, go potty, and then head in the other direction for another out-and-back of 8 miles. And I wanted to take it slow: 11-minute pace. That was the plan.
And it wasn't hard to keep. My legs felt frozen and heavy for the first two miles, and I even felt a little dizzy. Luckily that went away by Mile 4 and the first 8 miles were pretty good. I kept it slow and I felt okay for being tired and a teeny bit still sick.
Then at 7.5 miles, some jerk yelled, "Keep running, fat-a$$!" out of his car. Since there were no other runners around, just bicyclists, I assume he was talking to me. Good thing it only made me want to kick his a$$ and not feel bad about myself. I know what I'm doing. I know how many miles I'm running. I don't give a $hit about that guy, who had to hurl some insult at me to make himself feel better as he drove away in some POS SUV from 1991.
Anyway, back at the car, I refilled one of my 8-ounce pods and ate a square of PB and J because, once again, I forgot to get GU before my long run. I made a quick stop in the Honey Buckets and then I was off.
I'm glad I decided to go in a different direction for the second 8. First, it was a nice change of scenery. Second, there were more people and, third, there was quite a bit more shade.
The bad part, though, was that this section crosses into downtown Renton and I didn't feel up for that, so I turned around before four miles knowing I'd have to make up about a mile and a half once I passed my car again. But the fact that I was expecting that, made it okay.
Around Mile 14, I stopped at a drinking fountain, ate my last piece of sandwich and guzzled some water. I refilled both pods and then kept going. I was getting a little hungry, which makes me nervous, but that last sandwich hit the spot and all the water was good, too.
As I passed my car, I cursed myself for not just crossing into downtown so I wouldn't have to make up the distance and could've just been done!
Finally, at 15.3, I turned around and headed for the car. I was in almost the same spot as where I was when the a$$hole yelled at me and at about three hours of running, when a woman on a bike coming toward me, smiled and said, "You're doing really good!"
"Thanks!" I waved at her. Well, it was more of a hand-flick since I was pretty tired. She must've seen me sometime earlier. Oh, it was so energizing. She totally helped me finish.
Back at the car, I stretched, wolfed a banana and a Special K protein bar and gulped the rest of my water.
At home, I filled the soaking tub with cold tap water again. This time, I wore a sweatshirt and two pairs of socks. I made it 10 minutes and it worked again!
4/18/10 – 16 Miles – 3:06:00
Average pace: 11:37
Mile 1: 11:01
Mile 2: 100:01
Mile 3: 11:26
Mile 4: 11:35
Mile 5: 11:25
Mile 6: 11:25
Mile 7: 11:24
Mile 8: 11:19
Mile 9: 11:36
Mile10: 11:10
Mile 11: 11:35
Mile 12: 12:18
Mile 13: 11:54
Mile 14: 12:02
Mile 15: 12:24
Mile 16: 12:16
Sunday night, Mr. T sent me to get Chinese takeout. $50 later and the fact that the restaurant put four fortune cookies in the bag, I figured out that maybe I went a little overboard. "Next time," I told Mr. T, "Don't send the girl that ran 16 miles to go get dinner."
Also, 100! One hundred virtual running buddies! Welcome! I've been bad about blog reading the past few days because of the new puppy and being sick, etc. Hope to make it around and catch up this week some time! And I hope everyone had a good run at Boston!