I just want to say that I have no regrets about switching gym memberships. In fact, the new gym has sort of become a place for me to go when I just need to GET OUT!
DAY 277
Friday was so long. I was home, inside, with T Junior, the puppy and the two other dogs all freakin' day. I didn't want to go anywhere since the doctor said T Junior's stomach bug was contagious. The only time we left the house was to walk to the mailbox. I wanted to go on a longer walk, but T Junior tripped over his feet and skidded on his arm, and then the world was coming to an end, so we had to go home and get a "Pooh Bear Band-Aid" that he wanted so bad, but wouldn't leave on and sobbed about till I ripped it off.
When Mr. T came home, I asked if he minded me getting out of the house for a bit after T Junior's bedtime. He didn't.
Except I wasn't sure where to go. I sort of wanted to go shopping, but it was a little late in the day for that, I didn't care to go that far from home and we just bought a pretty expensive dog, which means we don't have a lot of extra money.
So I went to the gym.
I'm really enjoying having my new gym membership. First of all, it makes it really hard for me to skip working out. And, second, it's a good place to go when I need a break.
I changed, grabbed my book du jour and drove to the gym for a 45-minute bike ride. I have not been doing my cross-training and strength exercises. It's all I can do to get the running in. But I felt like my legs needed something different.
My calves have been really tight. I feel like I always have ski boots on. I have to take stairs one at a time pretty often.
I was riding the bike and reading my book when I suddenly felt alone. I quickly glanced around and realized there were only a couple people in the gym. The front-desk woman was switching off the flat screens.
"Are you closing?"
"Yeah. We close at 9 on Fridays."
"Oh, that's right. Sorry!"
It was 8:59 and I practically jumped off the bike while it was still moving. Well, while the wheels were still spinning anyway. I got 40 minutes in, though. I just forgot to look and see how many miles I rode.
DAY 278
"Oh my god, it's pouring." I stood by the front door with my bag (fuel belt, post-run food, Zune, etc.), and watched the wild weather out of the window across our living room.
Mr. T looked. "It's going sideways."
"Ooo-oohhhhh maaaaaan."
"Why don't you do your run at the gym?"
Light bulb. Then…
"Um. I don't know. Twelve miles on a treadmill?"
We went back and forth and the rain came down harder and more horizontal, and I ran upstairs to grab a short-sleeved shirt. I decided I would see how busy the gym was and make my decision based on that. Plus, I reasoned that I could always do half on the treadmill and half outside if the sun came out.
And, wouldn't you know it? The sun came out in less than a mile on that thing.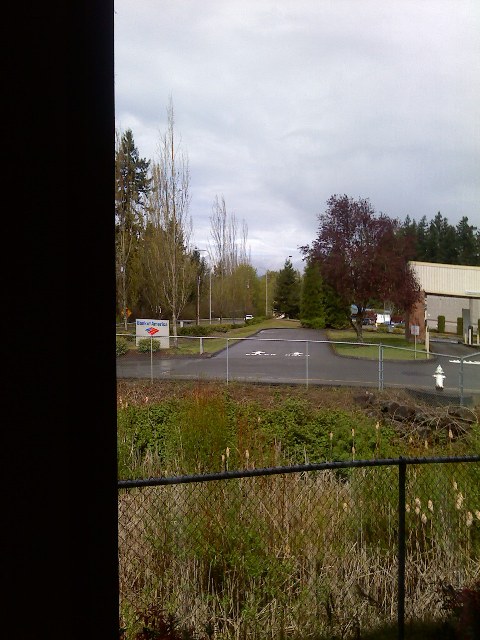 But the first season of America's Next Top Model was on and I hadn't seen that one with Adrianne (the girl that married that Brady Bunch dude). So I got sucked in and before I knew it 65 minutes had gone by.
Thanks to my impromptu bike ride the night before, my calves had loosened and I wasn't so stiff. I was hot. My feet hurt. But my calves felt great. Note to self: cross train.
After the first six, I popped a piece of PB and J in my mouth and reset the treadmill. Even though the sun had shown its face, it was followed by some serious hail, and I saw black clouds heading our way. I stayed in the gym.
I wondered if anyone else wondered what the hell I was doing or if the front-desk woman would come over and tell me about some time limit on the treadmill or something even though there were like 5 other people in the entire gym. It was, after all, late in the day Saturday (4 p.m.) by the time I finished the first six.
The second six went by a little slower. I felt done at 8, but I pushed through it. Watching skinny models helped. I also thought about fitting in size 8 jeans a lot.
Toward the end of my workout, my right foot was hurting pretty bad. It's that spot where your toes meet the ball of your foot — it's where the pod said I had a neuroma. I might need another cortisone shot. The only thing is, though, is that last time, the shot caused a little more pain for about a week and I have 18 miles coming up. So…yeah, probably just going to tough it out.
I got off the treadmill after 12 miles and wobbled over to the only place I can think of to stretch. Am I the only one who feels awkward stretching in the gym?
Back at home, I walked in the door. T Junior greeted me. "Hi Mama! Mama bath!" and he ran for the stairs. Well…I wasn't really planning on taking a cold bath, but now that he mentions it…
So I put on my bathing suit, a sweatshirt and two pairs of socks (thanks for the suggestions, bloggy friends!), and eased in with T Junior laughing. Mr. T came upstairs and asked, "Did you really do that whole run on the treadmill?"
"Yeah." I shrugged like it's no big thing. Wow, did I impress him?
He shook his head and then he made fun of me for sitting in a freezing bubble bath with a sweatshirt on. It's okay. I'd make fun of me, too.