T Junior has been commenting on my calves lately: "A Mama a cows hurt."
Ohmigod! I almost died the first time he said that. He'll be two in a week. How does he know what baby cows are called? I don't think we've ever covered that before.
Last week was such a let-down. And to top it all off, when I weighed myself on Friday morning I'd gained THREE pounds! So, now I'm back in the 170's. Rrrrr. (I'm hoping my womanly…uh…"gift" and the fact that I've been drinking a gallon of water a day are at least partially to blame.)
I'm behind in my "daily" posts because there's a lot going on in my head and I tend to want to write right when I am thinking about it. I'm hoping to catch up here. Here's how the weekend went, and the first part of this week: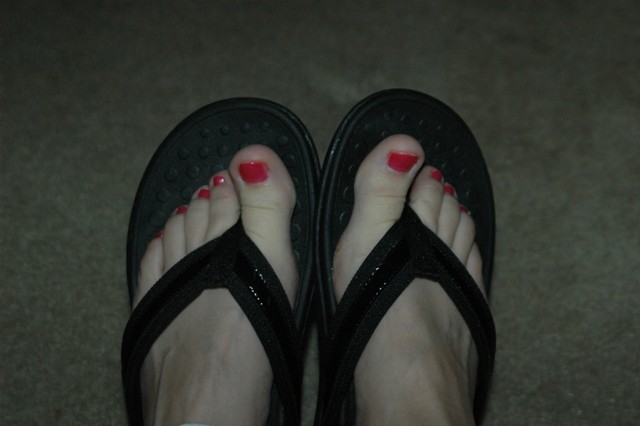 Cute and comfy Orthaheel flip flops!
DAY 299
Every year, a neighborhood in a nearby town holds a community garage sale. Hundreds of households participate. It's like one-stop garage-sale shopping, and I always go with my friend Kallie.
I knew it was going to be warm out, so I dressed accordingly…in flip flops.
Now, before you get all mad at me because I have calf and shin issues, let me tell you that Orthaheel sent me some of their new flip flops to try out. They are comfy and super cute! I'd worn them a couple times before Saturday and knew they offered way more support than my old sandals or even my crusty walking shoes. These flip flops rocked. I wore them for 12 hours straight on Saturday (that was not all garage-sale-time) and my feet felt pretty darn good the whole day! (I will write a review soon.)
I also remembered to put on sunscreen thankyouverymuch and brought AJ II (my Garmin). I was curious to see how far we walked by the end of the day. I did have a couple problems with AJ II, but it wasn't his fault. I had to turn Auto Pause off and a couple of times forgot to manually pause it when we got back in the car to drive from one area to another. Oops! But, give or take, it was only about three miles. And, that was over the course of seven hours! So, yeah, not really a workout.
One of the women who was selling stuff at her house noticed AJ II, though, and we got to talking. It seems like everywhere I go, somehow, running comes up in conversation. She will be running at Seattle Rock N Roll. Dude! EVERYONE is running that race except me, I swear.
Anyway, we had a blast on Saturday! My best buy was a $10 barely-used Roomba that just needs a new battery! Yay! We love ours and wanted to get another one for upstairs, so hopefully this one will work out. I also got a ton of Thomas the Tank Engine stuff for T Junior. A Thomas backpack, in particular, is a HUGE hit.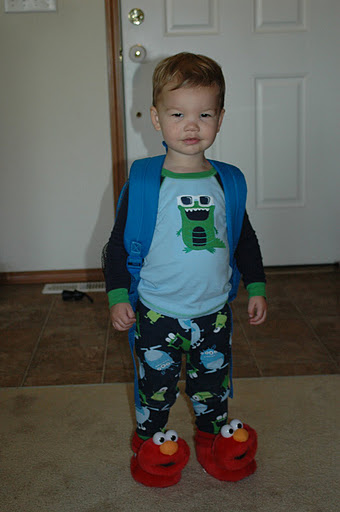 Seriously, he won't take it off.
DAY 300
I didn't get up early enough to get to the gym on Sunday. I stayed up too late and was really tired. But then I felt heavy and bloated and lethargic. It got better as the day went on, but I still wanted to do something, so I did some strength training: 90 crunches on the ball; then continuous 3 circuits of 15 lifts for arms — bicep curls, overhead tricep extensions, chest presses and shoulder presses with 5 lb. hand weights — and continuous 3 circuits of 15 lifts for legs: outer thigh lifts, glute kickbacks, fire hydrants.
DAY 301
I got up really early so I could go bike at the gym. Mondays I'm a stay-at-home mommy, but I didn't want to have to take T Junior with me if I didn't have to. I wanted to be back by 7 because that way I could shower before Mr. T or T Junior woke up.
I didn't know how far or how long to ride the recumbent bike, so I did 45 minutes on Random, set to Level 7. I went 12.12 miles and then did an easy 5-minute cooldown.
T Junior and I had a few chores to get done on Monday, so I felt bad that the dogs had been locked up for a while, especially the puppy. It was such a beautiful, warm sunny day, so I decided to take T Junior and Bennie for a walk.
Stupidest idea ever.
It shouldn't have been. I originally thought I would push T Junior in his red plastic car, and it would just be a quick 15-minute walk around the neighborhood, but he wanted to wear his Thomas backpack, which meant he wanted to walk. "I walk," he informed me.
You can't really ditch the idea of a walk after you've told a toddler you are going to do so. I guess you can, but be ready to deal with the consequences.
Bennie is a 25-pound, 15-week-old boxer puppy. He likes walks, but he's curious about everything and scared of some of those things, and most of all, he just wants to jump on T Junior, like, all the time. He loves him too much.
The walk was a disaster. We went about a half-mile and it took 45 minutes. Bennie even broke his leash at one point. Then, he was so excited he could not calm down and I ended up carrying him as he tried to wriggle out of my arms, while I repeated, "Let's go, T Junior. Stay on the sidewalk, T Junior. Can you walk faster please?" over and over. I was extremely stressed out by the time we got home.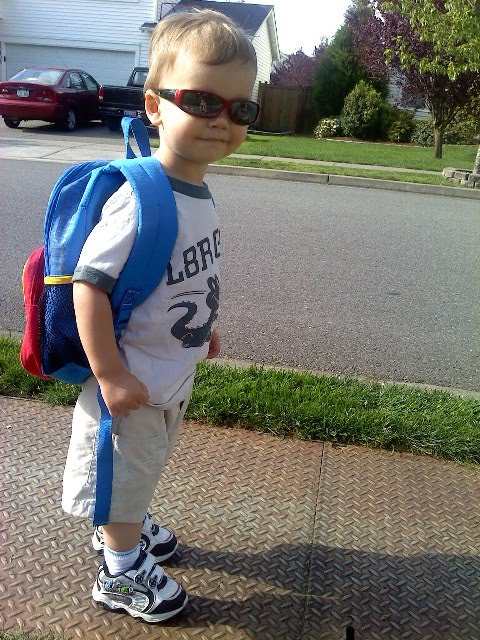 Good thing he's cute.
But I probably burned some calories yelling.
DAY 302
Back to reality, er, work. I got up at 4 a.m., took Bennie out to potty, showered, put on my gym clothes and packed my outfit for work. It took me a while. I was slow to wake up.
When I got to the gym, which is only about 10 minutes away, I took a towel out of my bag and suddenly remembered I'd forgotten to pack a bra. Crap. I stood in front of my bag for a second. What do I do? Go home?
I debated. Then I remembered I was wearing a tank top with a built-in bra and I was wearing my old, soft sports bra underneath. I don't really neeeeeed two bras for the bike.
Quickly, I went to the changing room and packed the sports bra away for under my work clothes.
Finally, I was on the bike. I set it for 50 minutes on Random at Level 7. One minute into my ride and I knew reading Jane Austen's Mansfield Park was not going to work. Need.Too.Much.Brain.Power. I didn't know what the heck was going on. So, love the Kindle, I downloaded Run Like a Mother (RLAM), which was perfect!
The time flew by and I've never sweate
d so much in my life. After a 5-minute cool down, I got off the bike to stretch and my entire front and back were soaked. Disgusting. (I rode 14.6 in 55 minutes.)
I know it's gross to workout before work, but it's the only way I can get it done. And, yes, I wore my clean sports bra all day.
The reward for getting up at 4. I could hang out with Mr. T in the evening. We watched The Biggest Loser and I started crying when Alison Sweeney announced the contestants would run a marathon.
"It's not fair," I sniffed (because I was acting 12).
Mr. T was sweet. "You'll get there," he said.
Of course, I had to post how I was feeling here.
DAY 303
I didn't get to bed early enough Tuesday night and Mr. T told me it was not healthy to get up in 5 hours and 45 minutes (and that was only if I stopped reading right that second, which, I couldn't because Fanny and Edmund and Ms. Crawford were sort of arguing but in a really polite Austen-ish sort of way). So, I had him set the alarm clock for 4:30 instead. I knew that meant less time to ride, but I always figure some is better than none.
So this morning was rather uneventful. I mean, I remembered all my underwear and everything, so that was good. Since I only had about 30 minutes to work out, I set the bike to 25 minutes on Random at Level 10. That definitely got my heart pumping. I think I need to do Level 10 more often.
I was putting the finishing touches on my face in the gym bathroom when an older woman came in, breathing hard from her work out in her "day" clothes. She took her wet hair out of a braid and brushed it, then got out her makeup bag. I smiled.
"We gotta do what we gotta do, don't we?" I said.
She laughed and we talked about how going home to change clothes and get ready for work would take too much time away from sleep. This is the second morning I've "met" her in the bathroom.
RLAM was inspiring me this morning. Dimity had an injury before one of her marathons, and she rode the bike all the way up to race day.
It made me think. Next time, I will cross train more. I will ride the bike a lot so I won't get hurt. Next time, I will run early in the morning so I don't have to sacrifice so much time with my family. Next time, I will stretch more, ice more, take more cold baths, drink more water. I hope next time's not too far away.
I spent my lunch hour looking at marathons online. My calves feel pretty good. My shins, too. I think I'm going to run Friday morning.