I looked to the sky through my clear Swedish goggles. Low, dark clouds. Threatening, but that's all. My left arm, teen-aged slender and dangerously tan, hooked over the side of the pool gutter while the rest of my body stayed warm and relaxed tucked under the rocking surface of the water at Del Oro High School in Loomis, Calif.
Two hundred human limbs slapped and kicked the water, creating white noise — like ocean waves crashing on a beach immediately one after another, no break in between.
I was waiting.
It was my turn to lead lane 6 in a warm up as directed by Coach, so I was waiting for the final swimmer to come in before we started the next set of laps. Other swimmers waited in my lane, too. But there was no talking.
A cool breeze stung my cheeks, nose and one shoulder. My head was covered in a bright blue, glittery silicone cap.
I don't remember how old I was or what time of year it was or what grade I was in. Maybe I was 15. It is just one of those moments from swim practice that I remember 16, 17, 18 years later that makes me ache to be a part of a swim team.
I don't think about it all the time, but as soon as I'm within a nose-length reach of a pool, I am whisked back to the days of lane ropes, early morning practices, the feel of sandpaper starting blocks under my bare feet, the warmth of a parka over a wet Speedo and a tired body, the cool scent of chlorine clinging to my skin long after a pool workout.
I'm doing my best here to paint you a picture of swim practice, but words don't do it justice. Of course, I didn't feel like that at the time. I don't know how often my mom had to yell at me to get me to the pool on time. Probably a lot.
But now it's different.
DAY 308
Early Monday morning, I went to the gym and recumbent-biked for 32 minutes (9.04 miles/17.1 mph pace). At home, I did 75 crunches, 20 pushups (the manly kind), 50 jumping jacks and 50 jump ropes.
Later, I took T Junior to the Tahoma High School pool. It's a Washington pool. An indoor pool, not like the kind I swam in when I was growing up. California pools are outside. At least, they were where I lived.
Indoor or outdoor, though, it doesn't matter. Chlorine can permeate anywhere. It's the smell that gets me first. But then I get in the water and I just want to stay there forever.
Monday, I held on to T Junior, his eyes wide, lips quivering and tinted blue (the pool is heated, though, so not sure what that's all about). It was shallow, so I walked and held him horizontal and told him to, "Kick! Kick! Kick!" Or, I let him stand on my thighs and "waterski." Or, I tucked him under my armpit like a football and ran in the pool.
Thirty minutes is about all he has the patience for. That evening, when Mr. T was home, I said to T Junior, "Tell Daddy what we did today."
He took his two fingers out of his mouth. "A swimming."
I beamed. He did have fun! He remembered. (The entire car ride home after the pool, all he talked about was the shower we rinsed off in afterward. I thought that must've been the highlight.)
"And, what did we see?" I asked.
"A people swimming, too."
"That's right!" Then, I explained to Mr. T that I had lifted him up so he could see the other end of the pool with the lane ropes and the lap swimmers.
I want to be a lap swimmer.
DAY 309
Me and Mr. T had another miscommunication about the time I needed to rise in order to go to the gym before work. I actually got up after the time I need to get up just to get ready for work. So, I switched gears. I wore comfy clothes and my running shoes so I could walk at lunch. I stashed AJ II (my Garmin) in my purse.
But at lunch time, it was raining. I hadn't brought the gear for that because it is the end of May when I don't expect sideways rain. So I blogged instead, of course, and I thought about swimming.
I really want to swim laps. Especially now that I'm going to be "off" running for a while. I don't know what's stopping me. Well, besides scheduling, as usual. Oh, and shaving my legs.
I've been thinking a lot about what I want to do. I think marathons are out until next year unless I want to run the Seattle Marathon, which I don't think I want to because I ran the last 10 miles of it during the Seattle Half and it is painfully hilly. Plus, I don't know if my legs will be better by the time I need to register. Who knows?
So, yes, I've been dreaming about triathlons. Well, sprint tris. The run is only 3.1 miles, typically, and I know my legs can handle that. Plus, I really, really want an excuse to swim laps.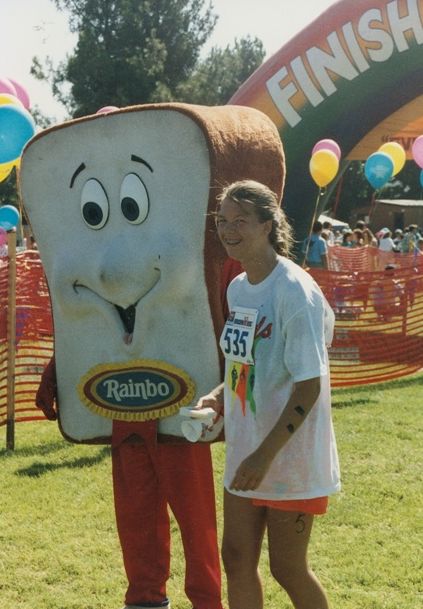 My one and only triathlon experience thus far: IronKids.
I was in the 8th grade. I've written a little about this before here.
The biking part scares me. I have a mountain bike hanging from the wall in the garage, but I've only used it twice — and that was within the six months me and Mr. T bought them about four years ago. I'm scared a tire will pop or a gear will break, and then what?
I haven't mentioned this to Mr. T yet, though, and I'm afraid he'll be anti-tri because he'll think it will take more training than a marathon. I don't think it will.
The pool opens at 5:30. I've already been doing my biking at 4:30 a.m. at the gym when — ahem — someone sets the alarm clock for the correct time. And, well, running is on hold right now. But training for a 3-miler should be just fine.
Tuesday night, since I didn't go in the morning or at lunch, I went to the gym and sweated it out for 30 minutes (9.24 miles at an 18.5 mph pace). At home, I did 75 jumping jacks, 75 jump ropes, 75 crunches and 30 pushups (the girly kind).
DAY 310
The pool near work opens at 6 a.m. That gives me 30 minutes to swim. The commute from the pool to the office is 10-15 minutes. I know because I drove there on Tuesday on my way home.
I got all my clothes ready last night. I hung my black Speedo from the doorknob in the master bathroom. But I still wasn't sure what I was going to do on Wednesday morning. Is 30 minutes enough time to swim?
After stumbling out of bed 10 minutes later than I wanted to, i decided I would swim. I didn't feel like unpacking my bag and taking a shower and all that. I would go to the pool, swim for 30 minutes, shower there and then go to work. It was too late for the gym, I can't go on Wednesday nights, and tomorrow is T Junior's 2nd birthday, so I have some things I have to do in the evening anyway.
And, so I went.
I walked out of the locker room and into indoor pool area with my black cap on and my clear Swedish goggles in hand. Lane 5 was open. Hallelujah!
I eased into the water. I wanted to reduce any wave motion from disturbing the other swimmers. Besides, it was too peaceful to jump or dive. So quiet inside. Only the soft splashing sounds from about eight lap swimmers and some pool walkers in the shallow end.
I slid under the water and felt so happy. Then I popped up, looped my arm over the gutter and positioned my goggles.
That first push off the wall, streamlined under the suface, was glorious. I'm doing it! I'm here! I'm going to swim laps!
By the end of lap four, my muscl
es reminded me how difficult swimming is. It's a whole-body workout. But I didn't care. I pushed on, adjusting my goggles at the end of every lap for about the first eight until I got them to suction correctly.
I had to watch the clock, but as it turns out, 30 minutes is plenty for me right now. I was getting tired. I even did one lap of backstroke toward the end, and I hate the backstroke. Most of the laps were either freestyle or breaststroke, the latter being my stroke during my glory swimming days.
If you like to swim and are missing it, find a pool. It only cost me $3. It was a cheap visit down memory lane, and I highly suggest it!
And as for a tri? I definitely see one in my future.
PS: If you're still here reading this incredibly long post, don't forget to enter my flip flops giveaway here!
AND: I may be away for a few days. It's T Junior's birthday, plus we have a busy 3-day weekend planned. I apologize for my upcoming absence in bloggy-land. I may pop in, but in case I don't, have a great weekend!