Wow. Only about a month away from one year of blogging here! What should I do for post 356?
Okay, I have a little catching up to do…
DAY 322
Monday, I woke up feeling okay. One day post-half and I felt decent, especially for being sick. But that quickly changed during the morning as I hurried to get T Junior ready for his 2-year doctor check-up.
By the time we got to the doctor's office, I was hacking up a lung and had a stuffy nose and head. T Junior seemed okay despite his own hacking cough and runny nose.
His check-up went well. His doctor was impressed they he knows his right from his left. She even said she doesn't have any other 2-year-olds that know that. That was cool.
Not cool? She looked in his ears and he had an ear infection! What?! He hadn't even said anything. We left with anti- and pro-biotics for him and an order to keep him away from day care till Thursday. And, the doc pointed out I was probably contagious, too.
So sorry, Alma and Mel!!!
We took it easy the rest of the day. T Junior took a 3-hour nap.
DAY 323
Tuesday, I was as sick as Monday. Someone had to stay home with T Junior and since I was sick anyway, it was me. T Junior was already feeling better. We stayed home all day. I worked from home for a bit. But I felt like I needed a workout around lunchtime, so we went for a walk on the trail near the house. The sun was out, but it wasn't too hot. It felt good. Hardly any coughing during the actual walk.
6/8/10 – 4.16 Mile Walk – 1:04:17
Average pace: 15:27
Mile 1: 15:03
Mile 2: 14:57
Mile 3: 15:52
Mile 4: 15:51
.16: 2:31 (16:07 pace)
Maybe it wasn't the best idea. I was miserable Tuesday night.
DAY 324
Wednesday morning I felt so sick. I told Mr. T, "This is the worst cold I've ever had." I stayed home again. T Junior was feeling lots better. I wandered around in a Nyquil haze for the first half of the day. My ears were plugged up on top of the cough and stuffiness.
But by the afternoon I started to feel better. Hooray! I felt like I was coming out of a fog. I felt more like myself than I'd felt for several days. Even reading my race recap (Part I here and Part II here), I can tell I wasn't myself when I wrote it.
I felt like working out that evening after T Junior went to bed, but couldn't go anywhere since Mr. T was at band practice. I'd been meaning to look up a good core routine online, so I searched the Runner's World Web site.
Right away, I found one (here) I liked by Dimity McDowell, one of the author's of Run Like a Mother, which I'm reading on my Kindle. It doesn't take too long to do and I feel like it is well-rounded. I did it in about 25 minutes and only fell of my exercise ball once!
I did it twice:
25 crunches on stability ball
15 squats with stability ball
15 pushups with stability ball
15 lunges on each leg with stability ball
Plank (held for 20 sec. on 1st time; 30 on 2nd)
Tricep dips (could only do 10 reps the 1st time; 9 on 2nd)
Back extensions on the ball (this took a lot of balancing and I fell off once)
Oblique twists on the ball (did 30 reps x2 in order to get 15 on each side)
 
I felt good afterward. It even got my heart pumping. Then, I packed my bag for the gym on Thursday morning. I wanted to ride the bike.
DAY 325
But on the actual morning, I changed my mind. I didn't feel great and decided to give my sick self a break. I had a busy day of work ahead of me, which I made it through, coughing, sniffling and washing (my hands a lot).
Thursday night, I decided I would run in the morning and set out my new race shirt and a black running skirt. I set the alarm for 6.
DAY 326
Up at 6! Okay, more like 6:07. I took Bennie out to potty, noticed it was drizzling, and pulled on capris instead of a skirt and my bright yellow NODM shirt. I wanted to show you the design on the back. I think it's cool.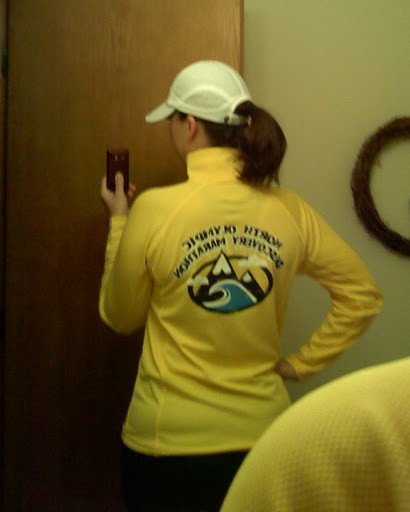 I woke up with a headache and water didn't help it go away. I did 50 jumping jacks to warm up, ankle rolls and 25 jump ropes. Then I went for a 3-miler (on my town loop) without eating anything first.
There was a story out recently about how you can burn more fat if you don't eat before your morning run. I had my doubts about how well you can run without eating first, but since I haven't been to the grocery store in more than a week, I didn't really have a choice. Let's put it this way: I had to put this theory to the test.
So, not eating, plus headache, plus being sick (lungs were burning and I was coughing), plus being sore from Dimity's workout on Wednesday, made me feel pretty sluggish. And I could tell it's been a week since I've been on the bike. I didn't feel strong.
It wasn't the best run, but it certainly wasn't the worst. I had absolutely no pain in my shins or calves. I stretched them afterward, then came inside, drank some water and did Dimity's workout again. I'm aiming for three days a week: M, W, F.
Again, I did it twice:
25 crunches on stability ball
15 squats with stability ball
15 pushups with stability ball
15 lunges on each leg with stability ball
Plank (held for 20 sec. on 1st time; 25 on 2nd)
Tricep dips (could only do 10 reps both times)
Back extensions on the ball (I didn't fall off this time!)
Oblique twists on the ball (did 30 reps x2 in order to get 15 on each side)
Here are the stats from my run:
6/11/10 – 3 Mile Run – 31:28
Average pace: 10:28
Mile 1: 10:31
Mile 2: 10:13
Mile 3: 10:40