DAY 327
After a dreary Friday, Saturday was gorgeous! The sun was out and I thought it was hot! Well, in the 70's. I think that's hot. Oooo, I just sounded a little like Paris Hilton. Yikes.
Saturday was such a busy day. There were many things going on and they all overlapped a bit.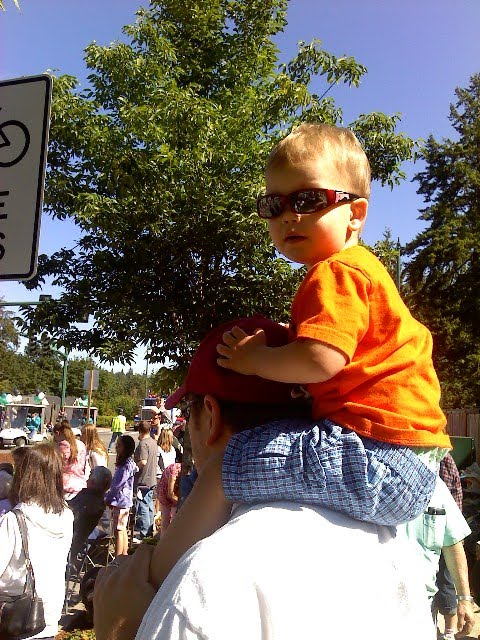 First, it was our city's festival weekend, so there was a parade in the morning. Of course, we wanted to take T Junior, so we went and he had a blast. The highlight?
I'm pretty sure it was a cherry Tootsie Roll Pop.
No thanks, T Junior. You can have it.
The parade lasted longer than I anticipated, though, and I was late to get T Junior down for a nap. We were invited to Mel's (Tall Mom on the Run) housewarming/early birthday party in the afternoon. She lives about 40 minutes from us, so I had to factor in travel along with T Junior's nap time.
Of course, T Junior took the second longest nap he's taken in at least the last six months. I even had enough time to watch USA-England on TiVo! But it put us behind schedule, so we were pretty late for Mel's party. Sorry, Mel! I was glad we got to go and see everyone, though. We even had a bloggy photo opp (here)!
By the time we got home, it was past T Junior's bedtime. Where did the day go?
DAY 328
Sunday: another full day and another day with sun!
First up? Dog show. We don't have any dogs to show yet — Bennie is only 4 months old, Lucy is already a champion and Annie is a couch-dog — but Bennis really needs to get used to the dog show scene. Plus, it was a close show, we wanted to see friends and let Bennie's handler get a good look at him. Of course, boxers haaaaad to show at 8 a.m. It was an early morning.
The nice thing about that, though, is we were home before 11 a.m. (and that was with a stop for "supplies" at Sam's Club). T Junior was ready for a nap (and so was Mr. T), but I was ready to run!
The boys had a snooze while I headed out on the trail by my house. Since the community festival was going on, I knew there'd be plenty of people on the trail and I would feel safe. Lately, I've been too chicken to run the trail.
I pulled on a white Danskin tank (Walmart, $7), my pink plaid RunningSkirt, and I finally got to wear my new headband from Sweaty Bands that I won recently. Before I left, I did 50 jumping jacks (Bennie jumped next to/on me) and 25 jump ropes to warm up, then stretched my calves on the curb in front of my house while AJ II found a satellite.
It was overcast, which I was grateful for, and there was a little breeze. It wasn't as hot as Saturday. Maybe 70. It felt humid, though.
I took music this time. It's been a while since I've gone on a run with music, and oh boy, I missed it. The goal distance today was 3.5 miles. I've been running a lot of 3-milers lately, and I want to increase my mileage, but safely. I'm going to do it in half-mile increments for now.
The trail is slightly downhill toward the lake. I always feel fast during this portion, and have to remind myself that I'm going downhill a little. It was really nice to have all the people on the trail. I always run a little faster when I think someone may be judging watching me. And it was fun to watch the festivities at the lake for a little bit, too.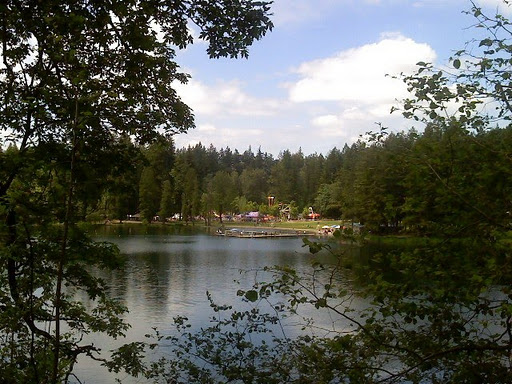 I ran till 1.75 miles and then turned around. Ugh. Uphill. And the sun came out, of course. I felt like Penny (Planet Ynnep Running) because I actually thought, "Go away, sun." (Every local reader is pissed at me right now because it's been raining nonstop for weeks.)
I wanted to stop at 3. I guess I'm comfortable with three miles right now. It feels weird to have a 3.5 mile long run. How many weeks ago did I run 18? I sort of feel like I'm starting over. It's a strange feeling.
I struggled through the last half-mile. I felt slow (but was surprised when I got home and saw my time). I was hot. After I stopped, I walked back to the end of my street, stretched well, then walked the rest of the way home.
My Sweaty Bands headband totally rocked. It did not budge. Yay! I have a Bondiband, too, that works great, but I get a little hot with it on warmer days.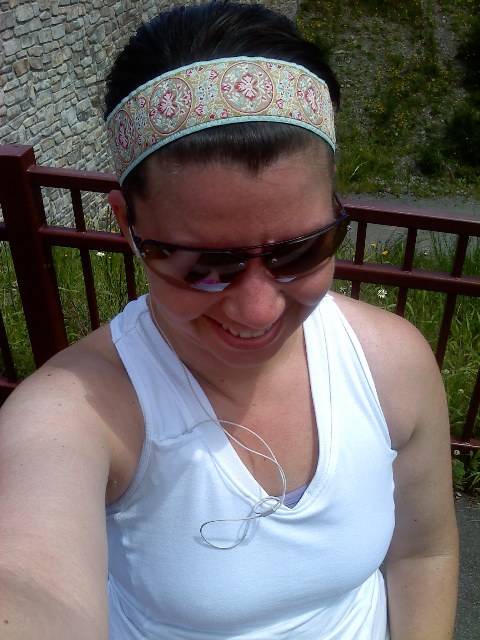 The headband totally goes with my pink skirt! Totally!
I feel like I'm getting back to a real running schedule now. I'm still going to bike and swim (and I'm still considering a tri), but I'm feeling like a real runner again.
6/13/10 – 3.5 Miles – 34.36
Average pace: 9:53
Mile 1: 9:55
Mile 2: 9:33
Mile 3: 10:04
.5 miles: 10:09 pace