DAY 341
After my Seattle Rock 'N' Roll spectating adventure Saturday morning, me, Mr. T and T Junior were supposed to go our friends' annual pickleball tournament. It's pretty awesome. They hold it in their friendly cul-de-sac with neighbors and old friends.
T Junior has been out of sorts and needed a nap before we could over there. We were more than 3 hours late. Obviously, we forfeited our games. But T Junior sort of played.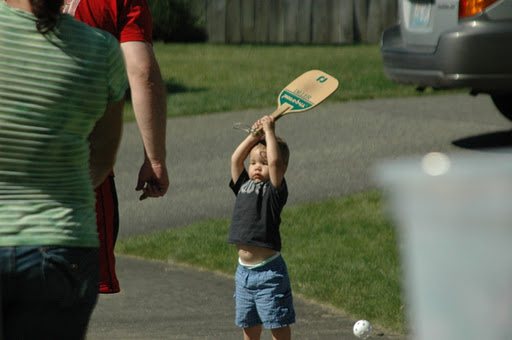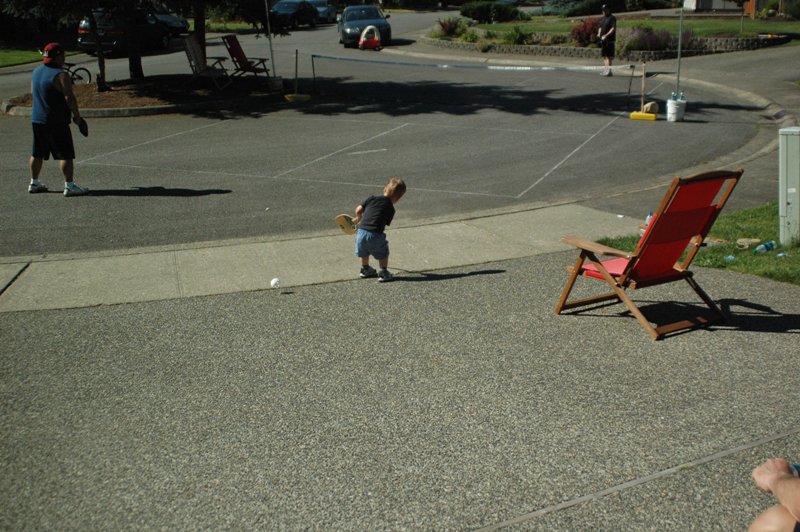 Me and Mr. T played 1-1/2 games. He beat me twice. I had to forfeit the second game because my herniated disc started to put pressure on that darn sciatic nerve and I really don't want to make it worse than it is.
DAY 342
Lazy Sunday. (Well, that's what I called it but it's hard to enjoy it when a toddler is screaming, crying and throwing tantrums, and a puppy is trying to eat Roundup weeds and pooping on the carpet.)
DAY 343
What a freakin' day. Most of what will be in this post should go on my parenting blog, but it all ties together, so bite me.
I stayed up way too late on Sunday night reading Seattle Rock 'N' Roll recaps. When I set my alarm for a time that would give me about 5 hours of sleep and some change, Mr. T was like, "Really? Really?" Then he reminded me I had a punch card for gym day care. Oh yeah.
But the day care times are limited, like 8-noon and then 4-8 or something like that. We were supposed to meet a friend for lunch, so the morning was basically shot. Then, as I was getting ready to go in the bathroom, I could hear T Junior messing with Bennie's crate. The puppy was already in there, so I hollered and told T Junior to leave it alone. I thought, Don't forget to check the crate door before you leave.
Of course I forgot to check it.
We were already 15 minutes into our 30-minute drive when I remembered. I tried to think positive, but the sinking feeling in my stomach just kept getting deeper and deeper. What if he's out eating plastic? He could die. He could cause thousands of dollars of damage to either the house or himself.
We made a U-turn. No lunch out today. Then T Junior, who is either getting his toddler molars or fighting something nasty, was falling asleep in his carseat. Well, okay, I guess he will be napping when we get home. So, no lunch. No gym. I'll go at 4:30, right before T Junior's swim lesson. That'll work out perfectly.
But by the time 4 p.m. rolled around, I knew that wasn't going to work. T Junior has been so out of sorts lately, there's no way he's going to let me workout while he plays peacefully in the day care. I can say with 100% certainty that I would be called away from the elliptical to the daycare room to console my child. What's the point?
Not to mention, I have another headache. It's been every day for the past 2-3 weeks. I have a doctor appointment next week and I plan to ask about these headaches that seem to be below and in my left eye. I am hoping they are just something left over from that nasty cold I had a few weeks back.
But I did do my core workout. I had to stop and give a certain someone a time out in the middle of it. He pushed the exercise ball at me and it hit me in the top of the head while I was holding a plank. I said, "Ouch. That hurt Mommy. Please do not hit Mommy with the ball."
Devil grin. And he did it again.
I almost lost it. What happened to my nice boy? The one I had last week. He has been a completely different child since Friday and it's wearing me thin.
Anyway, he sat in time out for two minutes while I did back extensions and tried not to cry.
Dimity's Core Routine – Revised (for stress fracture)
2×25 crunches on the ball
2×15 pushups on the ball
2×20 leg lifts
2×35-sec. plank
2×30 oblique twists on the ball
2×10 tricep dips
2×15 back extensions on the ball
2×20 kick backs
The kick backs hurt a little because I my glutes are sore from the 1-1/2 games of pickleball on Sunday. Here's hoping tomorrow's better in every way.
***
Many of you write things you are grateful for at the end of each post. I am feeling like I need to do that today because it's been a challenge. I'm in a bad mood even though I know life could be a bazillion times worse, so I'm taking a page from your book…er blogs…and listing a few "good things." So…today I am grateful for:
-A husband who works hard to keep a roof over our head and food on our table.
-That only one of the latches on the puppy's crate was open and he was still inside.
-An unexpected call from a friend to whom I vented and she listened.