DAY 346
For some reason, no matter what time I get up in the morning, I can't seem to get to the gym before 5:15. Why is that?
I got there even later than that on Thursday. Since I am finished with Run Like a Mother, I brought Born to Run and read it while on the recumbent bike. It definitely helped pass the time. I'm loving that book!
The bike ride was weird, though. I felt sluggish, but the workout never felt too hard. I didn't feel like I had to push myself. I'm not sure if it just wasn't challenging enough or if maybe I was to involved in the book. Know what I mean? Maybe I need to bump it up to Level 10 now or something.
Bike stats
30 minutes on Random-Level 9 with a 3-minute cooldown and stretching
7.75 miles
DAY 347
Got to the gym at 6:15 this morning. Wanted to be there at 6 so I could get a full hour on the elliptical. I guess I just always need to set my alarm 15 minutes earlier than what time I think I need to get up. Geesh.
I brought my August issue of Runner's World and it really helped the time pass. The elliptical is a nice, hard workout, but MONOTONOUS. So glad I can read on there, too!
Man, I love to multitask.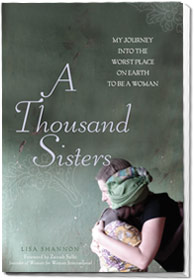 There were some great articles, as usual, in the magazine. The one about Lisa Shannon and the Run for Congo Women organization absolutely broke my heart. Reading about what some of these women have been through…it was horrible, unimaginable, gut-wrenching. Hard to read. Yet they are so thankful and hopeful. Just beautiful women inside and out.
It's so inspiring. I urge you to read about these brave women and check out the organization. Shannon, from Portland, Ore., has also written a book about her journey from her couch to Congo, A Thousand Sisters. Go here to see more.
And then, there was also a very timely (for me) column by Marc Parent about runners and their diets: Hungry for More: When you start running, you get to eat as much as you want, right? It was so funny and true. This part cracked me up:
"And like so many people, I used to drink beer and eat fried fish. Never again! That was the old me. Now I go for a run and then drink the beer and eat fried fish."
Parent cited a study from the September 2009 British Journal of Sports Medicine. Fifty-eight "sedentary, overweight/obese" males and females did 12 weeks of supervised "aerobic exercise intervention" without any change in diet. In the end, the average weight lost was seven pounds, but for 26 of them it was only two pounds.
Oh, and this part was so relevant to the Summer of Weight Loss, I couldn't help giggling on the elliptical: "'It's all pretty straightforward,' he (Dr. Matthew McCambridge, Lehigh Hospital physician and medical staff president of the Lehigh Valley Health Network in Pennsylvania…and a runner) said with a smile. 'Weight loss and attending health benefit is essentially a calories-in/calories-out proposition.'"
Parent continued, "'To lose weight,' I said, 'you have to…eat less.'
'Exactly.'
'Even if you're a runner?'
'At the typical distances and durations for the average athlete — yes, even if you're a runner.'
'But I get really hungry after a run.'"
I guess I don't need to point out that I liked the August issue of RW.
I didn't get home till 7:10 and T Junior was awake so I didn't do my core workout. I told myself I would do it later, but it's 5 p.m. and I don't see it happening. I sort of failed on core this week since I only did it once, although maybe it's good to skip a couple since my right arm and shoulder feel like they got tweaked (I'm guessing from tricep dips). Okay, it's not good. But that's what I'm going with for  now.
Elliptical stats
40 minutes on Random-Level 4 with a 5-minute cooldown and stretching
4.5 miles
Today, I realized I made a mistake on my measurements. I didn't measure each thigh like I should have. I measured them together. What a dummy! I will re-measure and fix that in the original post.
I'm really excited to have so many runners interested in joining me for the Summer of Weight Loss. It's always more fun, motivating and inspirational when it's with a group!
As far as food today, I did okay. I had coffee with cream (-1), a piece of Sarah Lee DeLightful toast with a tiny, tiny amount of butter (-1), and a low sugar oatmeal packet (-2). I had half a Zone Perfect bar for a snack (-2). Lunch was leftover orange chicken and a 1/2 cup of white rice (-8). I shared the other half of the Zone Perfect bar with T Junior for a snack (-1) and then for dinner I made risotto in the crockpot (it turned out pretty good, but I only had 1/2 a cup) and baked asparagus with olive oil and balsamic vinegar (all together, it was about -9). Oh, and I thought a 1/4 cup of Chardonnay was worth it (-2), and I'll use two more on a Skinny Cow later. So, I used my exercise points (+2) and had to use some of my 35 weekly points as well. I've used my extra points all week, and still have 8.5 left that I will try to save for Sunday. I did not drink enough water today, though.
How are you doing?