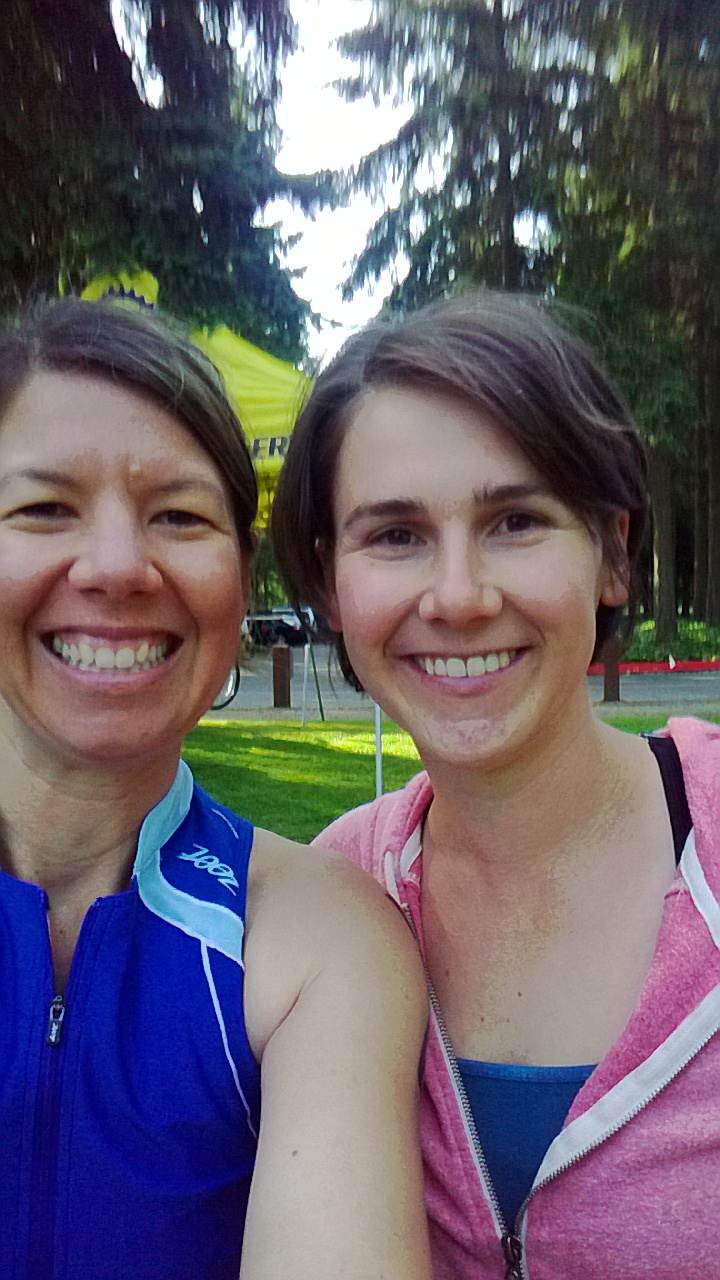 Have you ever done a race where even after you've started it, you are thinking: I can't believe I'm doing this?
That was me on Saturday during my first triathlon (as an adult; I did IronKids when I was in the 8th grade, and I'm counting that), the Dilettante Women's Sprint Triathlon. (There is also an Olympic distance.)
On Friday, I volunteered to help the race director for the Dilettante Women's Triathlon and BuDu Racing set up the bike racks as a way to calm my fears a little bit. My friend, Jill, had met me the week before at the race location. We rode one loop of the bike course, tested the lake (to see if  I really needed to rent a wet suit), and ran a little. But volunteering really helped me see where everything was going to be so I could be prepared in my mind. I met another first-time triathlon mom, S, that day, too, and I'm glad we had each other because on race morning, our two experienced triathletes couldn't make the race due to a family emergency and illness.
Even though, I knew a couple of other people that were going to be at the race, it was comforting to see S on race morning.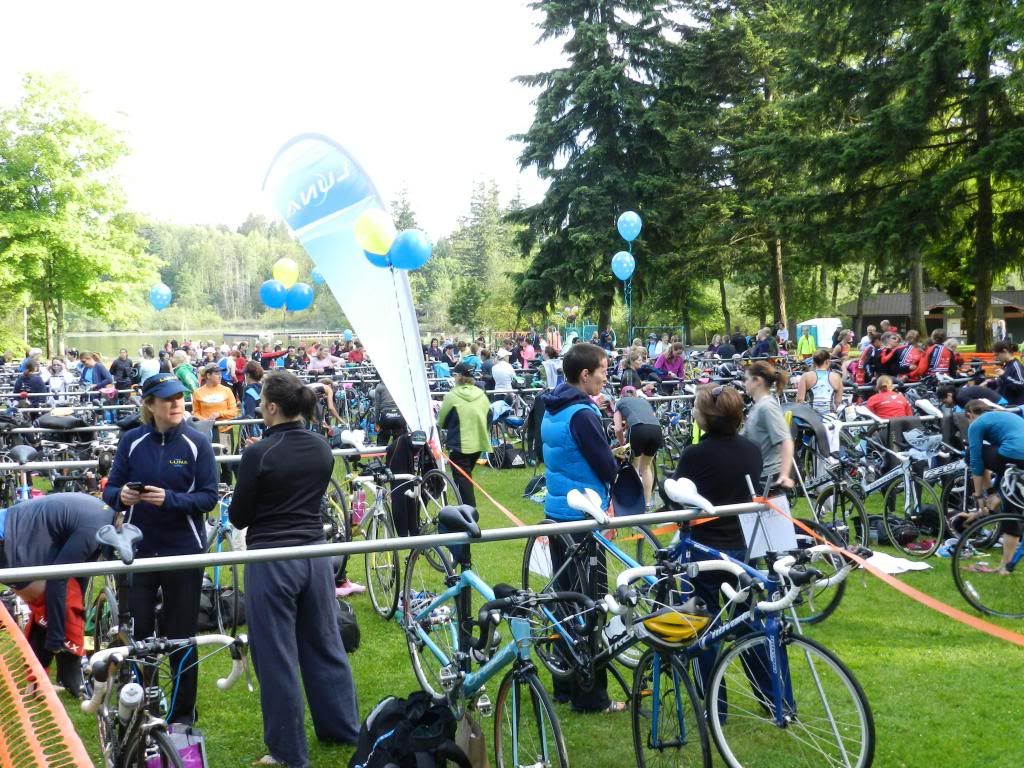 The race director reserved the volunteers an entire bike rack, but it turned out we only needed two spots so we shared with the Luna Chix Tri Buddies team whose reserved racks were filling up.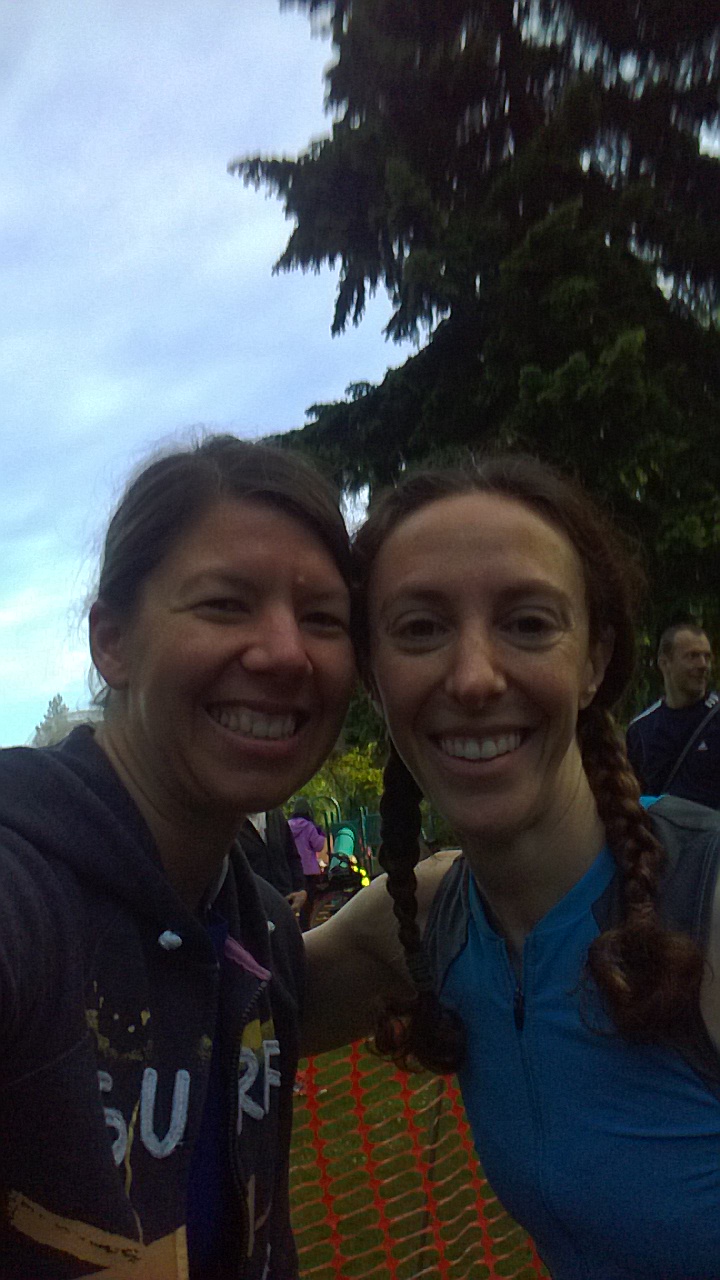 The first thing I did when I got to the race that morning was having the bike expert check my bike. Glad I did! My tires were only half full! He also showed me how to strap my little bike pouch under my seat properly and gave me some shifting tips that really helped me out on the ride. Total noob here.
After I had my bike situated, I wandered around looking for people I knew because I didn't know what else to do (S hadn't arrived yet). I still had a good 30 minutes before transition closed.
I looked for Lindsay, but couldn't find her. But I found Julie! Hooray!  A familiar face…and someone who does triathlons. She seemed very calm; it was reassuring. I was a nervous ball of energy.
Finally, it was time to get ready. But since I didn't have a wet suit, I didn't have to do much. I chatted with S while she got her wet suit on and waited until the last possible minute to take off my sweat pants and sweat shirt. It was going to be a warm day, but the early morning air was cool–especially in the shade. And the grass was wet and cold.
Soon, me (in a loaned pair of tri shorts and tri top–thank you, Jill!) and S, in her wet suit, were walking down to the beach for the pre-race meeting. I had to run back to transition and drop my flip flops into my basket because I forgot to take them off, though.
Down on the beach, we found Julie, then Lindsay and her friends. I kept watching for my cheer squad (my husband and son) because I'd asked them to come. I don't normally ask them to come to my races, but for some reason, I really wanted them there on Saturday.
After the pre-race meeting, all the Olympic distance racers went over to the start. Julie and her nice husband let me talk their ears off. I was nervous and was dealing with it by just blabbing, blabbing, blabbing. I don't even know what I was saying half the time. And I kept checking for my family.
Soon, it was our turn to go over to the start area. The lake, 5 Mile Lake, was 69 degrees when the race director took its temperature on Friday. But we had to stand in the shade for a while before we started so I was getting pretty cold in just a tri suit. I wished I had a wet suit.
About 5 minutes before the start, my husband and son showed up. It was perfect timing! I was so happy to see them before the start. Gave me a boost of confidence for some reason.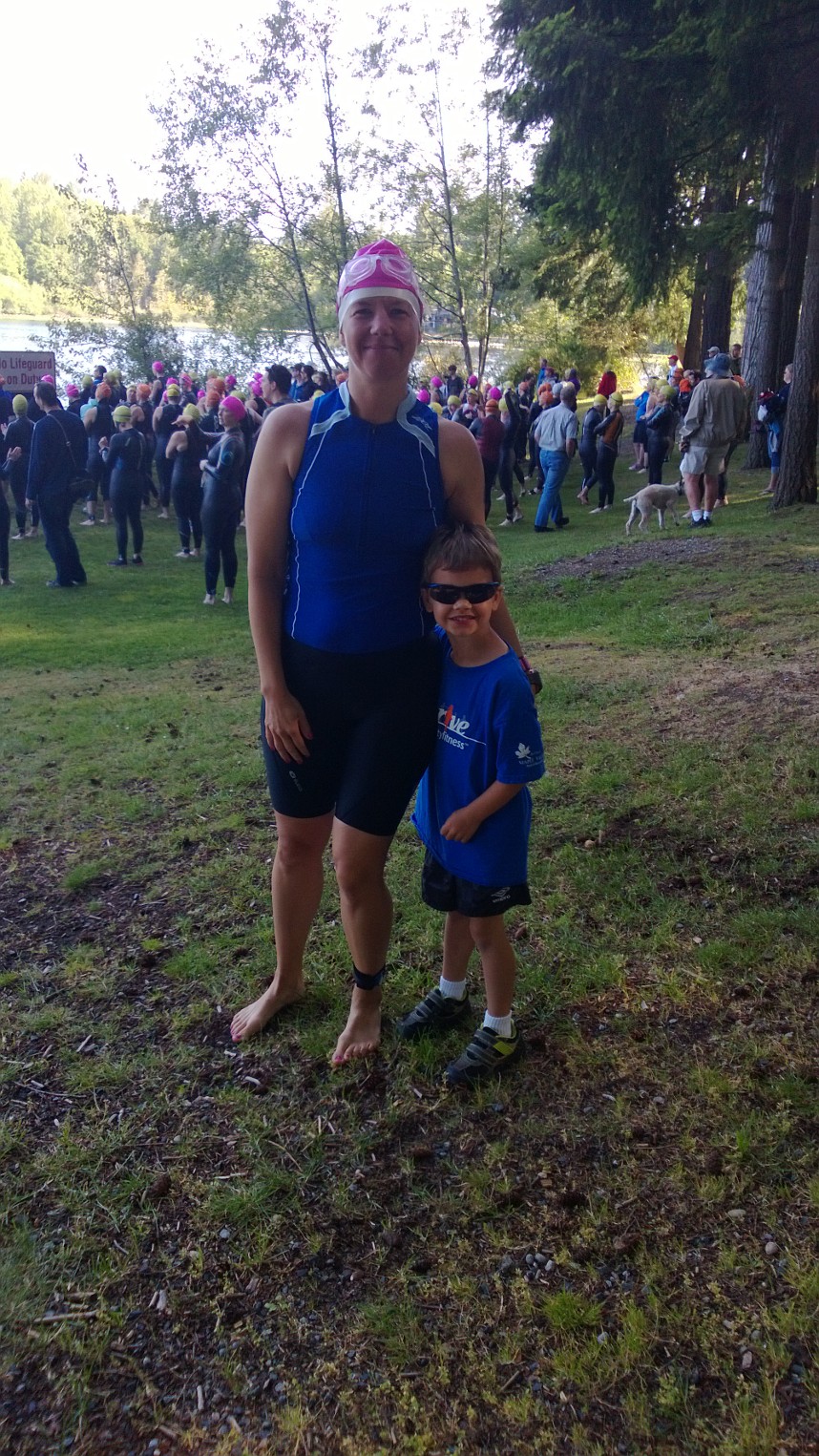 Then it was time for the the green caps to go (Lindsay and S were both in the green group–caps were determined my age).
Thank goodness Julie was also a pink cap so I could continue to have her as my "safety blanket" before the start. She was just so calm–it was very helpful! Very thankful to Julie!
Eek! Then it was time for the pink caps to get in the water for the start. We stayed at the back of the pack, standing about calf-deep in the water. Pink caps were ages 35-44 (my actual age group was 35-39, though).
Once the race director blew the horn, it was time to go! I just let everyone else go and I basically waded in up to my waist before I could dive in and go.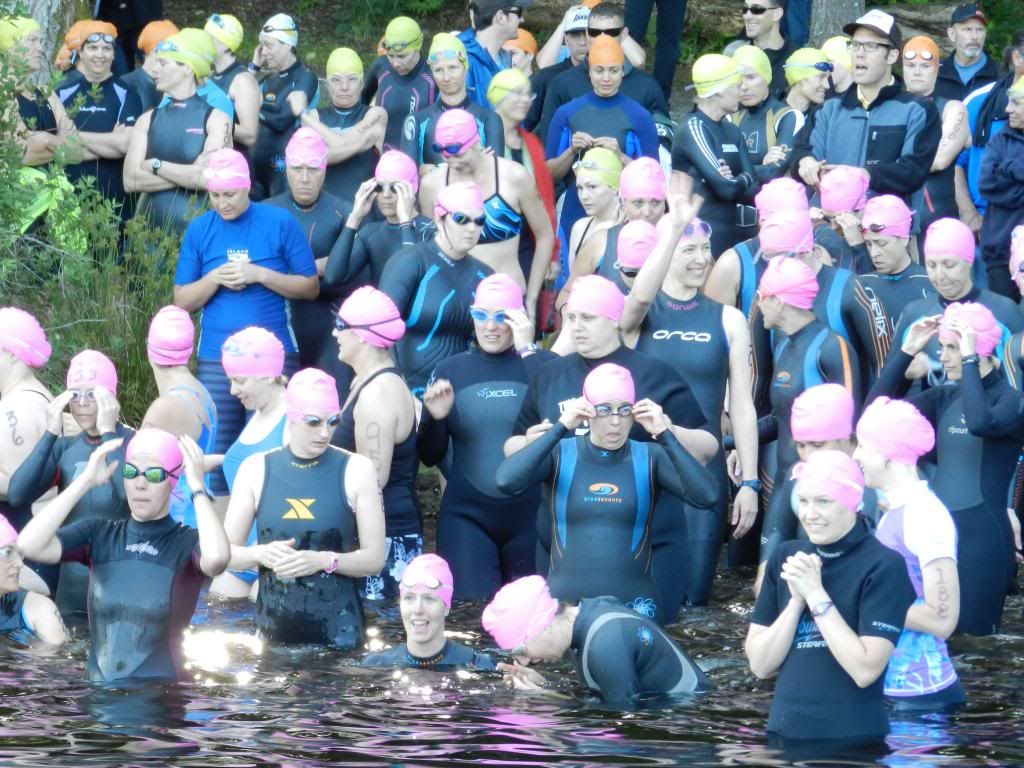 Immediately, the water took my breath away. It wasn't that cold, but it was a shock to the system. That, plus the excitement and the thought–I can't believe I'm doing this–made my heart race.
There seemed to be a clump of women just sort of breast-stroking, so I had to breast-stroke also to kind of get around a few of them before I could get to the outside of the pack. I had trouble picking a spot to "sight" behind the first buoy–there wasn't anything that stood out in particular. Finally I picked a trio of tall evergreen trees.
My breathing was so sharp, I breathed every stroke on my right instead of bilaterally like I'd practiced. I sighted every third stroke or so, but I also found myself doing a couple of breast-strokes every 5-6 arm turns (of freestyle) or so because my heart was beating so fast and I was breathing so erratically. It was so annoying! I couldn't get into a rhythm at all.
I mean, I'd planned to take it slow, but this felt ridiculous. I grew up ocean and lake swimming, this little mineral lake was nothing. It didn't even bother me that I couldn't see anything under the water. After I turned the first buoy, my breathing got a little better, but my heart was still pounding. So, I continued to freestyle for 5-6 strokes with sighting every 3 or so, then breast-stroke, breast-stroke, then freestyle…until the second buoy. I talked to myself in my head and told myself to calm down.
By the second buoy, I'd actually passed a chunk of people. I'd stayed to the outside and I guess that worked because I only ran into one person. Once I was around the second buoy, I found my rhythm. I calmed down, but I only had the short swim to shore left.
Then my goggles fogged up and I couldn't see where the shore was because of the glare from the sun. I decided I'd rather wash out my goggles than veer off course, so I had to do a couple of frog kicks, but then I was off and determined to swim as much freestyle as I could to shore. Pretty soon, my hand touched the bottom.
It went so fast. I was just getting comfortable! Turns out I passed all but 7 swimmers in my age group group, too.
Swim (400 m) time: 10:35
Swim place out of 23 (age 35-39): 7
Once I stood up and looked to shore, I saw my husband and son, so of course I had to wave. I'm so hard core like that.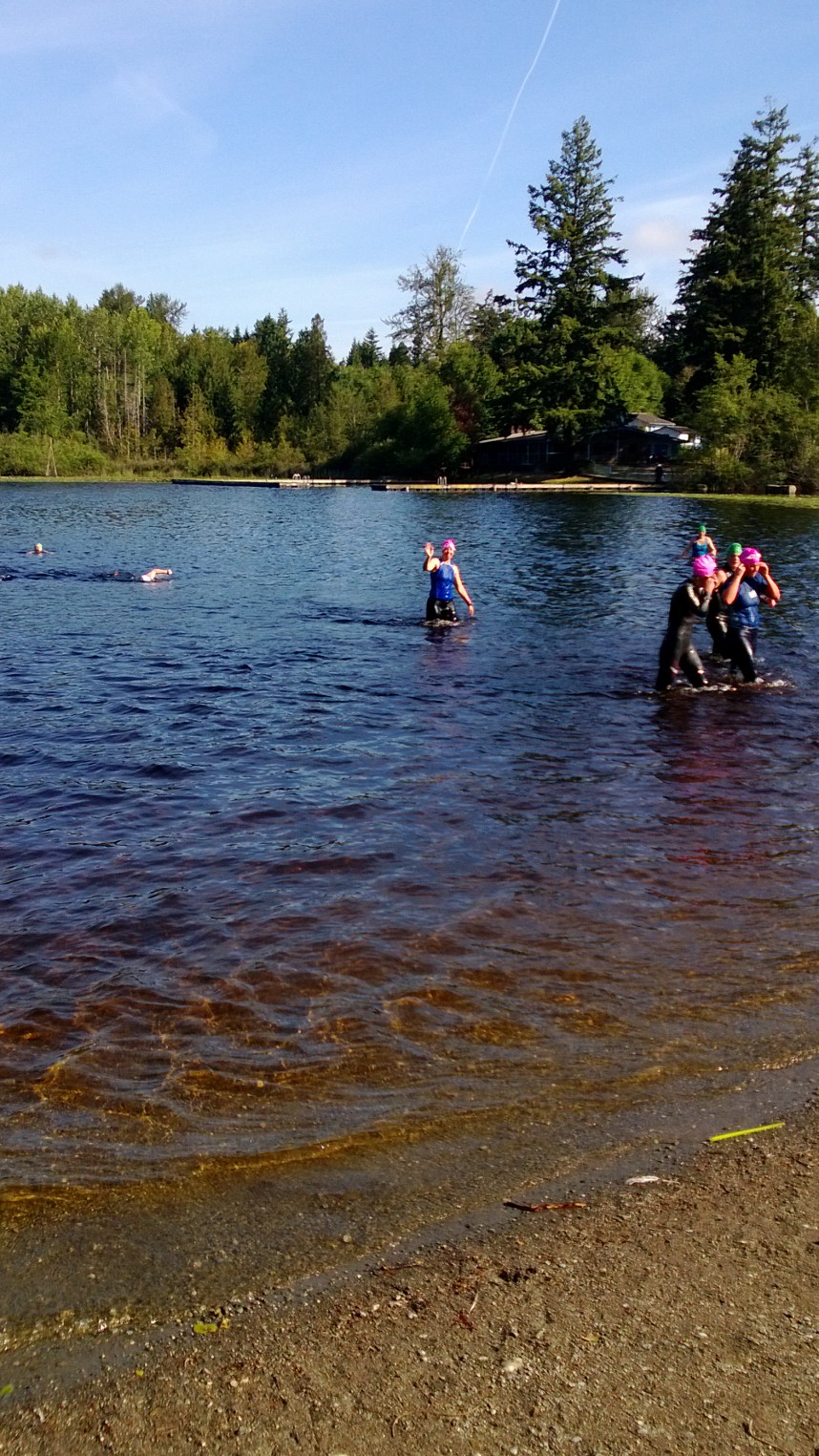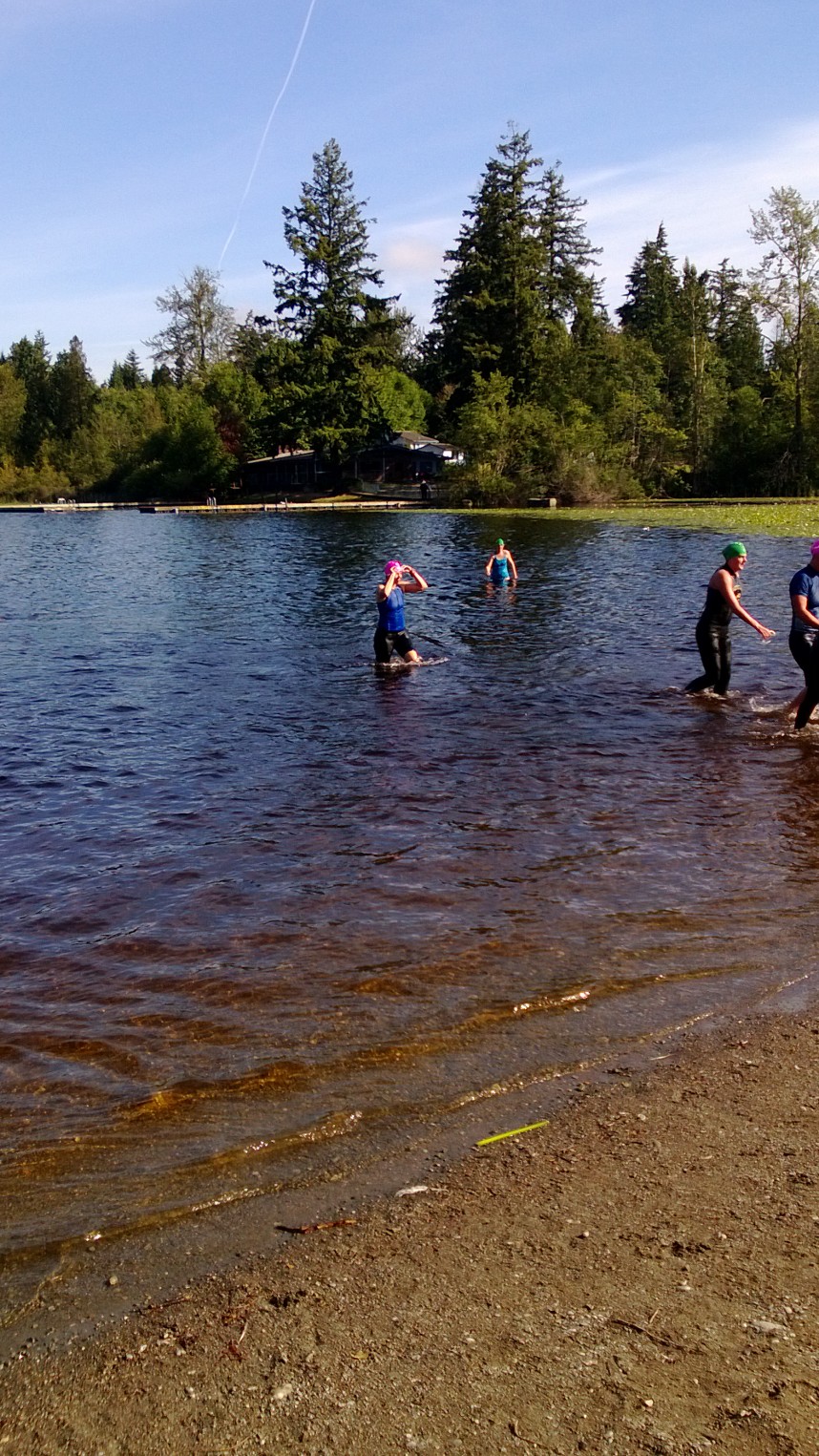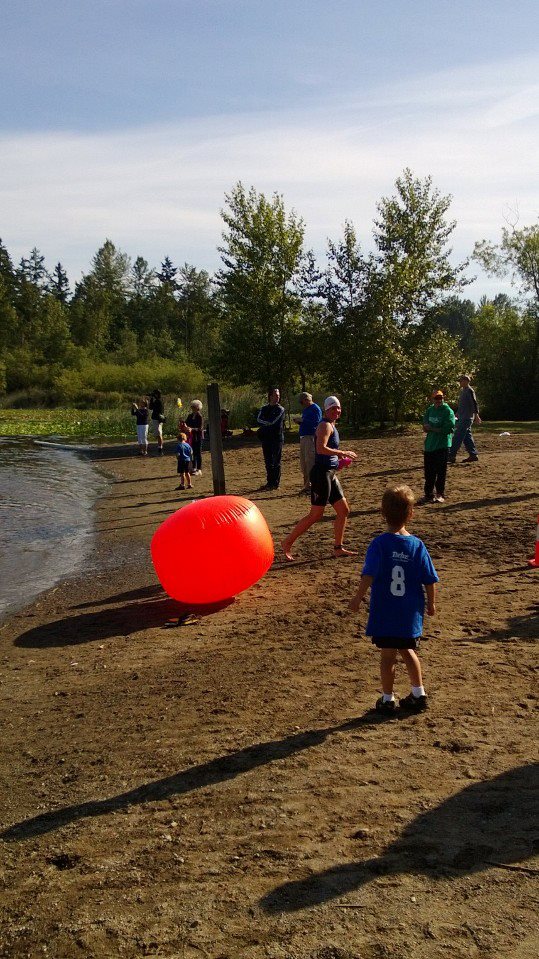 Once on land, my son let me know I did not win the swim. My husband says I walked to transition, but I remember running. Maybe it was a really slow "wog," hon.
As I headed across the grass to transition there was a woman in a green cap next to me. "You doing the Olympic?" I asked her. She said she was and it was the farthest she'd ever swam before. Awesome! We took our caps off and looked at each other, and realized we knew each other! But we couldn't figure out from where. By then we were in transition, so back to the race.
Once I was at my stuff, I realized I was very, very dizzy. S had filled a bucket of water to rinse her feet of grass and sand, and told me I could use it, too. I had to hold onto the transition fence to steady myself while rinsing my feet. Then I had to sit on my towel. Just sit there…to stop the spinning.
My husband and son came over. My son was telling me to get moving. My husband was thinking it, but didn't say anything. I got my socks and bike shoes on, then took my GU and  tried to drink my strawberry lemonade Nuun. I didn't have anything to hold a water bottle to my bike, so I knew I needed to drink enough before I left, but I was sputtering and choking because I was so dizzy. Ugh. It was annoying, but I was worried I'd either fall running with my bike or just fall off of it completely if I tried to get on.
THREE MINUTES AND 55 SECONDS LATER…I was leaving transition with my bike. Ugh! Luckily, this was my first tri and I'd taken the pressure off myself completely. I really didn't care about my time. I did care if I was having fun, and I was! I was excited!
As I got on my bike, it took me a bit to get my left shoe clicked into my pedal, but once I did, I was off. And every fear I'd had about the bike melted away. I felt good. I felt confident.
The bike portion might've been my favorite part of the tri. First of all, I like to go fast and there were plenty of rolling hills on the Dilettante course to get some speed on the downhills. I had my bike computer on mph, so I could see 23-24 mph on the downhills! Unfortunately, I also so 8, 9, 10 on some of the uphills.
For some reason, my bike computer did not record the data of the ride. That or I bumped it when I put it back in transition and erased it. Because I had the bike computer, I didn't use my Garmin on the bike. Oh well.
I had a blast. I was passing people a lot, but I also got passed by some super fasties with aero helmets and fancy tri bikes.
By the second 6.84-mile loop of course, I had a better feel of when to shift–how to get more out of the downhills and how to climb better on the uphills. I really love riding my bike. I can't wait to get out more this summer!
Because I'd ridden the course with Jill, I knew when I was almost done with the first loop (and where the monster hill was: right before the end of the loop). This helped tremendously. As I passed the the entrance to the park on the first loop, I saw my husband and son, and it gave me more energy!
I tried to thank all the volunteers on the course. They were awesome cheering for everyone and stopping cars at intersections.
Out on the course I noticed all the different types of triathletes. All ages, shapes and sizes–it was awesome! I also saw quite a few mountain bikes and had some serious respect for those women.
Also while I was out on the course, my son asked my husband: "Where's Mommy?" He told him I was out on the bike course. "Well," said my son, "She better hurry up!"
After the second loop, I turned back into the park and dismounted without any problem. Honestly, I was a little sad the bike portion was over. I had so much fun!
Bike (13.68 miles) time: 50:42 (16mph)
Bike place out of 23 (age 35-39): 5
(My bike time felt faster than this. I want to be faster on the bike. How do I do that?)
I ran into transition, racked my bike, changed my shoes. Took a GU, drank more Nuun, slipped on my number (I'd attached it to my Team Sparkle skirt since I don't have a bib belt) and ran out. My husband says he and my son were on their way over, but I was gone before they got there. So, my second transition was way faster: 1:44.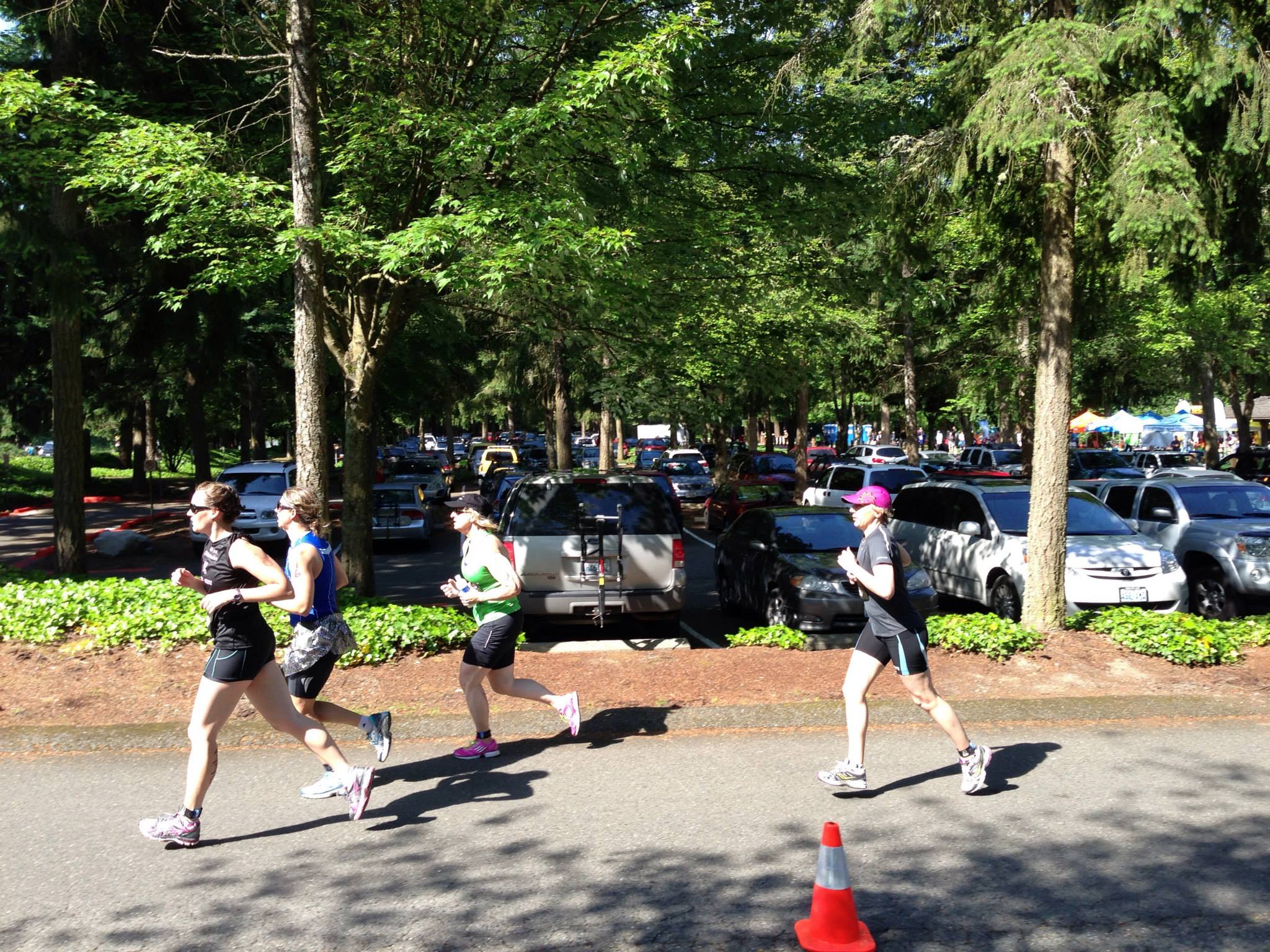 I've done brick workouts before, so I knew my legs would feel like tree trunks and my feet like cement blocks. But it also felt like I was hardly moving even though I was passing people. I felt so slow. Once, I turned out of the park and onto the road, though, I looked at my watch and saw I was running a pace in the low 7's. I made myself slow down so I wouldn't die later.
The run was pretty. It was on a portion of the bike course, so occasionally, a bike passed me. I consistently passed people, and I got tons of compliments on my Team Sparkle "bling," even from other runners.
I had a pretty good run for having biked for almost an hour before it. After about a mile, I started to feel normal. There were some rolling hills, which were tough, but I was finding my rhythm about halfway through the run, which was nice. I got passed by only one woman on the entire run!
Mile 1: 8:25
Mile 2: 8:22
Once we made the turn onto Military Road, I knew we were on the way back to the park. I also knew from Jill that the finish included a loop inside the park. I stepped things up a bit knowing the end was near.
I turned into the park and onto the gravel trail through the park and was gunning for the finish line. I passed a woman I'd been trailing for about a quarter of a mile and she said, "Whoa! Way to just blow by me!" Seriously nice people out there Saturday.
Gravel trails are my expertise since that's what I run a lot at home and I passed a few others on the way to the finish. I ran as hard as I could through the finish line. I sprinted, even though my son says I was not sprinting and just jogging as he demonstrated for me later. He'll make a great coach someday. *sarcasm*
Mile 3: 7:58
.07: 7:13 pace
Running time (from Garmin): 25:16 (8:14 pace)
Running time + T2 (from timing chip w/ second transition time): 27:00 (8:53 pace)
Running place out of 23 (age 35-39): 3!!!!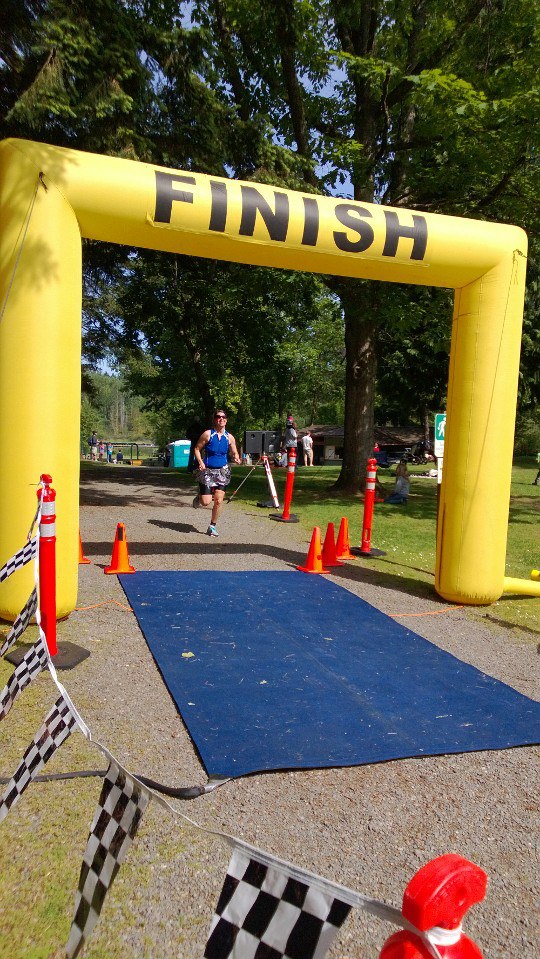 Right after the finish, one of my new tri friends came over to say congratulations and I saw Lindsay–she did so well, go read her report. And my son and husband were there. And even though I did not win, I think my son was proud of me, and I know my husband was. I was very happy. It was just so special to have them there to support me–I'm tearing up as I write this.
I was also sad. Sad it was over. I can't believe I almost didn't do the tri. I'm so glad I did.
Age Group place out of 23 (age 35-39): 5th!
Overall place out of 158: 51st
Maybe someone can help me figure out the results because the person who got 4th in my age group didn't have a bike time and took an hour and 10 minutes to run 3.07 miles. Is it possible her chip didn't separate her bike and run times? So weird.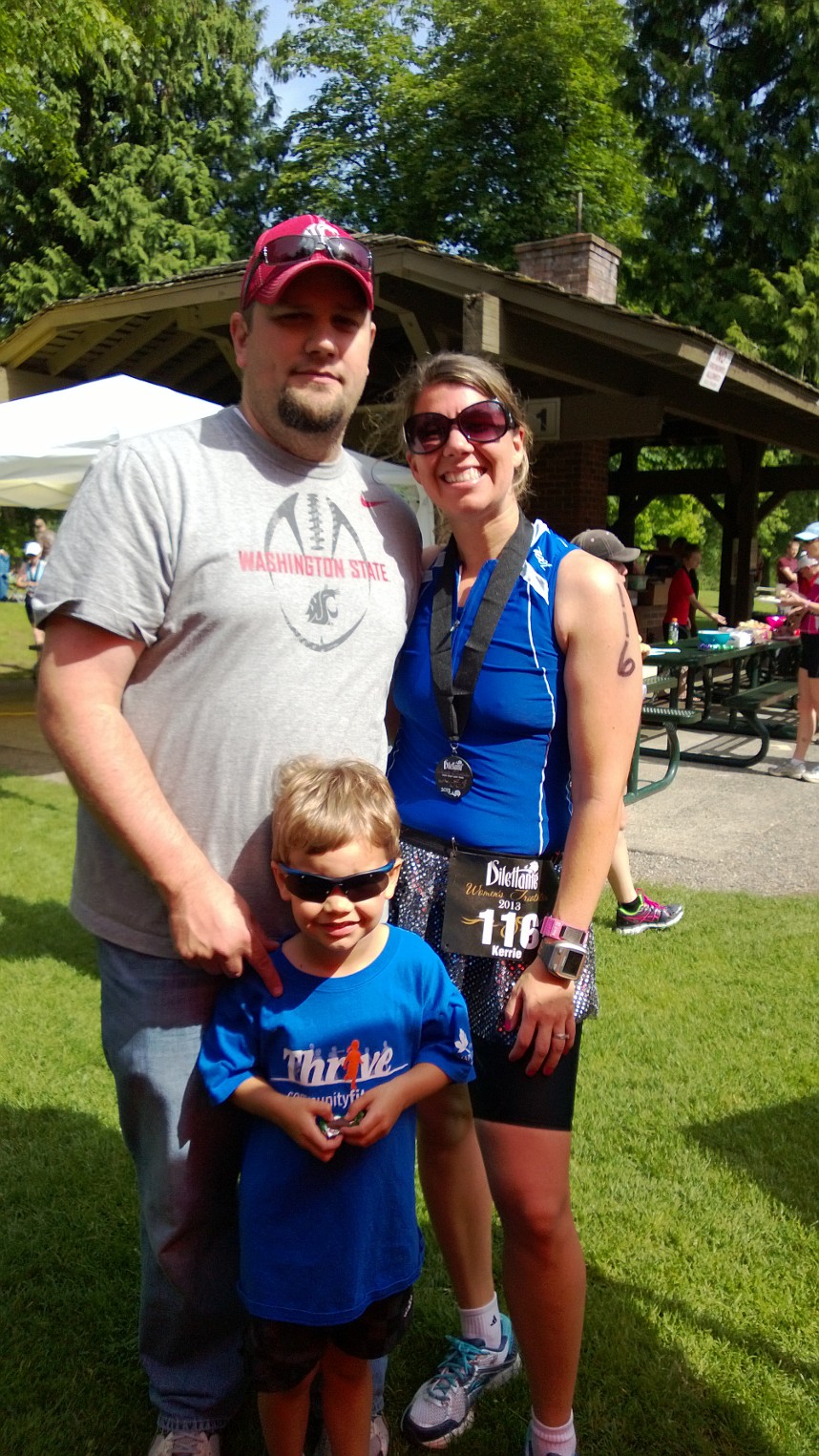 The next thing to do was to go get some chocolate! Dilettante supplied finishers and their families with plenty of chocolates to taste–and oh man, their chocolate is so delicious. I had a chocolate and a mandarin orange, looked for Julie, but then we had to go. My son had a t-ball game at noon back by our house and I needed to clean up first. I was sad to go so quickly–I didn't even have time to find out my results–but I was glad we left when we did because traffic on the highway was awful due to a nearby summer concert.
Final thoughts:
I FREAKING LOVE TRIATHLONS! I cannot wait to do another one. I want to see how I can improve. Maybe I won't spend 4 minutes in the first transition next time. Next time, I'll wear a wet suit. Next time, I'll bike faster.
Also, the Dilettante triathlon was an awesome race for a first tri. Smallish and not overwhelming. Friendly for racers and their families. Easy to park, etc. The race is growing in popularity for a reason!
And, to those of you who think you might want to try a tri…DO IT! It seems scary, but it's really not. Just take one sport at a time. You will have a blast!