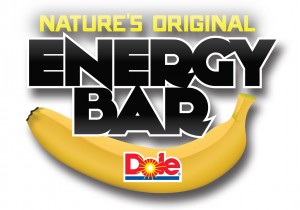 I suppose it's impossible to hold a party celebrating bananas without keeping a That's What She Said tally. However, much to my surprise, there were only six. It's possible that one or two didn't get recorded, but I guess this shows that me and my friends are a lot more mature than I thought.
A Banana-Themed Party?
So what exactly is a banana party, you might ask (while giggling – stop it). Well, that's what I wondered when Dole contacted me. Turns out, there are a number of cities across the United States that Dole considers Top Banana Cities, as in the population consumes more of the yellow fruit than other cities. Dole named Seattle as a Top Banana City! Seattle's a pretty active city, so I'm guessing one reason we recognize the health benefits of bananas. (The other reason: We are drawn to the color yellow since we rarely see the sun?)
So, to promote this fantastic fruit, Dole held banana nutrition parties in their Top Banana Cities. One of those parties was at my house last Sunday! Dole gave me a generous budget for the party, and since I haven't thrown a party in 4 or 5 years, I went all out. I decorated in a yellow/monkey/banana theme and I even made a banana-themed soundtrack (see end of post for the banana playlist). And I decided to make five of the recipes that Dole sent me, plus smoothies and dessert!
I don't like to cook (or clean, which I had to do – yuck), so this was sort of a huge deal for me. BUT, all of the Dole recipes were easy, and as it turned out, delicious. Dole Banana Party attendees agreed, much to my delight. They were Mel from Tall Mom on the Run (@tallmomontherun), Zoe from Run, Zoe, Run (@runzoerun); Chelsea from Will Run for Food (@chelsea_c); Nicole of Ricole Runs (@ricoleruns); and Lauren from Marathon Lar (@marathonlar).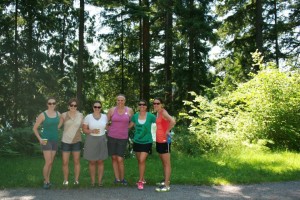 It's kind of perfect that Dole asked me to have this banana party because I'm a big believer in the banana – I generally have one every single day. And I always like to have one before a race (with a little peanut butter).
My favorite shopping moment for this party was buying up all the Dole bananas at Fred Meyer. The banana section was actually a little bare and I was slightly freaked out that I would not have a enough bananas (I needed 14 for recipes, and then I wanted to send everyone home with their own bunch.) But, as I was piling them in my cart, a produce guy appeared with a cart full of bananas!
"Oh good!" I said. "More bananas!"
He looked at me like I was weird. Probably because I already 4 or 5 bunches of them in my cart.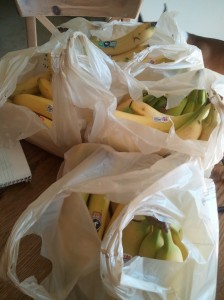 The Dole Bananas Party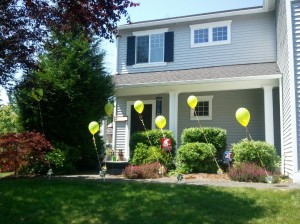 I went with the yellow theme, and put yellow balloons tied to yellow pinwheels out in front of my house. Actually, Chelsea and Mel arrived early and helped me with this. Thanks girls!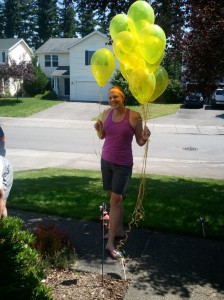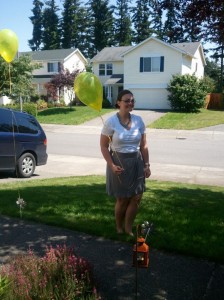 Inside, I had these fun shiny palm trees (yes, Mr. T, I know bananas don't grow on palm trees, but they complimented the monkeys, okay), more yellow balloons (expertly tied by Mel and Chelsea), and a monkey balloon that T Junior couldn't be more excited about. Dole sent some sweet swag (more on that later) that I tied together with a golden-yellow tulle ribbon, and lined up on my mantel.
I even painted my nails yellow – a color I never would've chosen, but that I am sort of loving now.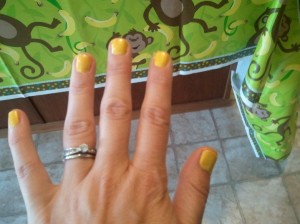 I made a banana centerpiece on the table and surrounded it with yummy food. The Dole recipes I made were: Classic Banana Bread, Protein Pick-Me-Up Cakes, Banana Oat Bars, Banana Tea Sandwiches, and Banana Curried Chicken.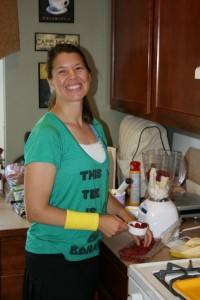 I also blended their Banana Raspberry Smoothie. Of course, I had to put out some peanut butter and banana sandwiches, too, because they're one of my favorites. (Look for all the recipes next week!)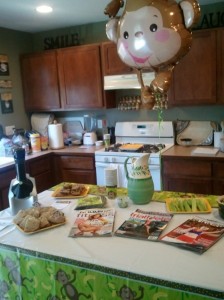 For dessert, we had banana-chocolate "sorbet" using the Yonanas machine Dole sent for us to try out.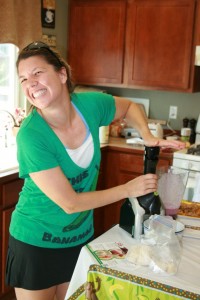 It was easy once I got it going: insert frozen bananas and dark chocolate chips. Yummy!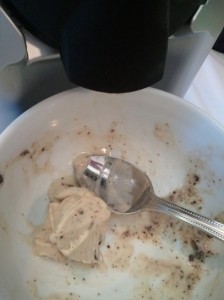 The Banana Curried Chicken was a huge hit with my guests, and I was surprised that the Banana Tea Sandwiches were so good. I thought they'd be spicy with watercress (which I'd never used before) and horseradish, but the cucumber and the banana balanced it out, and the sandwiches had a tongue-pleasing tangy flavor instead. My favorite, though, was probably the Protein Pick-Me-Up Cakes. Don't forget to check back next week for all the recipes!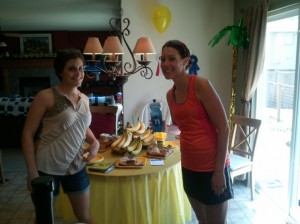 After eating our weight in banana food, we headed out in the heat of the day to the trail I run regularly across the street from my house. Yes, the downhill/uphill gravel trail (actually the Green to Cedar Rivers Trail). The plan had been to run before we ate, but it was in the 80s and we were all melting. I am not complaining, but none of us are used to that warm of weather, so we ditched the running idea, and walked instead for more than a mile (I'm guessing 1.5).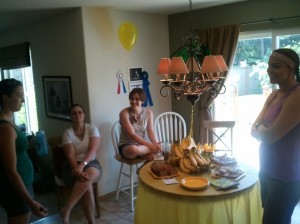 Luckily for everyone, my house has air conditioning. Before everyone left, they checked out their swag: a great Dole water bottle, recipes, banana coupons, a bread pan, and at last, a banana-keeper, over which there was much laughing and many, many TWSS jokes.
I guess we aren't as mature as I thought.
For more information on Dole and the banana party, click the links below:
Marathon Lar's Recap
Dole Yonanas Machine
Dole (@Dole and @DoleNutrition)
My Banana-Themed Playlist
Yes, We Have No Bananas – Louis Prima
The Monkey's Uncle – Annette Funicello
Vendedor de Bananas/Cosa Nostra/Bich Do Mato – Jorge Ben
Funky Monkey – Siedah Garrett (from the RIO soundtrack)
I'm Going Bananas – Madonna
Cuban Pete (In the Style of "Jim Carrey") – Done Again (not really a banana song, but fit the sound)
Day-o (Banana Boat Song) – Harry Belafonte
Brass Monkey – Beastie Boys
Peanut Butter Jelly Time – Chip-Man & The Buckwheat Boyz (okay, the song doesn't have bananas, but it's sung by a dancing banana on the video!)
Hollaback Girl – Gwen Stefani
Go Bananas – The Banana Splits
Fried Bananas – Dexter Gordon (instrumental – jazz)
Monkey Man – Kylie Minogue
Bananaphone – Raffi (gotta have this one)
Tra La La – The Banana Splits
Bananas – The Fresh Beat Band
Monkey Eats Bananas – Princess Chelsea
Grow Bananas – Greensky Bluegrass
30,000 Lbs. of Bananas – Harry Chapin
Banana Pancakes – The Hit Co.
Win Your Own Banana Party Pack!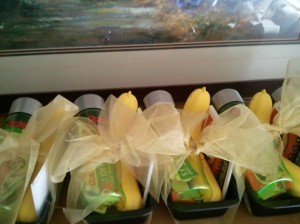 The party pack includes 1 24-oz. Dole water bottle (that is perfect for smoothies!), a banana keeper, a banana bread pan, and Dole banana coupons. I have 3 to give away and there are five ways to enter (do all five to increase your chances)! Please leave a separate comment on this blog post for each entry:
Share this giveaway via your blog, Twitter, Facebook, email, billboard, etc.
(Contest open to US residents only until 11:59 p.m. PST on 7/20/2012. Winners will be announced on 7/21/2012. Winners please respond by 7/26/2012 or a new name will be chosen.)