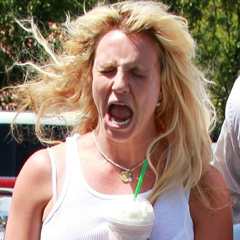 I feel ya, Brit.
Today is a rest day, so I'm basically grumpy, tired, unmotivated, annoyed, lazy, sleepy, hungry, sad and impatient. Yep. Just a typical rest day.
The only thing, other than a nap, that sounds remotely exciting to me is putting on some running clothes and hittin' the 'mill for a few miles, which I can't do. I mean, I don't really need to rest. I'm not running tomorrow. I want to.
Two days into a self-imposed week-long running hiatus and I'm dreading the rest of the week. All the Boston madness is not helping. Can I make it till Friday on nothing but swimming?
What else can I do? I don't think I can ride my bike. Can I do my 30-Day Shred video? The treadmill is just sitting there. Lonely. Feeling unloved.
Here's a question for you all: If it's my shin that's bothering me (taking the week off to make sure sore shin goes away, in case you didn't know), can I ride my bike? I can barely feel any soreness today. A good sign, but it's going to make it even harder to not run. When I had the fractured shin last year, the doc said I could ride the recumbent bike at the gym, but not a regular one. Do you think that applies to this situation, as well? Here's another question: Can I even do my 30-Day Shred video? Will that be too much impact on my shin? Sounds dumb, but I'm desperate.
Today, I took T Junior to see Rio  to keep myself away from the refrigerator because Mr. T is at a dog show. (Okay story, pretty visual effects, awesome music!) Road Runner Sports is in the same complex as the theater, so of course, we just sort of happened to find ourselves in there and I might've bought a pink visor. Hoping if I buy warm-weather gear that the weather will finally warm up, I guess.
But now that we're home, I feel anxious. Antsy. Like I need to exercise. Too bad I don't feel this way about cleaning the house.
Tomorrow, I have a spa date with two girlfriends in the morning. That should keep me busy for the first half of the day. I don't know if I can make it all day with no workout, though. In fact, I think I might get up early and do a couple levels of 30-Day Shred before the spa day.
What?