I am liking the Furman First 5K training plan. I am not liking the weather.
I definitely think things would be more fun if I didn't have to run on the treadmill. Also, it helps to have power so I can run on the treadmill.
I'm sure you've seen that the Seattle area got hit with a ton of snow and then ice. Wednesday was the snow day. Both me and Mr. T worked from home and I got some cr0ss-training by building a snowman with T Junior.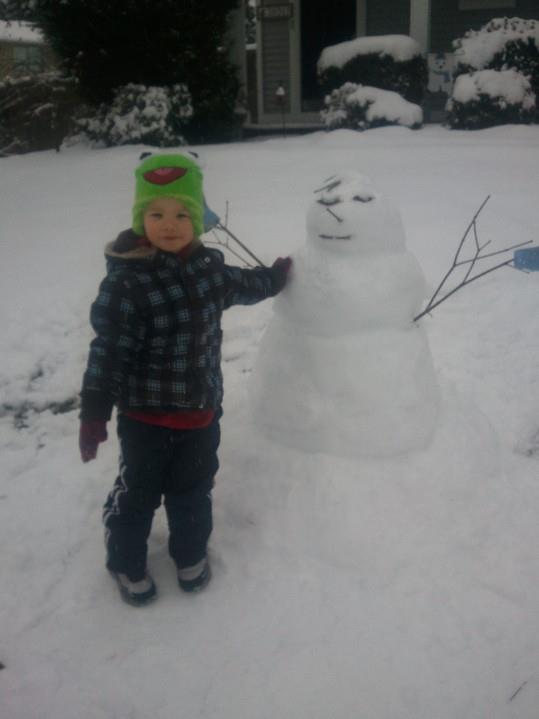 Actually, I shouldn't say with T Junior. T Junior threw snowballs at me the entire hour it took to build the snowman. Luckily, his aim was mostly off.
When the "work day" was done, I wanted to hit the treadmill. Mr. T and T Junior wanted to rock out on the Xbox. Everyone, including the three dogs, were stuffed into the room (our bedroom) where the treadmill is. I was having a really tough time concentrating. I must've stopped the treadmill 5 or 6 times during the warmup to adjust technology or to answer a question or tell a dog to get away from the 'mill. Mr. T saved the day by taking everyone downstairs.
Wednesday's FIRST training called for a tempo run: 1 mile warm-up, 4 miles at an 8:30 pace, 1 mile cool-down. My biggest fear was that the power would go out (as was being reported by friends on Facebook) and I would hurt myself.
My treadmill doesn't allow me to pick a specific pace. It goes by MPH, I guess, which doesn't really make sense to me, but whatever. My warm-up was slow and easy. The tempo, I had to split paces to try to get it to equal an 8:30 pace. So the first two were at 8:34 and the second two were at 8:27. Cooldown was nice and slow.
The power, of course, had stayed on. Thankfully. I felt lucky. I got up early Thursday to get some work done since it had rained overnight and the roads were like an ice skating rink. The snow was shiny. About a half-hour into my work, the lights blipped, then went out. Bummer. T Junior was freaked, but also excited. The power came back on, tough, a couple hours later. "I'm going to get a walk in on the treadmill," I announced. It was cross-training day. My hamstrings were a little sore from the tempo run.
About 15 minutes into my walk, the treadmill came to an abrupt stop. Power out. And it stayed out. So I resorted to some random crunches and PT glute exercises. I was proud of myself for doing something. The day went on and on, and no power. We went out to dinner. I ate bad. Like it was the end of the world or something.
That night, we all camped out downstairs by the gas fireplace. It was actually pretty comfortable downstairs at 68 degrees. I felt lucky. I'm sure that night was much harder for some people. But I didn't sleep well. We went to breakfast at a local dive. The coffee was horrendous. Really embarrassing — this is the Seattle-area, people! The breakfast, however, was nice and greasy and delicious. I hoped the power would come back on so I could get in my long run.
No dice. We hung out at a friend's house, who had power, but later in the day, headed home so Mr. T could get ready to leave for the dog show in Portland. He'd been gone about 30 seconds when the power came back on! I jumped for joy, which T Junior thought was funny. But we'd already planned on taking dinner to our friends, so we didn't get home again till 8 p.m. By the time I put T Junior to bed, and fed Lucy and Annie, the sleep-deprivation and non-routine had caught up with me. All I had energy for was a 30-minute walk on the treadmill before bed.
I slept in, so Saturday began a little later than normal. And I woke with the news that Bennie had won in Portland — a 4-point major! That's pretty huge for his first win. I couldn't believe it. What great news!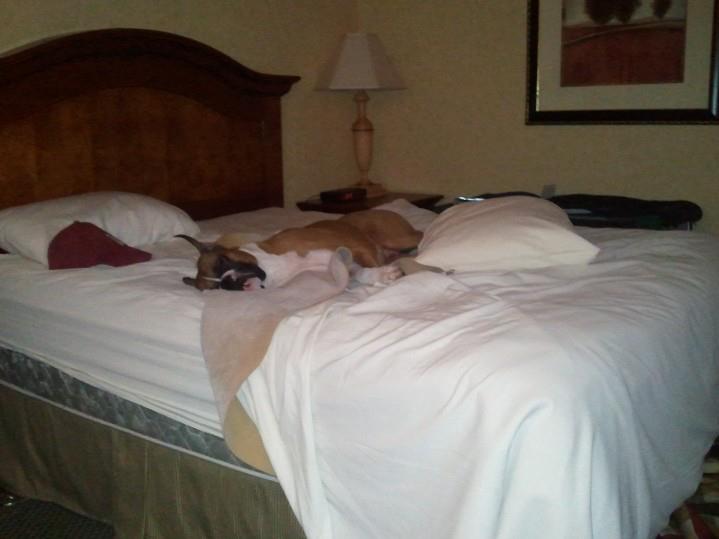 After breakfast and some cleaning up, I hit the treadmill for my long run: 6 miles at an 8:45 pace. Again, I couldn't set the 'mill on an exact pace, so I had to do the first half a little over an 8:45 pace and the second half a little under, but it worked out exactly. Mission accomplished!
Today, I will do something easy — maybe yoga. Tomorrow, I go in search of a track!