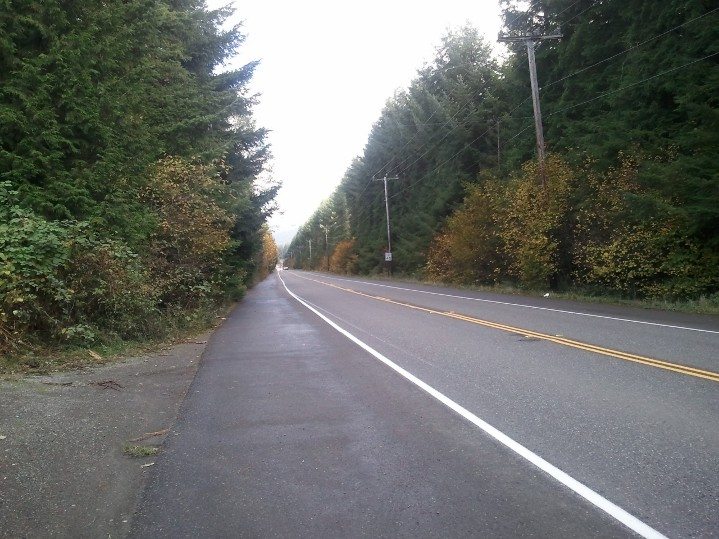 I've been wanting to try a particular new route for a while, but I was scared to. Scared because it's along the highway. Scared because it heads out to a small town I don't know well. Scared because…well, because I'd never run it before.
Saturday, in the name of Halloween, I decided to conquer my fear, and I headed out for 8 miles toward Ravensdale, a town of about 1,000 people. On the way, I passed a road that was so pretty, I couldn't resist turning down it to explore. It was lined with bright orange and yellow maple trees, but as I got a short way down the road, I got the creeps. Why?
Well, for one, I'd told Mr. T I'd be running the highway. What if something happened to me? Would the cops know where to look?
And, two, I came across a sign that said: Cemetery Reach. Oh fantastic. But then I saw the part underneath that read: Natural Area. Okay, not really a cemetery. Soon, I forgot that I'd been scared, and I turned down a side road off that side road. It was a neighborhood with bigger houses (but not too huge) on large pieces of land. I loved the neighborhood, and I will be bringing Mr. T there to see it. (There's one house for sale.) The neighborhood was a loop, and I even came across a man with a boxer, with whom I shared we currently have NINE boxers in our house right now. (See why HERE.)
Once I got back out on the main road, I had to run a bit further in order to get to the correct mileage. I snapped the photo, above, at the turn-around point. Once I got back to my town, I was hauling at a sub-9 pace just feeling really good. And it helped that there were a bunch of people with "vote for" so-and-so signs at the major intersection cheering and waving at cars. It felt like a race!
I got to the light, had to stop, and a sign guy in an orange skin suit turned to me and said, "Hi, Runner." Scary? No. Creepy? Yes. At least now I've explored that route and won't be afraid to try it again…barring dudes in skin suits, of course.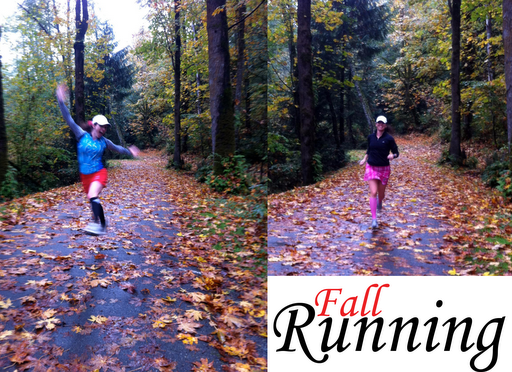 Old Trail, New Season
On Sunday, I got to explore an old route, but at a different time of year. Zoë (Run, Zoë, Run) and I met up at the Soos Creek Trail in costume (for the RunningSkirts contest). It was raining, so we snapped our costume photos, then changed a bit for our actual run.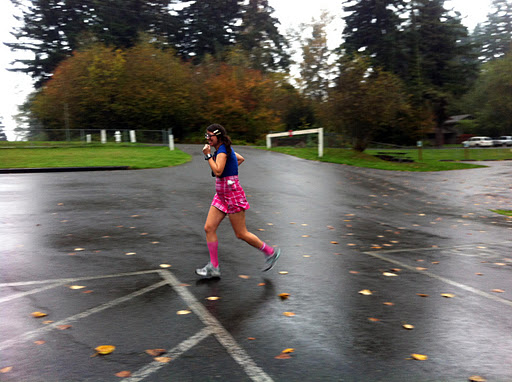 Can you guess what I am?
Zoë's been in China for a month, and this was our first real run together since she's been back. It was so much fun. I missed my running buddy so much! The trail was gorgeous and we had fun taking some fall photos.
We didn't let Hell-Yes-Hill scare us too much at the end. Zoë cranked up her music and we charged up before finishing 5.5 miles in the parking lot.
Running with Bennie at Night
Overall, I've had a weird week of running and walking, as I've been on puppy-watch during the early morning hours. And since Bennie's been cooped up, I've been taking him on night run-walks, which have been annoying irritating crazy interesting.
Check out my post about that adventure at my 2Toms blog. (I'd love it if you left a comment there with your tips, too! And did you know you can follow that blog by simply entering http://www.2toms.com/news in your Google Reader?)
Tonight is Halloween and T Junior is going to be Captain America. What are your kiddos going as?