You know what I wish? I wish I was running my Sub-2 Half next weekend.
Why?
Because I'm sort of ready. Saturday's long run of 13 miles, which was run at a nice conversational pace, was a 2:06. I know I can break 2. And right now, I am healthy and ready. But my race isn't until Sept. 18. I have to wait for more than a month! And there's that little thing called Hood to Coast before then, too.
Brutal.
Saturday's run was a lot of fun. Zoë (Run, Zoë, Run) and her little Goober, me and Mel (Tall Mom on the Run), all met at the Orting Trail at 7 for 13. Well, Zoë and Goob would hang as long as possible, since pushing a jogging stroller is not easy. I've done it and I refuse to do it longer than 4-5 miles. Zoë made it past 7! (Goob fell asleep.)
I engaged my friends on the Mom vs. Marathon Facebook page the night before then run to see what I should wear: my crimson Washington State University Tempo shorts or my pink Washington State University tech-tee. Mel showed up in a Gonzaga tee and Zoë sported purple for her alma mater and WSU rival, University of Washington.
Janna arrived to get her Fleet Feet training group course marked and ready. It was fun hearing about her 50-miler! Then we asked her to take our picture.
Me, Zoë and Goober, and Mel.
It is such a difference from this picture taken (also by Janna, I think) in January 2010: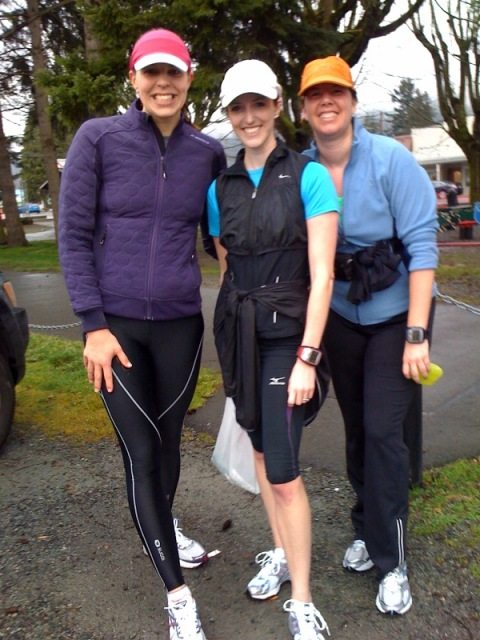 Mel, and Zoë. Me, circa frump.
Of course, this one was after we ran. I ran 10 hard miles that day. I think Mel and Zoë ran 11. But look at us in the top picture: We look so much more confident now, don't we? Also, as Mel said, I have found my "adorability." Aw, thanks Mel. I think it has to do with confidence.
Which is why I am READY to go after my Sub-2…NOW!
***
Things that happened during our run (Miles 1-7.35):
A man running with a PACK of German shepherds came toward us. There were probably 8-10 of them and none of them were on leashes. I called them Iditarod German shepherds. The girls thought they looked small for German shepherds so I hypothesized that maybe they were actually a breed called Belgian Malinois, a dog that looks like a German shepherd, but is smaller. They made fun of me for knowing this, but I only know it because my brother-in-law is a K9 police officer and has worked with this breed before.
An Emu…or at least something that looked like one. It was fenced, not running wild or anything.
Lots of runners, including Facebook friend and WeROKC member Carla!
Miles 7.35-13 (in the other direction):
Lots more runners!
Four young male runners that looked like they might've been on a cross country team — all running in stride. Mel challenged them to a race, but they just laughed at us. What?!
We heard a whistle, then some hootin' and hollerin'. What the? Then Zoë drove by on her way home with Goober. Hahahaha!
We passed a McDonald's at about Mile 12 and I said, "I'm gettin' a chocolate-dipped cone on my way home!" (Well, I got a vanilla cone because the chocolate hadn't been heated up yet. "That's okay," I told the young man working the drive-thru. "I realize 9:50 a.m. is a little early for a chocolate-dipped cone." But he assured me that it usually is ready, they'd just recently cleaned it and it hadn't reheated yet.)