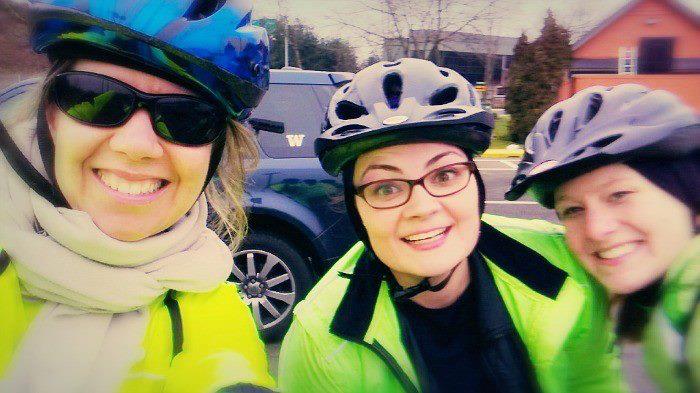 It was a little tricky picking out what to wear for a 34-degree bike ride. And my first outdoor ride on my new road bike, Hot Wheels, to boot!
Fortunately, I'd purchased these wind- and water-proof cycling pants after Christmas in anticipation of some cold riding. I didn't expect it to be this cold, though. Unfortunately, I didn't purchase any booties to go over my shoes…or a pair of wind-proof gloves (although, now I think I could've used my ski gloves, shoot). I wore two wicking base layers under my bright yellow and sort of light cycling jacket. I had on some trail running socks, but they weren't sufficient (ouchie toes).
My friend Chelsea hadn't been riding outside in a while, but also really wanted to get out on her bike, too, so we set up a day and time. Her friend Lisa, whom I've met a few times and is awesome, also joined us! Three crazies! The weather report called for mid-40's and sun, but that never happened. Mid-30's and cloudy/foggy was more like it. We met in the somewhat central location of Factoria (Bellevue) since Chelsea lives in like the most western point of Washington short of being on an island (not really).
We planned to ride the Sound to Greenway trail that runs sort of parallel to I-90 toward Lake Washington. We got to our meeting spot, and once we all got our gear on and were ready to get on our bikes, I got really nervous. Like I had to pee. What if I fall?! (Hmmm. Likely.) What if I get hit by a car?! (On a bike trail? Not likely.)
We set off and I clicked in rather easily, surprisingly myself. I'm a natural! We approached an intersection that we thought we had to cross. I saw it coming and prepared myself to twist my foot out of my pedal. I achieved this rather flawlessly. But when we were just standing there (with a giant pack of pro-looking male riders just across the intersection) I lost my balance and almost fell, nearly taking Chelsea down in the process. Real smooth.
Once they went by, we realize WE didn't need to cross the street at all. We simply needed to have gone around the corner. Oops! So we set off again. It didn't take me long to HATE downhills. My brakes are either a) too big for my little girly hands to squeeze or b) to stiff for my little girly hand muscles to squeeze. (Anyone want to weigh in on this?)
Uphills, while challenging, are sort of fun. By the end of the ride, I was getting more comfortable with shifting. I've read a lot about shifting (because I feared it), but putting it into action is a different story. On one uphill, there was a little turnout on a switchback-type corner. Chels pulled into the turnout. I saw her, followed her, but natural bike-riding instinct told me to lift my foot OFF the pedal instead of twisting it out. Oops. Panic!
In that split second, I knew I was falling. It happened so fast.
Fortunately, I was hardly moving. Unfortunately, there was a big pack of dudes (AGAIN?!) behind us. I heard one of them yell out "WHOA!" as I hit the ground. They all stopped to see if I was alright, which was very nice, but embarrassing.
"I'm okay," I said.
"Are you sure?" their pack leader asked in an Italian-sounding accent.
"Yeah," I said, standing up. "I'm new."
My left knee, hand and elbow hurt a little, and nothing was ripped (a freaking miracle!). After I collected myself, we all set off again.
We crossed Mercer Island. It had some hills, but didn't seem too bad. The downhills were tough since squeezing my brakes was so hard.
What I didn't like were all the stop signs! Ugh. Having to click in and out, in and out. And getting started going up a hill is not easy! During the ride, my core and hands stayed pretty warm, but my feet did not. My toes were so cold, they had that hot, stinging feeling afterward, and it took a while for them to warm up. Gotta get something warmer for my poor tootsies if I'm going to ride outside in winter again.
When I got home, I discovered I had a bloody knee. Huh. Look at that. I also had what I think is called road rash (?) on my shoulder and my hip (but it went away by the next day). And the scrape on my knee was minor, although my son cried when I showed it to him. "I JUST DON'T WANT TO SEE BLOOD!" he wailed as he ran away from me.
Overall, the ride was awesome. I kept forgetting to start and stop my Garmin, but the ride was about 10 miles and we did it in just over an hour. I'm so glad I was able to get outside and ride Hot Wheels for real! But the next day my husband set up my bike computer for me. I'll be on the trainer till it gets above 40, at least!
In Other News…
I think I have changed my mind about doing the Olympic distance for my first tri: the Dilettante Women's Triathlon. (Use the discount code to save $10 on registration: INSANITYDWT13.) My friend Erika, who is helping me with training, and I were discussing it over e-mail and I realized that maybe I should work up to something instead of just trying to skip steps and start in the middle. Does that makes sense? Also, T told me that the Athena weight has changed (whaaaat?), so I don't qualify anymore, which means I will be registering in my age group. I was leaning toward that anyway. So. There ya go.