1. I graduated! From physical therapy, that is. I'm actually a little sad. I mean, where else am I going to talk/brag/overshare about running. Oh…wait…
HERE!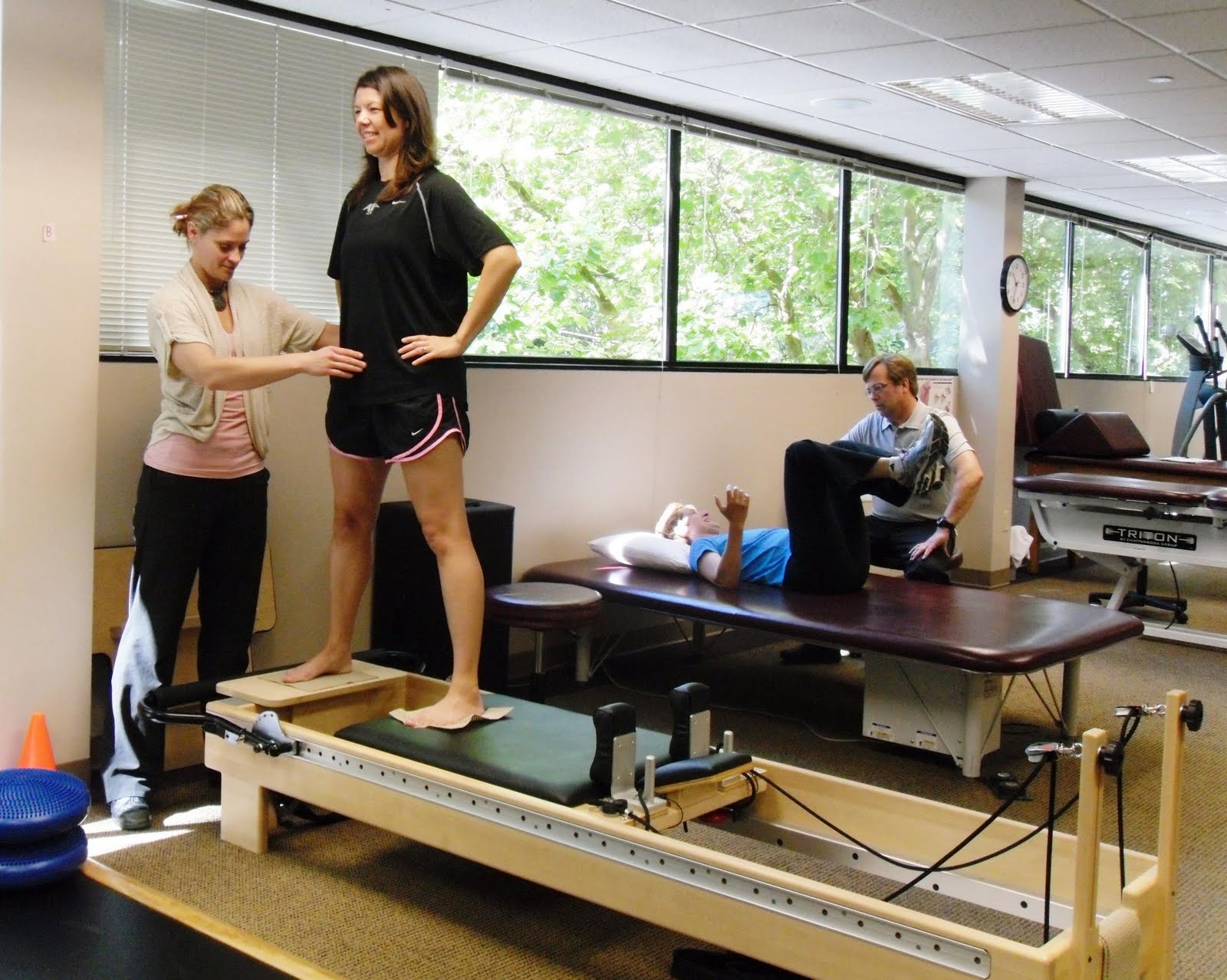 Gonna miss my PTs, Karin and Chris at Pacific Balance in Seattle.
Thanks guys! Hope I don't need to see you soon!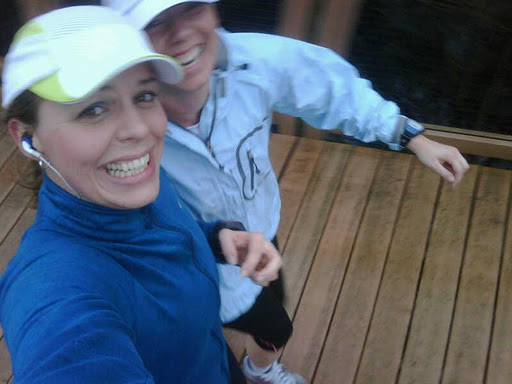 Mel and me on a lunch run in March.
2. Wednesday was speedwork. I love speedwork! And it's super fun when it's with a friend. I wasn't sure if I could squeeze in 5 miles during my 60-minute lunch, but I can! My plan called for the 5 miles with three of them at a sub-8:40 pace. It sounded challenging, which I love. Mel (Tall Mom on the Run), who created my sub-2 training plan, met me at my office at 11:35 and we were off. (Thanks for running with me, Mel!) Here's what I wrote about the run on DailyMile (are we friends yet?):
Speed work! With my coach Mel. Five miles with the middle three at a sub-8:40 pace on the schedule. I've been doing my speed runs before work on Wednesdays, but knew I could probably squeeze it in at lunch if I wanted to sleep in.
Today (Wednesday), Mel met me at my office and we took off for a nice, relaxed first mile, then my watch beeped and we were off. She talked and kept track of the pace and I just ran, which was awesome. Maybe a little too awesome since she had to reel me in a couple of times. She gave me a "tour" of the trails near her office and she even used an official tour guide voice, which cracked me up!
At one point, I noticed my bangs were flying free. My headband! My sparkly one Chelsea gave me! It was gone, but Mel said we'd take that way back and look for it after we were done with our loop. Eventually, we turned and went down the creepy trail she sometimes runs; it's an extremely wooded area that goes under a dark bridge for a bit. She said she's always afraid someone's going to jump her just after exiting the bridge, so I busted out a karate move just in case (channeled my inner Jess A. Ninja!). On the way back, Mel spotted my headband. Yay! Together again! Next thing I knew, Mile 4 beeped. Then we parted in front of Mel's office with a high five and I had a little over a mile left to get back to my office. I wasn't really sure what time it was, so I floored it. When I past a walking co-worker with about a quarter-mile left, I slowed down.
Holy cow, it was humid. Back inside, it was challenging pulling my jeans on my wet legs! I felt like Ross in that episode of Friends where he can't get his leather pants back on. Remember that one?
3. Did you see that my friend and running buddy, Chelsea (Will Run for Food), was featured at runjodirun HERE? If not, you should head over and read her Q&A. I got a little verklempt.
4. I did my 4-miler last night. I don't know what it is, but I am GASSY on my night runs. It's so embarrassing! Luckily, there's not a lot of people out running at 8:30 p.m. But I need to get my evening/night runs on to practice for Hood to Coast!
My super flourescent shirt is great for evening runs!
And I brought back the double buns. Love double buns!
It wasn't a great run. I had earbud issues and ended up ripping them out. Literally, ripping them out. I was so annoyed. I stashed them in my Running Skirt pocket and ran in silence. It was kind of nice, actually. But I also forgot to wear anything on my eyes and I kept getting bugs in my face and spider webs. Gross. The run was a nice and easy 4-miler. You can read more about it HERE.
5. Speaking of Hood to Coast. My team, Nuun Platuun, is trying to match the creativity and awesomeness of our sister team, After-Nuun Delight. Check this out!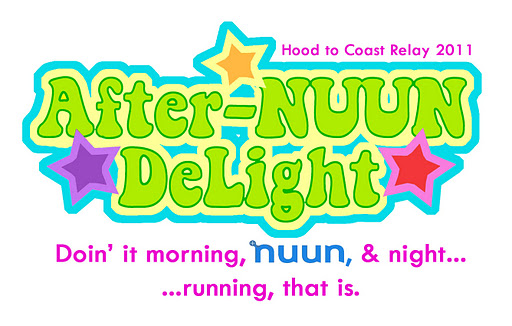 Wow! So, guess who's trying to make a Nuun Platuun logo? Um. Me. I have some graphic design software (using Illustrator) and a little experience, but I am waaaaaaaaaaaaaaaay out of practice. We are kind of modeling it after the M*A*S*H logo: N*U*U*N. Got any ideas for me?