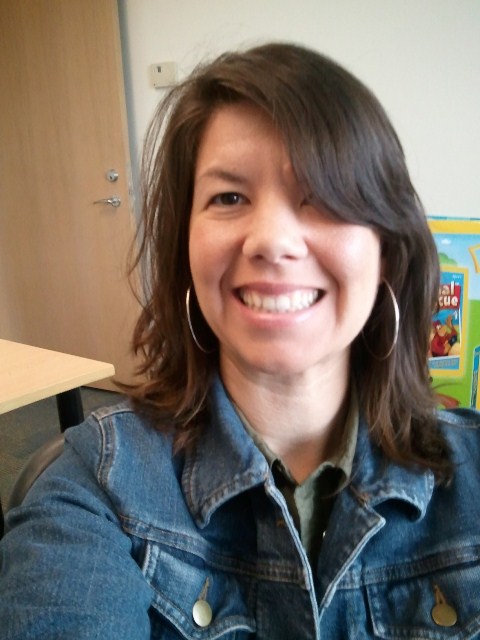 Don't be fooled by the smile. I am
very annoyed by my freaking pool hair.
I have pool hair.
It's just one of the cons on my list of hating the pool. Yes, the list is back. Man, I really love to swim and be in the water, but I seriously dislike the public pool. This morning, I paid $6 to swim for half an hour. All because I couldn't lie and say that I was from the city in which the pool sits. I live in the city right next to it, so I must pay more. Why? It's a high school pool and all the kids from my city go to it, so don't I pay the same taxes for it? I think it's only 50 cents more for me, but whatever! It's still expensive.
Anyway…pool hair. I need to dry my hair for it to look somewhat presentable. If I don't, one side looks like grown-out perm and the other side looks like a sheepdog. I included a photo in case you don't believe me.
I can't dry my hair at the pool. No outlets. So unless I want to stand under a hand dryer and hit the button 123 times (just a rough estimate), I have to go to work with wet hair. Now it's all frizzy and disgusting looking, and it is reminding me how badly I need a haircut.
I was actually feeling really good about the pool this morning, too, even though when my alarm went off at 4:45, I decided I wasn't going to go. But I hit snooze just in case. Around 5 I thought, "Well, my bag is already packed. Might as well go." It just seemed like it would be really defeating to unpack my bag in the bathroom. You know?
So I went. And I got there on time! (My running buddies know what a challenge that is for me.) In fact, I was the first person in the pool. The surface was glass-like and I got to dive in and break it, and I loved it. It didn't take long for the other lanes to fill up. I was swimming in my own lane, though, and it was all good.
Then, during my interval set, I stopped at the end of the lane to look at what came next on my little Ziploc-bagged notepaper, and I felt it. Movement on my forhead. Then air. I reached up and touched the split rubber cap.
Sonuva.
Of course. It would not be a day at the pool without something going awry. I finished my set then did another 500-yard cooldown sucking wet bangs into my mouth every freaking breath. So annoying!
So, anyway, this is a long way to tell you all that I may be done with lap swim at the pool. For realz this time. No, seriously.
You know what else sucks about swimming before work? Goggle marks. Putting wet feet in socks. No coffee. But mostly, pool hair.
That is all.