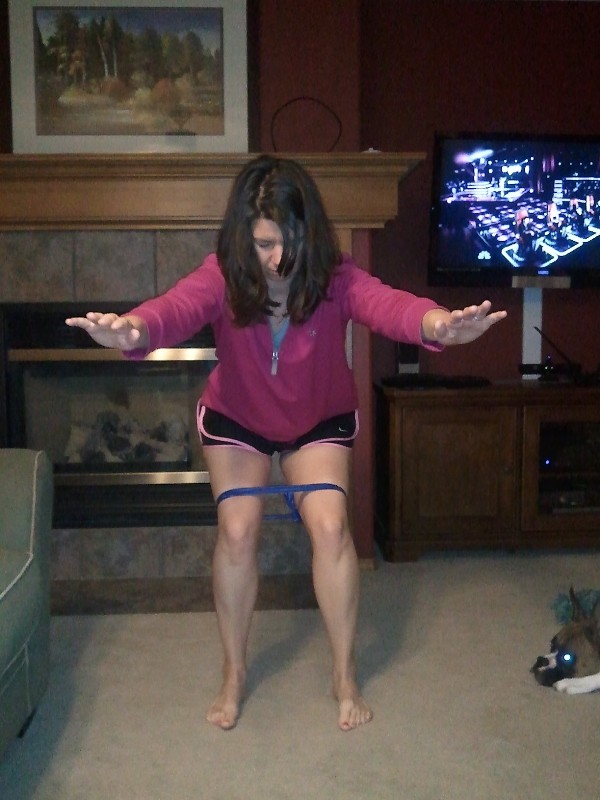 Bennie is pouting. He got yelled at for trying to eat my PT band.
Maybe it's all in my head, but I feel like these are helping. Here is my physical therapy routine. It is helping build muscle memory so my knees don't collapse inward and to help build muscles in my weak feet:
2×15 bilateral squats with band on thighs (pictured above on the first night — I've since gotten better at these). I'm supposed to focus on keeping my shins perpendicular to the floor, sticking out my bum and not allowing my knees to go forward or inward. With the band on, I'm pushing them out toward my two last toes.
2×10 (on each leg) one-legged squats. Same idea as above, but way harder, and no band. My left leg, especially, wants to turn in and with my lame-o toe, my foot wants to roll out. Yikes. It is hard.
2×15 (on each foot) one-legged heel-raises. I'm supposed to focus on raising up on the center of the ball of my foot and not let my foot (mostly the left one) roll out to the pinky toe. I really have to concentrate on that left one, I tell ya.
2×15 reps of practicing cupping my feet. It has a fancy name, but it escapes me right now.
2×10 bridges, hold for five seconds, with the band around my thighs. I'm supposed to focus on keeping my knees straight and not letting them collapse inward while remembering to engage my core before I start the move.