Last week, I talked about how I want to run for a cause, but can't decide on one. Since I can't decide, I thought, for now I will live vicariously through you all by helping spread the word about your fund-raising goals. I put out the call for causes on the Mom vs. Marathon Facebook page and quickly got a bunch of responses! I want to list them all, but don't want to overwhelm anyone. So I'm thinking of making this a regular feature. What do you think?
Okay, now…go get your credit card. Got a few bucks you can spare? Below are four people dedicating their running to help others. Just remember, even $1 makes a difference! Donate to any (or all) of these causes BY THE END OF TODAY and you get an extra entry in my ButtShield giveaway, which ends tonight at 11:59 p.m. Each donation is worth one entry (four total) — make sure you e-mail me at Kerrie (at) sanitydepartment (dot) com to tell me how many you donated to. I will add your entry(ies) to the giveaway post. Thank you!
1. Amanda from 5 Miles Past Empty will be traveling from North Carolina back here to her old stomping running grounds in June for the Seattle Rock 'N' Roll Half to raise funds for the American Cancer Society. It is a cause close to her heart as her father is battling the disease. Go HERE to head straight to her donation page. She's at 72% of her goal!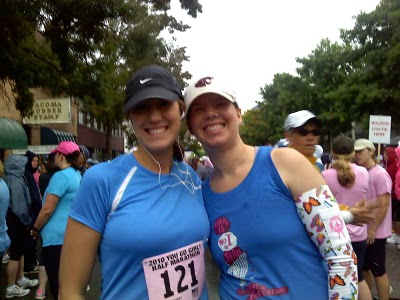 Amanda and me at You Go Girl! in September.
2. Jess from Run with Jess left me a comment last week about her cause:
"From Jan-May every year, I raise money to fight breast cancer as part of the Race for the Cure in Peoria – hometown of Susan G. Komen! My grandmother died of breast cancer, so it strikes home for me and my daughters. So far this year, we've raised $700!"
Check it out HERE. The page, itself, looks good enough to eat! She's holding a giveaway, too. Go HERE!
3. New running buddy, KR, is tackling her FIRST marathon (the Yakima Canyon Marathon) with Team In Training on April 2nd to support a friend whose father died from cancer in the fall. She's at 32% of her goal and needs to get to $1,500 before March 21st, so let's help her do it! Go HERE to be transferred to her fund-raising page.
4. A former co-worker of mine will soon be climbing 69 flights of stairs in the tallest skyscraper in Seattle — Columbia Center. That's 1,311 steps and 788 vertical feet! It's all part of the Big Climb on March 20th to benefit the Leukemia & Lymphoma Society. Go HERE to donate and help him exceed his goal! And/or maybe it sounds like something you want to participate in!
If you want your cause to be featured in an upcoming post, please e-mail me at kerrie (at) sanitydepartment (dot) com. Or, if you have something to give away, please let me know. It could help a great cause!