I was recently asked by the geniuses at The Genius Brand if I would be interested in testing some of their products. No strings attached. They just wanted me to try them out, and let them know what I think. We had already been through a few containers of their BCAAs, and quickly became fans, so I was excited to try more of what they had to offer. I will be writing about a number of their products in the coming weeks.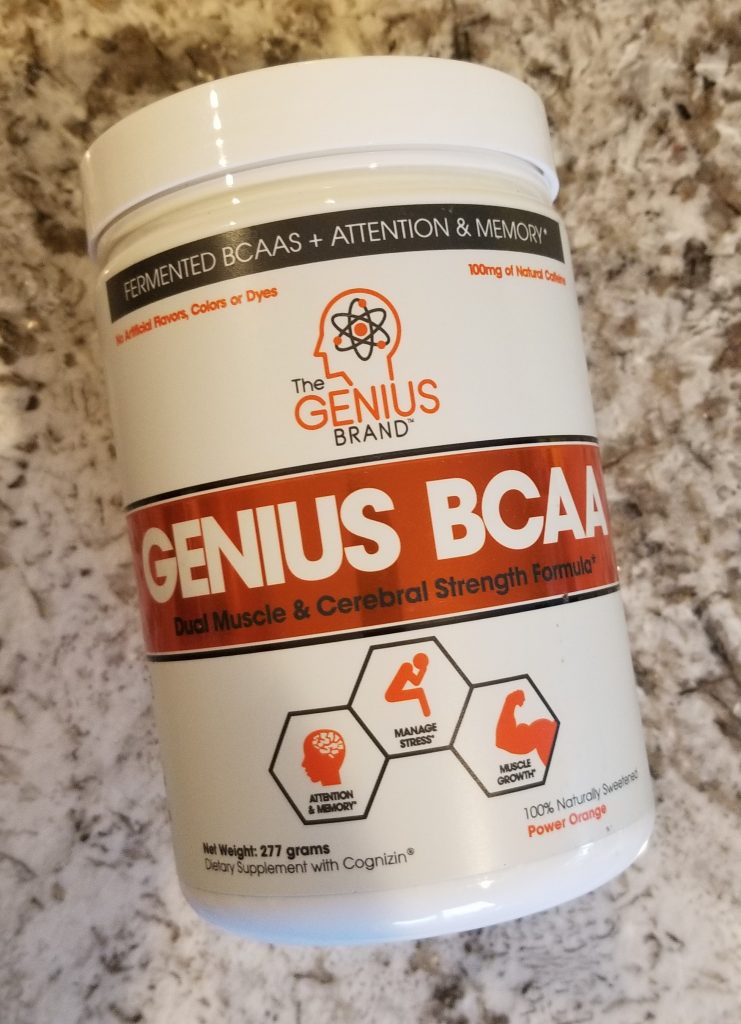 A few weeks ago we posted a coupon on our Facebook page that Genius was offering, and had a few questions, so I thought I would post a full review of their BCAAs here. I have also been using their Pre and Burnout products as well,  and all three of these products are stackable and work great together.
Before we begin looking at what is in this stuff, I want to stress that I have no direct relationship with this company, and thus have no specific insights into their formulations. This is not meant to provide any scientific explanation (I'm not a scientist either) or rationale for why they are developed as they are. These are strictly my "lay person" understanding and opinion from my own reading and research.
The Genius Stack
GENIUS BCAA Powder with Focus & Energy

Genius Pre Workout – All Natural Nootropic Preworkout Powder

GENIUS BURN – Thermogenic Weight Loss & Nootropic Focus Supplement
WHAT ARE BCAAs
Let's first cover what BCAAs are, where they come from, and how they are used for both building and supporting muscle, as well as when you are losing weight.
BCAAs, for the uninitiated, stands for branched-chain amino acids. They are the essential amino acids leucine, isoleucine and valine, and they are "essential" because your body does not create them on its own. The come exclusively through your diet (and supplementation), and are found in protein rich foods such as chicken, beef, fish, eggs and whey. BCAAs make up about 35% of muscle protein.
When you exercise intensely, whether you are lifting heavy weights, doing intense interval or metcon training, or running, your muscles feed first on stored fat and glycogen (carbohydrates) stores. As glycogen stores in your muscles becomes depleted, your muscles will then turn to these amino acids for fuel. Your muscles will actually begin to feed on themselves. BCAAs help the body preserve glycogen stores by increasing insulin sensitivity, thus giving muscle its preferred fuel source and preventing muscle breakdown (catabolic). They also increase protein synthesis, leading to muscle growth (anabolic).  So, whether you are working out to build muscle, or lose fat, BCAAs both help with muscle growth and preventing muscle loss. And because BCAAs help give your muscles the fuel it prefers, in reduces post-exercise soreness and improves recovery time.
If you already have a BCAA you love, here is where you may begin to question what you are currently consuming. While the amino acids you consume via diet come from pretty predictable, and innocuous source, BCAA supplements typically do not. Most BCAAs on the market are made from duck feathers, animal skin and hair. Even human hair! Go ahead, wretch…I'll wait…
The Genius Brand
Back in July, Kerrie and I were looking for a different BCAA supplement that were naturally sweetened—not made with sucralose—mixed well and tasted good. There are a number of "natural" sweeteners on the market, that aren't sugar, but we were particularly interested in stevia-sweetened BCAAs. While there are a few options out there, not many of them seem to be good. Kerrie tried one in particular that someone described, pretty accurately she says, as resembling the taste of dried ladybugs. I chose to not verify these findings. Needless to say, we were already a bit cautious about finding a palatable BCAA product that wasn't a disgustingly oversweet artificial mess.
Enter The Genius Brand. As you may recall from my transformation posts, I am an over-analyzer. I wanted to find out all I could about this company, but there wasn't a lot of information available on them at the time. I'm assuming this was because, as I've learned since, that they are a relatively new company. One thing I did discover, and that I think is great, they are a local company here in the Seattle area.
The BCAAs they were selling on Amazon didn't have more than a handful of reviews at the time, but they were solidly positive and from verified purchases, not review farms. We took a chance because, well, it can't be worse than dried ladybugs, and they were offering a coupon code. Two days later, thanks to Amazon Prime, they were at our front door.
The First Glass
One of the first things I noticed was how easily it mixed in water. No shaker needed, just a spoon and a stir, and it was completely dissolved in just a few minutes. As far as the taste goes, dried ladybugs it is not. It is, in my opinion, hard to talk about how something tastes fairly because taste can be very subjective. The flavor is labeled as orange, but if you expect a juicy naval orange, you will be disappointed. Also, if you like your BCAAs really sweet, again you won't find what you are looking for. I recall my initial impression was that they were mildly bitter, and I couldn't place whether it was because stevia can have a bitterness to it, or if I was just familiar with really sweet products. In any case, to our palettes, we like the flavor and that it isn't over sweet. It's also not a bright orange color to give it some artificial visual appeal. We came to learn later that this is intentional. This stuff does not contain any dyes or artificial flavoring.
The Ingredients
Genius does not use any proprietary blends when making their products. That means they don't try to source a bunch of generic ingredients (sometimes of questionable quality), or under-dose while adding in a bunch of fillers, all in an effort to create a cheaper product. They use trademarked ingredients and put them prominently on the label, so you know exactly what you are taking and it's brand name. Let's take a look at each ingredient on the label.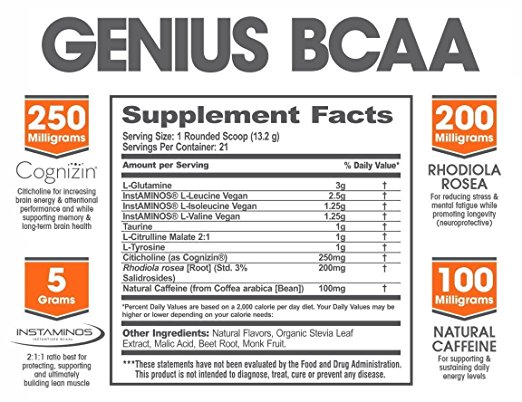 L-Glutamine (3g) – We can go deep into some of the benefits of glutamine for those who workout intensely, but to keep it short, glutamine is another amino acid that is used throughout the body and depleted during exercise. It is used by skeletal muscles and helps protect against breakdown. It is also important to intestinal and immune health, and helps with leaky gut caused by intense exercise.
InstAminos (5g) – Actually, this is listed as three separate ingredients, but this is the first trademarked ingredient on the list. There is no question about how much of each of these essential aminos you are getting. InstAminos is made by Compound Solutions, and you can read more about them here. As described above, they are fermented vegan BCAAs, and are in the ratio of 2:1:1 which is accepted by many in the fitness world to be the ideal ratio.
L-Citrulline Malate (1g) – L-Citrulline is an amino acid that helps with blood flow into the muscles. This increased blood flow helps with muscle stamina, growth and, most importantly, recovery. Citrulline is also the amino acid responsible for what bodybuilders call "the pump."
Taurine (1g) – I listed taurine out of order intentionally. If you've ever had one of those cans of sugary energy drinks, you probably have heard of taurine. Genius BCAA is labeled as a "Dual Muscle and Cerebral Strength Formula," and taurine is an ingredient that fits that description nicely. Taurine helps both muscle performance during intense exercise, but also mental focus and sharpness. Some think it helps with the mind-muscle connection.
L-Tyrosine (1g) – This is what is called a "nootropic," or cognitive enhancer. Tyrosine is  a precursor amino acid, that naturally comes from sources like chicken, fish and dairy, that is then synthesized into catecholamines (adrenaline and noradrenaline). You experience an increase in catecholamine release during stressful events, which is widely called the "fight-or-flight response." When you exercise intensely, you also experience a surge in catecholamine release, and this hormone surge is responsible for fat burning.
Citocoline (as Cognizin) (250mg) – Another nootropic, citocoline supports many cognitive processes such as memory, attention, focus and clarity.
Rhodiola rosea (200mg) – This nootropic, also known as golden root, is an adaptogenic herb. It is widely used to treat stress and anxiety by lowering cortisol. This herb also protects against oxidative stress, which you experience during intense exercise.
Caffeine (100mg) – This caffeine is from arabica coffee, so is a natural form of this well-known source of energy.
Conclusion
As of this writing, this is our favorite BCAA supplement, and one we always have on hand. We use it with every workout, both as intra- and post-workout support. It does what you expect from a quality BCAA supplement. Genius BCAA provides the energy and focus we need while we are working out, while shortening recovery time and reducing soreness. It also keeps post-workout ravenous hunger at bay.
Genius BCAA can be used by any athlete, whether you run, lift, swim or bike. If you are like us, and think that getting the most out of your body means you also care about the quality of what you put in your body, then Genius BCAA is for you. A high-quality, natural and vegan-friendly product that will not leave you disappointed.
GENIUS BCAA Powder with Focus & Energy

Genius Pre Workout – All Natural Nootropic Preworkout Powder

GENIUS BURN – Thermogenic Weight Loss & Nootropic Focus Supplement