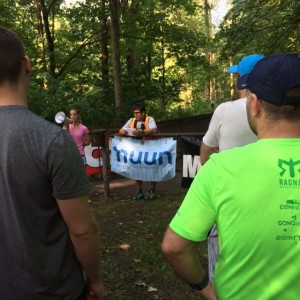 I accomplished my goal. Sort of.
IF the course had been 5 miles, I would've beat my goal of one hour. But it was 5.24 (on my Garmin). Oops! I didn't know it would be long. I know it's not a road race; it's not going to be totally accurate, so no worries. But I did beat my pace time goal of 12-minute miles. And, you know what, this course is not easy.
According to my Garmin (which I don't know how accurate it is), there was  over 930 feet of elevation gain. And that was all within the first 3-4 miles. Of course, what goes up, must come down with a loop/lollipop-shaped course like this one.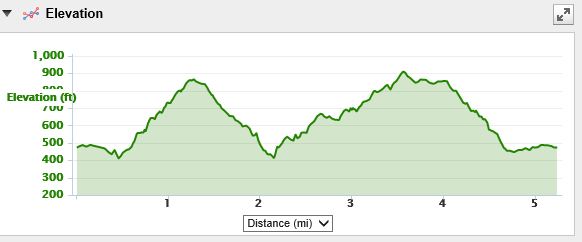 Here's a look at the course: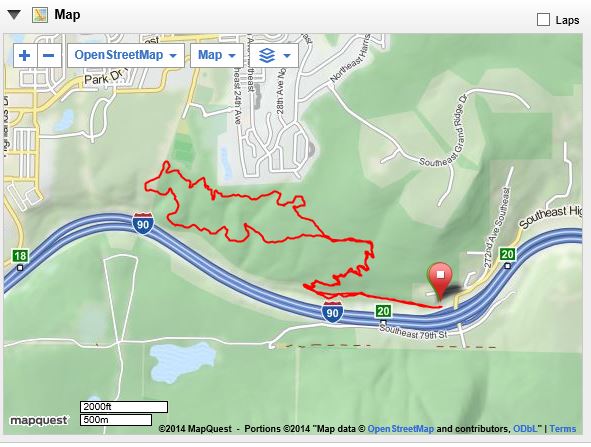 Mile 1 – 11:13
The race starts out on a flat logging-type trail that is slightly downhill. Just like my trail at home. 🙂 So I took off fairly fast. I knew, since I'd run this part before a couple weeks ago, that we'd be climbing soon, so I wanted to take advantage of this easy part. And, yep, soon enough we turned onto single-track trail and were climbing up, up, up. Everyone was running up and there wasn't a good place to pull over to let people by. I didn't want to slow anyone down, so I ran some of it. Too much. That killed my breathing. I wouldn't catch my breath till Mile 4.
Mile 2 – 11:36
There was a long downhill. Yay! I was behind a line of ladies that had passed me on the uphill, and it finally became too hard for me to hold back, and so I asked to passed them. I KNEW I would see them all on an uphill again, but I had to go with what I was good at. I felt confident and strong on the downhills, and so I had to go with it.
So, now I know: I am good at downhills. I know that sounds like a total "duh" thing to say, but these downhills are technical–full of roots, jutting river rocks and loose rocks and dirt. My ankles are strong and they just kind of go with the flow. I try to pick a line and stay with it without getting out of control. Passing on donwhills is tricky sometimes, though, on the single-track portions of the trail.
Anyway, they all caught me on the climb at Mile 3. 🙂
Mile 3 – 14:30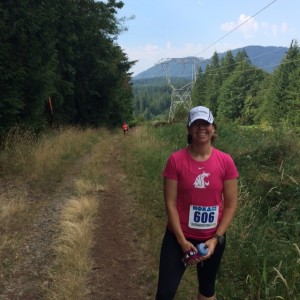 This was a section of the trail that I have not been on and it was a long climb. It was grassy, and in the sun under power lines. (Most of the trail was in the trees.) I was hiking it and people were running up it, right by me. I decided to stop for a picture, and saw Sybil (who was about to pass me again), and so I invited her for a trail selfie. Then she took my picture for me–what a friend! I did this for you guys (NOT because I needed a breather at all).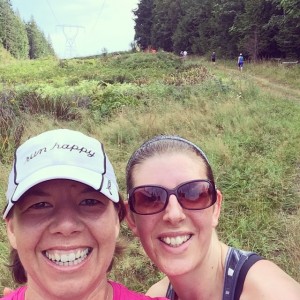 I really need to work on going up hills. Even if I could just hike the uphills faster, that'd be good. It's a little frustrating to pass so many people on the downs and to have them catch you on the ups. But I expected that, so I didn't let it bother me.
Mostly I just kept reminding myself how lucky I was to be out on a trail running. I also thought about my sister and her little preemie Faith, who is fighting for her life, and my mom and her health problems lately. What's a little struggle in a race compared to what they are going through? And, I reminded myself to look around and enjoy the pretty trees, which we went back into after the power line hike. 🙂
I took a Clif Energy Shot Gel (espresso? it was kind of weird), and was SO glad I'd put this in my handheld. Holy moly. I really think it helped keep my energy up for the rest of the race.
Mile 4 – 12:18
About half of Mile 4 was still uphill. I still couldn't catch my breath. But I did start to catch a few runners here on the runnable parts of the trail. I ran anything that was flat, down or slightly uphill, and hiked up the steep sections.
About halfway through Mile 4, we turned back onto the "stick" of the lollipop and I knew it was going to be downhill from here (except for the slight uphill we ran down at the start). I took full advantage of this.
The 50K-ers had to come back to the start and then head out again, and I was behind one or two of them all the way down. I finally got my breathing under control.
Mile 5 – 9:35
Just allllllll downhill. Wheee! As long as you have a strong stomach, you can just go. Luckily, my stomach held it together. A couple of times I caught myself just letting my legs land willy-nilly because my quads were tired, but I would refocus and remind them to be strong (because I really didn't want to bail).
The ONLY time I almost fell was when I was STOPPED to let some half-marathoners (?) go by on the downhill, and the last one that passed me had a dog and I almost stepped right into its side. When I quickly pulled myself back, I almost tipped off the side of the trail and down a really steep hill. Yikes.
On the downhill, there was a guy stopped. I didn't know what distance he was doing, but he was bent over. He said he was okay, but I offered him some of my water–I still had a bout half of it left. He really needed it, I think it helped him, and he got going again, asking if I'd pace him the rest of the way down.
But it wasn't long and we were back on the logging-style road and almost to the finish. I took off once we got there, but I think I started going hard just a little too early and I didn't have a lot left during the last quarter mile. I thought it was a shorter distance from that point to the finish, but it's more like a half mile.
Last .24 – 9:13
I was happy to see the finish line, but sad the race was over. I'm thinking about doing the half marathon (or marathon?!) here in November. I'm curious what I can do at a little longer of a race…where I can relax a little more. I feel like the 5-mile trail race is the equivalent of the 5K in road racing. It's a "sprint."
Overall, what a great event put on by Evergreen Trail Runs. The trail was very well marked. There was lots of post-race refreshments. There were plenty of Honey Buckets for the size of the race. The staggered start times were efficient. And it was low-key and everyone was super friendly and encouraging. And the rain and lightning didn't start till I was back in my car. (Hope everyone still out on the trails was/is okay.)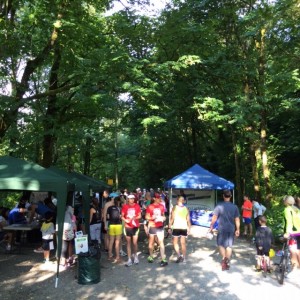 The Stats:
Mileage: 5.24
Final (Garmin) time: 1:01:29
Avg pace: 11:43
Elevation gain: 939 feet
Shoes: Brooks Cascadia 8's (with custom orthotics in them)
Final thoughts: I am SUPER happy with my time and especially my pace, considering how bad (out of shape!) I felt on the uphills. My shoes also worked out great. My (Hallux Limitus) toe is a little sore, but not more than expected, and I didn't get any blisters.
Plans: I'm not really wanting to go back to road racing right now. So, there are some things I need to do to train for future trail races. 1) uphill running, 2) hiking, 3) core, 4) ENDURANCE!
Tips from experienced trail runners welcome! Thanks for reading. 🙂