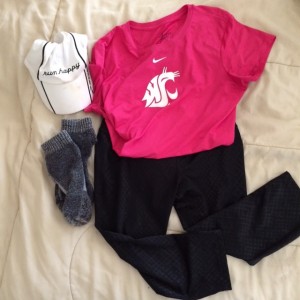 So tomorrow is my first trail race! Have I mentioned that? I'm sooooo excited. Grand Ridge is sort of hilly, so my plan is to take it easy on the tough parts, but to run hard on the easy parts. And to have fun. And to not bite it. Simple enough, right?
It's 5 miles and I'm hoping I finish in under an hour, but faster if possible. Excited to try something new and test myself.
I was going to wear my black Lulu Pacesetter skirt, but I think I will feel more comfortable in capris. Hopefully, I won't be too hot. The trail is covered in trees, but it'll be about mid-60s at the start, and tree canopies can create humidity. I've run on a warm day at Point Defiance in these capris and was okay.
So here's how today's (non) workout went down: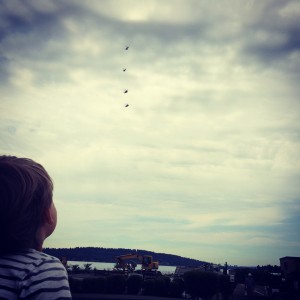 No run today. I promised Karsen we would watch the Blue Angels, who were in town as a part of Seafair.
I thought we'd just pop on down to a park on Lake Washington, about 30 minutes from us, and watch after picking up some sandwiches and a pair of shorts. I only own two pairs of shorts and they were both dirty and I need shorts anyway. Yes, I only own two pairs of shorts. I just don't need them very often. So we stopped at Marshall's first.
I ended up getting some New Balance running shorts because I couldn't find any regular shorts that weren't too…um…revealing. Basically, there were about 5 pairs of shorts in the whole store. Unless you were a dude. Tons of shorts.
Then we stopped at Jimmy Johns for sandwiches and a cookie, and headed over to the park. Guess what? The Seahawks practice right down the street from the park. Guess what? EVERYONE was in the area for either the air show or the 'Hawks. Ugh. There was nowhere to park. I was nearly in tears. I'd promised. And now it was 12:30 and some jets were up in the air flying (the Blue Angels didn't start till 1:45), and we were driving around in circles.
But then I remembered something…da da da-da!
The Cedar River Trail! My old stomping grounds. Sort of. I've run to the end of it a handful of times and I remembered it led to the very end of the lake and that it was sort of hidden behind Boeing. I also remembered it went right by the high school stadium nearby. Parking! I drove there and I was right. The only problem was that it was a mile from the stadium. So me and Karsen walked two miles today. It was good for us. Even on a rest day.
Of course, there is another way to get there…and to park closer, I learned. It's just that I've never driven there before. Only run there. So, now I know for next time.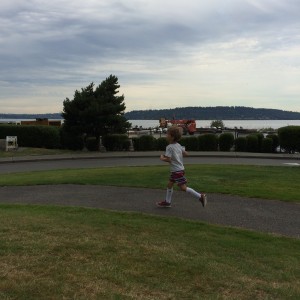 So running saved the day. I NEVER would've known about that spot if I hadn't run there before.