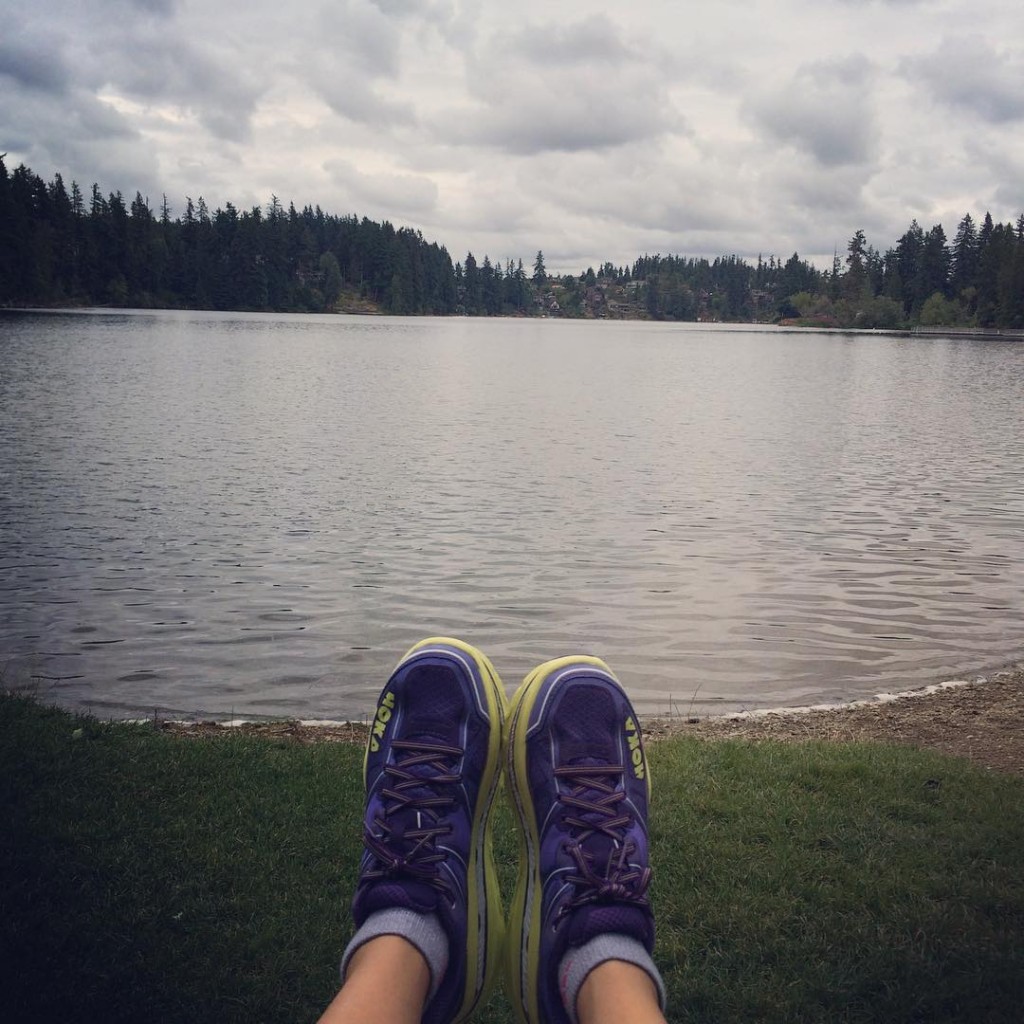 Can a shoe solve all your problems?
Spoiler alert: No.
But it is possible that it can solve some of them.
Last Friday, I purchased the Hoka Stinson 3 from my local running store. Here is what the Hoka One One site says about the Stinson 3:
The all-new Stinson 3 features the signature category-defining HOKA ONE ONE cushioning and support, and is redesigned from the ground up for maximum cushioning on the road. New for 2015 is a more balanced Meta-Rocker for improved forefoot support, and tuned underfoot geometry for improved ride and stability. The upper features ComfortFrame in the heel and midfoot for improved fit, and light padding on the tongue for increased comfort.
At the store, I had my feet measured and discovered that I have a full size difference between my left and right feet now. It used to be a half size. So that was fantastic news. Ugh.
Based on my needs, I tried two different models: the Hoka Stinson 3 and the Bondi 4. (I originally wanted to try the Mafate, which is pronounced Mah-fah-tay, not Mah-fate, FYI. More on the Mafate in a sec.)
I liked the feel of the Hoka Stinson's right away. The Bondis came up too high under my ankle joints and rubbed.
As for the size: The size 10 Stinson's fit my left foot perfectly, but my right foot was slipping out of the back of the shoe. The 9.5's would have to work. (I normally wear 10's in Brooks and most other running shoes.)
The Hokas do not have as big of a toe box as I hoped. Originally, I'd gone to the shop looking to try the Mafate's, which looked online like the toe box is a little more straight and the toe a little more widely rounded. The shop I went to had sent all the trail shoes (the Mafate is a trail model) to the White River 50 race, so there weren't any in my size for me to try on. But, holding one up (in another size) to the Stinson, there really isn't that much difference in the toe box. See below: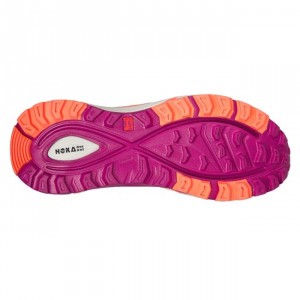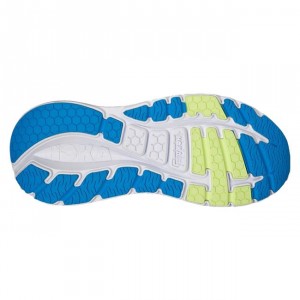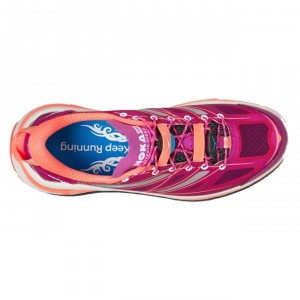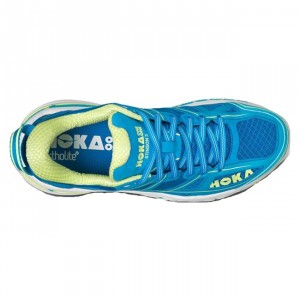 The teenage cross country runner helping me assured me that Stinson is one of the better Hoka models for both trail and road running, so that's what I got. He also lives near me and runs the same trail, so he knew exactly what I was talking about when I whined about sharp gravel that's killing my feet.
I have run in the Hoka Stinson 3's three times so far: 4.5 miles on the treadmill (with sprints), 13 slower miles on mostly trail and some road, 3 miles on the treadmill (with sprints).
Below, is my opinion on the shoes, which by the way, I'm calling my Barneys (not because they're unfortunately purple like a certain dinosaur, but because they share a name with Barney Stinson from How I Met Your Mother).
Hoka Stinson 3 Cons:
I don't like the color combo. It's not Hoka's fault. But the shoes are University of Washington colors and I'm a Washington State University girl, so the purple and yellow combo are usually on my "don't buy" list. But I'm also an impatient girl, and it was the only color my local shop had in stock. Besides, the other color combo—blue with white soles—seemed like it would get dirtier faster, especially considering I run on a dusty trail.
The toe box is curved inward like most other running shoes. That annoyed the shit out of me, and is a definite con. Who's feet are shaped like this? I guess what I want is a Hoka with an Altra toe box. Is that too much to ask? I am not sure if I should blame the blister I got on my left toe on the shoe shape or just chalk it up to new shoes.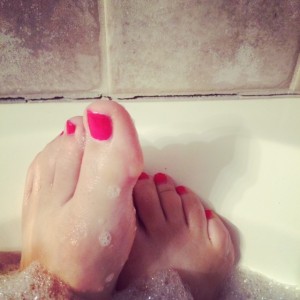 My toes on my right foot cramp after about 40 minutes of running in these shoes. Not all of them cramp, just two middle ones (the two next to my big toe). And it happens almost exactly at 40 minutes. I cannot figure this one out. This has never happened to me in other shoes. It's possible it is because the shoe is a little big on my right foot, and with the rocker sole and only a 6mm heel to toe differential…? It happened both on the treadmill and out on the trail. It hurt enough to make me walk during my long run last weekend. But then it went it away. Then it came back. Then it went away. Came back. Went away, etc. Could have something to do with the fact that I'm going from a 12mm drop to about a 6mm drop, I suppose, but it doesn't happen in my left toes, which doesn't necessarily mean anything because I have basically no arch in my left foot and a high arch in my right (why my right foot is shorter than my left). Not sure what to make of this strange phenomenon.
My feet get very hot. I guess this means the uppers in the Hokas do not breathe well. I need to find some dry-max socks stat. (Perhaps this is what contributed to the blister.)
Price is an issue for me. I feel like $160 is a lot of money. I do consider it an investment. Hopefully, these will last me a long time and I will get my money's worth.
Hoka Stinson 3 PROS:
The Stinsons are very light. They look like clod-hoppers, but they are super light. They feel lighter than my Brooks Adrenalines. (Actual weights: Adrenalines are 9.9 ounces and the Hoka Stinson 3's are 9.8.)
Very stable. I know it looks like you will be running on platforms, but your foot actually sits down in these and you feel very stable as you run. I don't believe there's any more of a danger of rolling an ankle in these than there would be with any other shoe. Maybe even less of a danger because the angle of the soles—they sort of flare out very slightly at the base.
So comfortable. Like running on fluffy clouds. I can feel the ground enough on the trail, but not enough that the rocks kill my feet. I feel like I could run forever.
Protects my big toe. My hallux limitus issue in my left big toe is a non-issue in these shoes and that had been a major problem. So these shoes–probably because the rocker-shaped sole–essentially protect that toe joint. It was not inflamed or sore after 13 miles last weekend. That's huge!
My left ankle didn't hurt after my long run. Because I can "toe off" better with my left foot, I think, I'm not rolling out and flipping my foot in to land, and causing repetitive strain on my ankle.
I can run just as fast as before. I've heard some people complain that these make them run slower. Because I wasn't in pain at 10 miles, I was able to do some faster running at the end of my long run!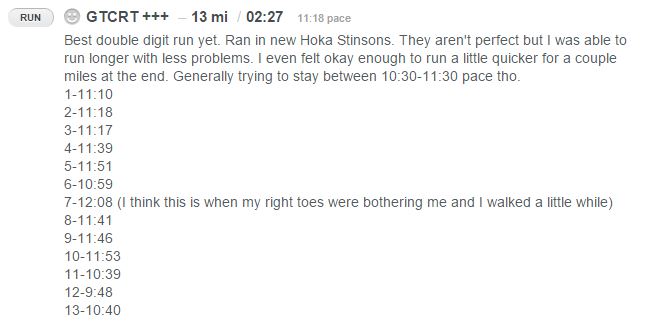 Conclusion:
I like the Hoka Stinson 3's enough to deal with some of the cons—most namely the hot feet and the cramping right toes. Maybe I need some different inserts.
The reality is that I can't make it past 10 miles in my Brooks Adrenalines between my hallux limitus and the bottoms of my feet killing me. And my Cascadias don't have enough support to let me go past an hour of running—my arches hurt bad afterward, as does my hallux limitus toe.
I need a shoe that has lots of cushion to protect the bottoms of my feet, but that is stiff enough to keep my left big toe from bending too much, and the Hoka Stinson 3's do that.
So, there you have it. Now, "Suit up!" and get out and run.
Have you tried Hokas? What model do you run in? Thoughts?