The second van exchange was in downtown Portland, underneath the I-5 bridge. There are many bridges in Portland since the Columbia River flows right through the middle of it.
It was dark now and that brought a whole new challenge to the race. Finding things had been difficult before, but now it was just plain ridiculous. I don't know how many times I said, "Where's my (insert item here)" over the course of 27 hours and 59 minutes, but it was a lot.
I went ahead and changed into my running clothes at the van exchange. We had some downtime as we waited for our 12th runner, XLMIC (Taking It On), to get to the exchange, so why not? And, because I'm a mom and have no shame anymore, I just changed in the van. I tried to shield myself a little from the people walking around the van, but I just don't care anymore. They weren't looking at me anyway.
Most of us got ready in the van, actually, and then we made our way over to the Nuun tent to talk to other runners. I had to go to the Honey Buckets even though I'd just been to the restroom at the restaurant. Dark in the port-a-potty — that was new. (I couldn't find my brand new headlamp. Somehow, I left it out of my bag and I still have not found it at home.) But I'd been in enough Honey Buckets that day. Didn't really need to see anymore. I started to joke that I wanted to visit the port-a-potties at every exchange. "It'll be my thing. I'll be known for it."
We got word that XLMIC was getting close, so we made our way toward the chute to watch Tricia (Endurance Isn't Only Physical) take over for Leg 13.
Tricia with blogger Julie.
As Tricia ran, we made our way to the next exchange. We weren't supposed to stop on that route, but we ended up stopping…at a railroad crossing. We sat there for a long time. Later, we found out Tricia had actually been stopped there, too, and timed it at 13 minutes!
After the train passed, we saw Tricia and realized she'd been stopped at the crossing. Waaaay ahead of her, we passed Alanna (Running 42KM) from After-NUUN-Delight.
The sparkly skirts from Team Sparkle were a great idea for those girls. They were super easy to spot day and night. And, as we would find out, we could've used something like that on our team.
Soon, Tricia was handing off to Alyssa (Diary of an Average Runner), and Alyssa was handing off to Caitlin (of Nuun). I was still using Honey Buckets.
Caitlin had a long leg, so we pulled over to offer her some water. I waited outside in the dark along Highway 30. Runners' lights bounced by, but I couldn't really tell who people were. A young woman was approaching and I cheered her on, then realized, "Oh! Caitlin! Water!" I ran behind her for a few feet till she was done with the water, then I ran back to the van.
I hadn't seen it was her because her headlamp was dull. Tricia had used these amazing Knuckle Lights, so when we saw Caitlin next, we slowed down and I yelled out the window, "DO YOU WANT THE KNUCKLE LIGHTS?!"
She answered: "WHAT THE &%*# IS THIS HILL?!"
I glanced in front of us. Yeah, big hill coming up. But I yelled again, "NO! DO. YOU. WANT. THE. KNUCKLE. LIGHTS?!" She shook her head and we've been laughing about this ever since.
We made our way to the next exchange, where I…you guessed it…used the Honey Buckets again, then got ready near the chute alongside Jocelyn from After-NUUN-Delight.
2nd Leg (Leg 16)
Rated: Easy
4.1 Miles
33:45
Avg pace: 8:15
That Caitlin is quick and she was there in a flash. She passed me the bracelet and I was off once again. It was 12:40 a.m. Saturday morning and I was running as fast as I could along a big, wide section of Highway 30.
It was interesting running at night. I didn't check my watch much because it was so dark. On the left side of me, there was the occasional passing truck or car, and on the right, I could see when a car drove by, weeds and trees and a drop-off. I borrowed Tricia's Knuckle Lights and they were awesome. It was still pretty warm out, though, so they got a little sweaty. I was wearing my capri camo skirt from RunningSkirts. Surprisingly, I didn't overheat in it. The fabric wicked sweat and kept me comfortable.
The hard part about this run was that it felt all uphill and I thought it was supposed to be mostly flat. So, I kept waiting for the flat part, pushing as hard as I could on the uphill. I was passing a lot of people and trying to keep track.

Elevation in green.
Finally, Highway 30 came into a little town with sidewalks and lightposts. I had quite a few roadkills on this route (12) compared to my first leg (only 5). It would've been 13. I had a girl in my sights and I was hunting her down. I could feel myself pushing faster and faster. Up ahead, I saw her cross the street at a traffic light as directed by a volunteer. It occurred to me that I may get stopped if I didn't get there before the light changed, so I pushed even more.
I got there and the other runner wasn't even all the way across the street yet, but the volunteer stopped me for the light. She stopped me again when I tried to go before it changed (the cars were long gone). Argh! I'd almost had that girl. All in all, the light was maybe only 15-20 seconds, but it felt like FOREVER. Then I thought about how Tricia must've felt at that freaking train!
After the light, I pushed it and pushed it. I gave it all I had and was so happy to see the exchange up ahead sooner than I'd thought. I passed the bracelet to Margot (The Faster Bunny) in the chute.
Mile 1: 8:09
Mile 2: 7:59!!!
Mile 3: 8:13
Mile 4: 8:42 (did not stop my watch at the light to make sure I accurately reflected the time)
.09: 40 seconds (7:29 pace)
We tried to stop for Margot during her leg, but we just couldn't find her. In fact, we almost missed her at the exchange again! Lisa (Discovering the Meaning of Stonehenge) ran from van to Honey Bucket to chute. It was crazy! And sort of exciting!
Lisa's route took her on some country roads, but we had to take a different way to get to the third van exchange. This is when we started to run into some traffic. The roads were small and there were a lot of cars. It was dark and foggy, but we made it in time. Barely. We had only a few minutes to warn Jess (Blonde Ponytail) that Lisa was on her way!
It was now about 2 a.m. (I think) and we were all exhausted when Van 2 took over at this exchange. I so wanted to sleep. In fact, this exchange had "sleeping fields" – roped off areas for tarps and sleeping bags — so people could rest. But we needed to get to the next exchange before we could sleep. We were making our way back to the van when we found out that Van 1 of After-NUUN-Delight had lost their van key. It felt hopeless. We were in a huge field. But our van, their van and a lot of nice people sort of spread out to look for it. I made my way over to where the chute was and started looking, but I only had my phone to illuminate the ground and it wasn't bright enough. I just started asking people to look at the ground.
Five minutes went by, 10 minutes went by. I just didn't know if we were going to find this key in a huge dark field. I walked over to one woman under a lamppost. "Have you seen a car key?" I asked. She looked down with her headlamp and we both screamed. There it was! "Found it!" I yelled and ran to give it to the other team. They headed for the next van exchange. That was our plan, too, as we didn't know how traffic would be in the morning and didn't want to risk missing the handoff from XLMIC at the exchange.
We were all set to go when we realized we didn't have Margot in the van. A couple of our early runners had been sleeping on and off in the van, so we inquired about Margot, but she'd told them she was going to rest in the front passenger seat. We tried calling her. She'd left her phone in the van. We were missing our Bunny! I started to freak out a little. I was angry that the other van wasn't there to help us look. But how would they have known we lost a person? See, your mind plays tricks on you when you've been up almost 24 hours (and have already run 11 miles). Mostly, though, I was freaking that something horrible had happened to Margot.
But this sleep-deprived state is why Margot had wandered out of the van to find a place to curl up. Luckily, she sort of "woke up" long enough to realize she should tell someone where she was. But, when we did eventually find her, it was obvious she was definitely out of it.
Back in the van, we made our way through Mist, Oregon. Mist certainly lives up to its name. We were driving through actual mist down these narrow and winding country roads. Tree branches hung over us like creepy fingers reaching through clouds. We made good time for about 10 miles or so. But then we came to a stop. And we crawled in a line of traffic for the next 10-13 miles.
Lisa and I were sitting just behind driver, Alex, and navigator, a tired and loopy Caitlin. We tried to sleep, but could not get comfortable. The back of the van was little more successful. But after we stopped, they sort of woke up. Margot, who was super hydrated, had to go. Like NOW. The rules don't allow going on the side of the road, but we were moving about an inch a minute.
We tried to convince her to hold it. We rolled along slowly in the dark and mist. People were getting out of their cars – they had to go, too. Nobody (not even the Hood to Coast people) knew the traffic would be so bad. One older man, who was so tired his eyes seemed sunken in, appeared out of nowhere in front of our van and we suspected he was a zombie. (These things are funny at 4 a.m., okay?)
Margot couldn't take it anymore. She grabbed a roll of TP, stuffed it under her shirt and jumped out of the van. "Pretend like you have to puke!" I yelled after her. She disappeared down a dark, misty hillside and around an abandoned farmhouse whose gravel driveway was dimly lit by one lonely lamppost.
"Well that's the last time we see Margot," someone said. It was like a scene from a horror film. As we slowly inched past the farmhouse, we all watched for Margot to reappear.
And then there she was back at the van, TP stuffed under her sweatshirt. We all breathed a sigh of relief.
Then we sat. And sat and sat and sat and sat in traffic, watching our "sleeping time" tick away on the clock, and making really stupid jokes about zombies and god-knows-what. Finally, at about 5:30 a.m., we pulled into the van exchange. Alex found us a parking spot way in the back, and those of us who hadn't braved the abandoned farmhouse, made a beeline for the Honey Buckets.
It was freezing out and all I'd brought was a light long-sleeve zip up and capri sweatpants. We stood in line for the port-a-potties shivering.
Back at the van, Alex (who is awesome – have I mentioned that?) had spread out a giant tarp. Some of us found a seat to lay on in the van, but Alex, me, Lisa and Margot unrolled our sleeping bags on the tarp. The air was cold, but the inside of my sleeping bag warmed up quick.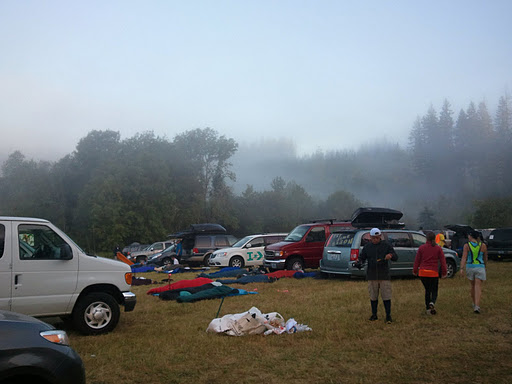 I looked at my phone: 5:45 a.m. We had no idea what time Van 2 (XLMIC) would be getting to the exchange. We hadn't had cell service for hours. I set my alarm for 7 a.m. and hoped it'd be early enough. Then I covered my head with my sleeping bag and drifted off to the sound of runners' numbers being yelled in the distance.
To Be Continued…