It's Transformation Tuesday! Again, I am sharing a guest post written by my husband, Jamey. I asked him to write about his weight loss journey. Over the course of 24 months, he has lost 92 pounds…and he's still going. Below is the second part of this three-part series. You can read the first part here.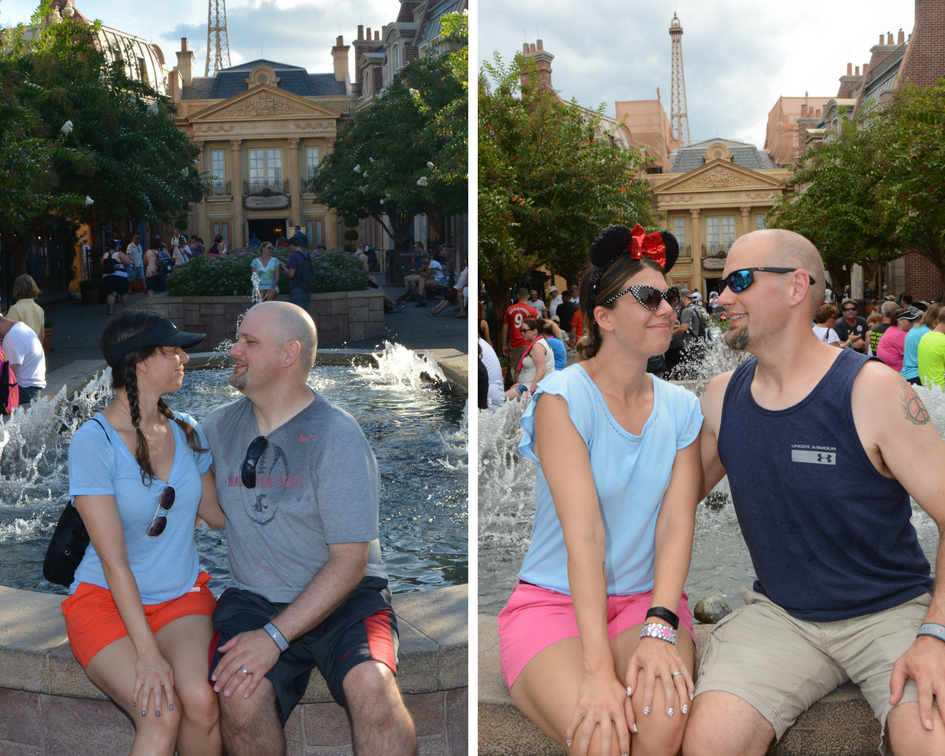 It's well understood in my house that I'm an over analyzer. I will go to the same store over and over again, look at the same item on the shelf, but never buy it…over and over again so I can go home and research and understand and comparison shop. Even better, I will convince my family we MUST have something in the store, put it in the cart, and then ditch it at the last minute. It drives Kerrie crazy.
The thing is, though, it's not just buying things. That can be pretty easily explained. But I also do it at work, in my workouts, with nutrition…you name it. It's the "analysis paralysis" thing. Before I can commit, I need data to be sure that I'm making a well-informed decision in order for the the results/goals to be met.
Last week, I talked about the day in October 2015 where the coach sparked my curiosity in getting healthier with four simple words: "Just move your body." It wasn't until days later that I started to realize that that phrase kept popping into my head. The context of what she told me was: figure out what your baseline is today, and then add to it. It doesn't matter what you do, just as long as you are moving and enjoying it; "just move your body." And so instead of doing just that, the research and analysis began.
Analysis Paralysis
What do I like doing? I have a desk job, how can I fit in exercise I enjoy? In my healthier youth days, I played multiple sports, went roller skating every Friday night, did "kid things" that would kick my butt today. I trained for performance or exercised for fun. None of those things seemed like viable options (except the roller skating) for soon to be 40-year-old guy who sits at a desk all day. I could name 100+ things, running included, that I did not enjoy doing.
By the first week of April 2016, nothing had changed. I had finally managed to convince myself that at this point I was probably just over-thinking this whole thing. In retrospect, as I always had, I was just making excuses. I was 40 years old, I have a wife and son who mean everything to me and if I didn't do something soon I was selfishly putting our dreams at risk.
How can I know this? You only need to look at my immediate family. Everyone in my family—dad, mom and older brother—are Type 2 diabetics. My dad had major heart surgery a few years earlier; four bypasses and a valve replacement. His dad had the same surgery. My mom has had her knees replaced, and my brother will soon have the same. I can't control any of those things from a genetics standpoint, but I can control what I shovel into the hole above my chin, or how much I move my body. And, again, I just had to remember what the coach said: start small, do something you enjoy, "just move your body."
A Starting Point
On April 6th, I decided to find out how much I actually move my body in a day. I put on an old pedometer we had (yes, I've tried this before) and wore it from the moment I woke until I went to bed. I don't recall precisely what the exact number of steps I logged that day was, but it was somewhere around 2,000, and I remember being shocked.
April 7th was the day I literally took the first step on my journey. That step was technically onto the bathroom scale. I was 30 pounds heavier than I was in October at the health fair.
I strapped the pedometer back onto my belt, downloaded a step tracking app to my phone, and told myself, until I figure out what that "something" is that I enjoy and can work it into my life, I will take 500 more steps today than I did yesterday. And I will do that every day for the next week. Take the stairs instead of the elevator. Take a short walk around the office. That should be small, simple and achievable. This was actually a strategy "the coach" had suggested—do a little bit more than what you currently do each week.
Just Keep Adding
And so I did, every week, adding 500 steps to the previous week's number as my goal. If I didn't get it done through normal daily activity, I would take an extra walk in the evening after dinner. As my walks got longer, I started seeking out podcasts and music that I could get lost in so I couldn't tell myself I was done before I was actually done.
In the beginning, I would walk the same route every time because I was trying to do just enough to get to the goal. I was still trying to take shortcuts, but this time I was learning to be conscious of it. In retrospect, having a specific route, for those of us looking for an "out," was a perfect strategy as I was tuned in to how much workout I had left. Eventually, as I increased my steps, I had to change my routes, and then found I was actually enjoying the variety and exploration.  This hunger for discovery serves me well to this day as I work on new goals.
The Cornerstone
By the time October 2016 rolled around, in time for the next "know your numbers," I was up to the widely prescribed 10,000 steps per day. That's it. (Oh, and I also lost 48 pounds.) This was the extent of my exercise routine, and is still very much the "no compromise" cornerstone of what I do today…every single day. I walk. It is a great way to escape, decompress, and feel "successful" in my fitness goals even when those inevitable days happen where I can't find time to do anything for exercise. If I can at least get my 10,000 steps, or really close to it, I feel that I've met the minimum bar.
As I described in my previous post, eyes sort of glass over when I tell people, "Well, mostly I walk."  Like, really; you lost all that weight just walking?  Well, no, I do other things now, but I started with walking, and I still do it every single day.
Walking and Weight Loss
Walking should be included in just about anyone's routine.  If you are serious about losing weight, trying to maintain a weight loss, or do any number of exercise routines as a matter of course, you should be tracking a steps goal. The science proves, and is backed by countless multinational studies, the short and long term benefits of walking. The more intense you walk, the more calories you are going to burn. You don't have to "power walk," just walk like you are trying to get somewhere.
And every walk doesn't need to be intense. There is plenty of benefit to leisurely walks. Leisurely walking can lower the stress hormone, cortisol, which contributes to visceral (the bad!) fat around your mid section. Most importantly, though, a proven strategy to keep the weight off after you lose it is (spoiler) walking. In data from the National Weight Control Registry, a study of over 10,000 individuals who have lost a significant amount of weight and kept it off, 94% of those in the study include physical activity in their weight loss and maintenance routines, with walking being the most reported form of exercise.
Making it a Habit
When people ask me how I got started, I say: "Just move your body." Figure out what you enjoy, where you are on progress, set small incremental and achievable goals, and make it a habit. Walking is great for beginners and experts because it is low impact and good for overall physical and mental health.
So what other exercise do I do to get and stay in shape? Stay tuned for a future post where I'll cover some of my current strategies, what I've learned about this thing called NEAT, how your hormones are at play, and how to use exercise as a catalyst to make them work for your goals.
I'm no expert in the field, but Dr. Jade Teta is. Any regular reader of this blog knows who he is, but for the uninitiated, Dr. Teta is the creator of Metabolic Effect. A company that gives you the information you need, in terms you can understand, to discover how to make your metabolism work efficiently for you. Your metabolism is a little bit like your fingerprint; everyone's is just a little bit different. His Metabolic Prime program changed my body, my thinking about how to exercise, and my future fitness goals.
Next week, I will talk a bit about how I got my nutrition under control. Until then, thanks for reading!
Update: Click here to read Part 3.