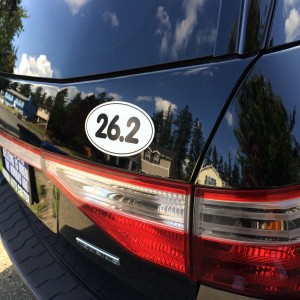 The other day, I saw someone with "13.1," "26.2," "50K," "50M" and "70.3" stickers on their car. I think there were more, but the stoplight wasn't long enough to read them all. Overkill much? I get it, you're an endurance freak! Fine. I'm jealous of you!
Speaking of freaks, I totally cried when I traded in my '04 Odyssey for a newer one on Sunday. When the dealer drove my old minivan off into the sunset (literally, we were there till 9 p.m.), he also took my "13.1," "Nuun" and "I <3 to tri" stickers with it.
Luckily, my "26.2" is a magnet (thanks, Mel!). I slapped that sucker on my new van right away and, I must say, it looks pretty damn slick.
I won't replace the "tri" sticker because clearly I don't love to tri or I would have done more than one of them in two years. I've been driving a lie! I like to tri. I would-do-it-more-if-I-wasn't-such-a-chicken to tri. Do they have that sticker somewhere?
But the "13.1" sticker is sort of a tricky one. I don't know if I need to replace it. What do you think?
I've run a bunch of half marathons. Enough that I don't know how many. But, I mean, it seems obvious I've run 13.1 since one must cover that many miles in order to get to 26.2. But I'm no math wizard…
Likewise with 50K and 50 miles. If I ever run those distances, should I take my 26.2 off?
These are the things that keep me up at night. Well, these and When is the melatonin going to kick in? And, If it flooded, could I use my bed as a boat?