"Stay committed to your decisions, but stay flexible in your approach." -Tom Robbins
Ever since I started on my health journey in 2009, my goal was to get healthy and look it. I have been after a lean body for a long time. My plan was to get there by running. It took me over four years to figure out that wouldn't work.
Today, I'm writing about my quest to get lean and sharing some ideas I learned from Metabolic Effect's book. In order to reach my goal, I have drastically reduced the number of miles I run, but Kim at (Just) Trying is for Little Girls, who also read Metabolic Effect's book, is continuing her goal of running a half marathon in every state–balancing a lean lifestyle with long distance running.
We are writing about our two experiences to help other runners who want to lose weight–fat–and get lean. You can read about her experience on her blog today, and my experience is below.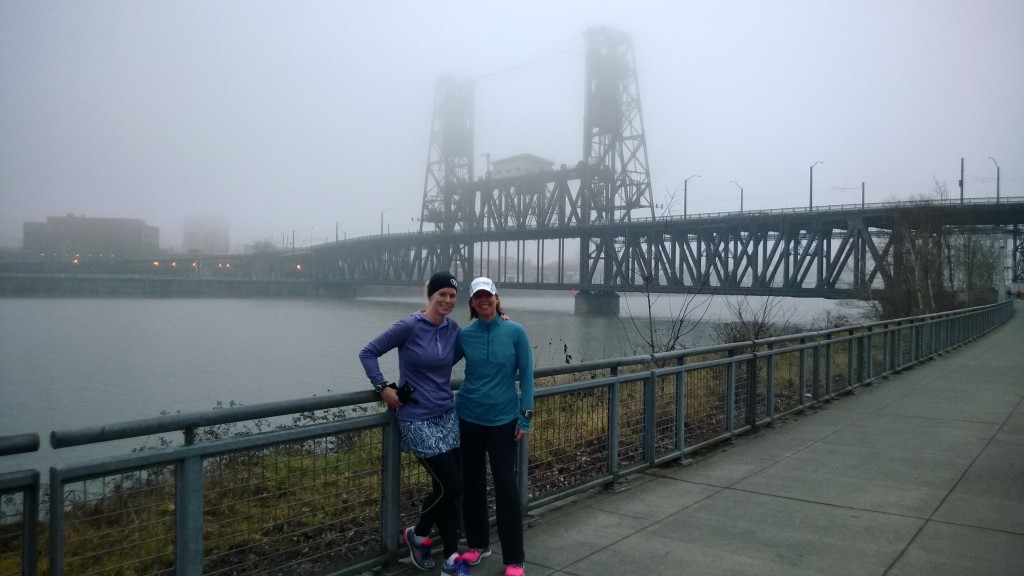 When I started my journey to get in shape, I decided I wanted to run. Why did I chose running? Well, I have always enjoyed running. But mostly I thought that was what you had to do to get in shape. Everywhere I looked (i.e. magazine covers or on TV, etc.), it seemed like running was the way to do it.
A marathon was on my bucket list, but it also seemed like the fastest way to get a lean, fit bod! In 2009, I began my quest. I started with a 5K and then within the first four months of my journey, I ran a half marathon. I immediately started training for the full…but then fractured my shin from overuse in the spring of 2010. (I eventually ran a full in 2011.)
Almost four years laster, I continued to think that adding mileage (and hours) while cutting calories was the only way to lose weight and get in shape—even though I still hadn't achieved it after all that time!
Yes, I'd lost some pounds and my heart and lungs were healthy, but I continued to carry an annoying layer of fat around my tummy, hips and thighs (which couldn't be healthy for my insides either!). Of course, my boobs shrunk down to almost nothing. Typical!
I Wanted to Get Lean: The Knowledge
While I wouldn't take back all those miles with wonderful friends that I made because of running, I do wish I would've known what I know now because I would've been able to "get in shape" a lot faster. I wouldn't have damaged my metabolism by cutting calories and eating less while exercising more. I wouldn't have fractured my shin.
The difference between then and now, is knowledge.
What started this education transformation was a book called The Metabolic Effect Diet. It completely opened my eyes to a world of health and fitness habits I never even knew existed.
I don't have to run 20-25 a week to get fit? Whaaaaa? You mean, I can work out for 30 minutes just 2 or 3 times per week and lose weight? And the fat will come off? Whaaaa?
Before you read any farther, know this: I don't think everyone who loves to run should stop running. Keep running if you enjoy doing it. But running or doing hours of cardio every week to get "in shape" is a myth. (Of course, "in shape" is different for everyone: For me I mean healthy on the inside and looking lean and strong on the outside.)
I feel really passionate about people getting educated about weight and fat loss. Reading The Metabolic Effect Diet is a good place to start that education. So is reducing your running mileage.
Can I Get Lean and Run Long Distances?
I looooove running (although my love affair has moved to shorter distances as of late), and I would not take back any of the races or runs I've done over the  years. I made new friends with this blog and with running—wonderful friends whom I cherish.
But last summer, when I read The Metabolic Effect Diet, it changed everything I knew about getting lean and fit. To be fair, I didn't really know much since I thought I could get "in shape" through high-mileage running and hours of cardio, including even last winter on my bike trainer.
When I tried to lose weight through lots of running and/or by reducing calories (sometimes to unhealthy levels), I was doing myself a disservice by wrecking my metabolism and by stressing out my body (which made it hold on to the very fat I was trying to get off!).
I did lose some weight, but what I lost also included muscle. (And you want muscle because it burns fat!) Metabolic Effect taught me that when you get your cardio through weight lifting (20 minutes, heavy weights, high intensity), you burn fat and build some muscle…which helps burn fat even when you're not exercising! This is a very short explanation. I'll put links for more info at the end of this post.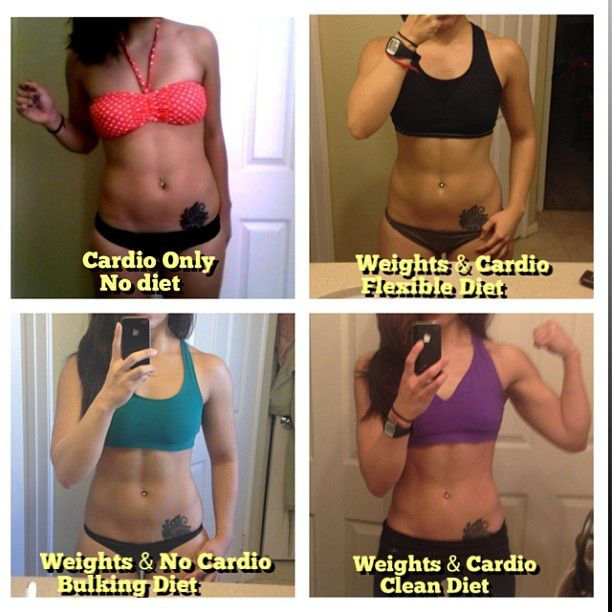 I learned about how stress affects my body, how well (or not well) my body processes starch, how what I eat and how I exercise affects the hormones in my body, and how my hormones affect how I feel and look.
Part of me wants to say that if you are not looking to lose body fat/weight, then The Metabolic Effect Diet may not be for you. But I can't. I learned so much about how my body works, I think everyone should read it. (No, they did not pay me to write about their book.) It's just good information to know.
I have one issue with the book: it's title. Putting the word "Diet" in the title, to me, implies this is just another one of those fad "DIET" books. But that's not what this is. There's no "eat this, not that." You're not going to get meal plans. It's simply an educational read about food and hormones and exercise. The book gives you all the information, and then you decide what to do with it.
The book does give you workouts to do. And, I don't know if I've ever been as sweaty after any run as I get after a ME workout. Just sayin'.
The workouts are important because long, steady-state cardio sessions are not an efficient way to burn fat. I can say this after more than four years of doing them and not seeing results. After just a couple of weeks doing ME workouts and making good food and lifestyle choices based on what I learned in the ME book, I dropped 8 pounds.
I had a hard time thinking I didn't need to run for miles on end. I had a hard time not counting calories and believing "weight loss" wasn't all about calories in, calories out (there's more to the equation!). I had a hard time watching my running mileage go down to 6 miles per week or less (sometimes)….at first.
But wearing size 6 pair of jeans and seeing muscle definition in my arms convinced me. And not feeling hungry all the time convinced me. And there was even a faint outline of some—wait for it—abs!
The best part: I felt more relaxed and less ruled by exercise and calories than…ever.
Getting Lean: Making Exercise and Food Work for Me
What the ME book helped me see was that there are certain types of exercise that work for me and there is exercise that works against me. And certain foods that work for me and certain food that works against me. And there are certain behaviors that work for me and certain behaviors that work against me.
I learned my body is very susceptible to stress—both from environmental factors like not getting enough sleep, and from stressful exercise, like long distance running. ME recommends easy stress-reducing walks in between 3 days of 20-minute high-intensity weight workouts.
But stress is just ONE of the reasons my body was holding on to fat around my belly, hips and thighs.
I also learned that what I eat has a lot to do with my body fat, and not how much I eat. I was eating a lot of yogurt and oatmeal last spring, and my body cannot process those foods as efficiently as higher protein foods and vegetables, I have learned. The book helped me to be more aware of how food made me feel. I really started to notice how different foods affected me after I read the book.
For example, my stomach was always upset after eating yogurt. Once I cut back on eating so much of it, I felt better. I like that ME teaches you how food can help you instead of hurting you.
Changing my diet to be more protein and veggie focused with smaller amounts of starch at meals, made a huge difference. I looked better and felt better. AND I was eating more. Right now*, I eat 6 times a day, and I feel satisfied after I eat.
The types of food I was eating was just ONE factor to my soft belly, hips and thighs. Being on restrictive low-calorie diets for so long was also ONE more reason.
Getting more sleep also made a big difference. Eight hours is where it's at. Not getting enough sleep is just ONE reason my body holds on to fat.
What works for me:
Sleep 8 hours.
20-25 minutes of high-intensity exercise with heavy weights 2 to 3x/week (metabolic workouts)
Optional 20-minute sprinting interval sessions 2x/week
30 or more minutes of leisure walking every day
Lots of protein and veggies at every meal with 5 bites of (high-quality when possible) starch, and lots of water
Eat 4-6x/day (don't let myself get crazy hungry/hangry)
That's it. That's the basics of how I am getting leaner. You'll notice there is no running aside from the optional sprinting…
How I Became a Diet Detective
Despite knowing all of this, I had to step back from the metabolic workouts in November. My lower back, which has a bulging disc that sometimes gets aggravated, was bothering me. I tweaked it somehow and it just wasn't getting better so I had to rest. Surprisingly, when I rested and continued to eat well, my weight and inches did not change much.
But then I started following a new lifting routine, just to see if I liked it. The routine was more strength-focused than metabolic. So, I was lifting even heavier, but it wasn't getting my heart rate up much, and my eating wasn't so clean. For various reasons, I was binge-eating chips and junk food in between meals, and toward the end of December to mid-January, I went up 3 pounds and gained an inch or more on my belly, hips and thighs. (All in all, not that bad considering I was eating so much junk.)
The best way to show you what happened with me is to share a graph of my weight for a year. (Note: Before I read the ME book, I had read Bob Harper's The Skinny Rules, which was basically just a lesson in eating cleanly. Again, not really eliminating anything, just eating better. But, my yogurt and starch consumption was much higher.) Okay, here's what my weight journey over the last year looks like: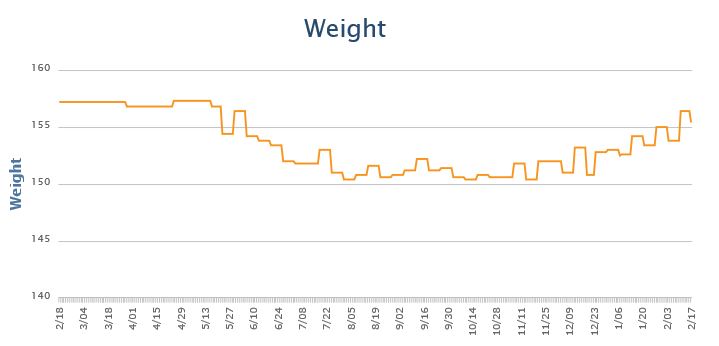 Can you see how I was stuck last spring? Can you tell where I started eating and exercising according to the knowledge I learned from Metabolic Effect? It was last May.  Can you tell where I strayed? December and January.
Weight is not the only, or even the best, way to measure your progress, but it is the one thing I had kept track of consistently.
One of the best things about Metabolic Effect and ME trainers (such as Jill Coleman of the blog JillFit), is that they stress that a lean lifestyle is all about finding what works for you. Setbacks are not failures. I only found a way that does not work!
I consider myself the Sherlock Holmes of my own lean lifestyle. I keep tweaking and trying different things in line with what I've learned from ME (and other books, see below). Long runs aren't going to get me the abs I want. Running two hours and then telling myself I can eat whatever I want won't help me get my goal.
Now, if I run, it's because I enjoy the act of running. But I will never again confuse it as a good way to lose weight or fat.
Get The Metabolic Effect Diet here.
Another book on fat loss I like:
Burn the Fat, Feed the Muscle by Tom Venuto
More about the Metabolic Effect:
A couple helpful articles about cardio and weight loss from Jill at JillFit:
A podcast on fitness and nutrition I'm really enjoying:
The Fit Cast hosted by Kevin Larrabee, CSCS
*I'm a "diet detective"! Six seems to be working for me now; it could change.