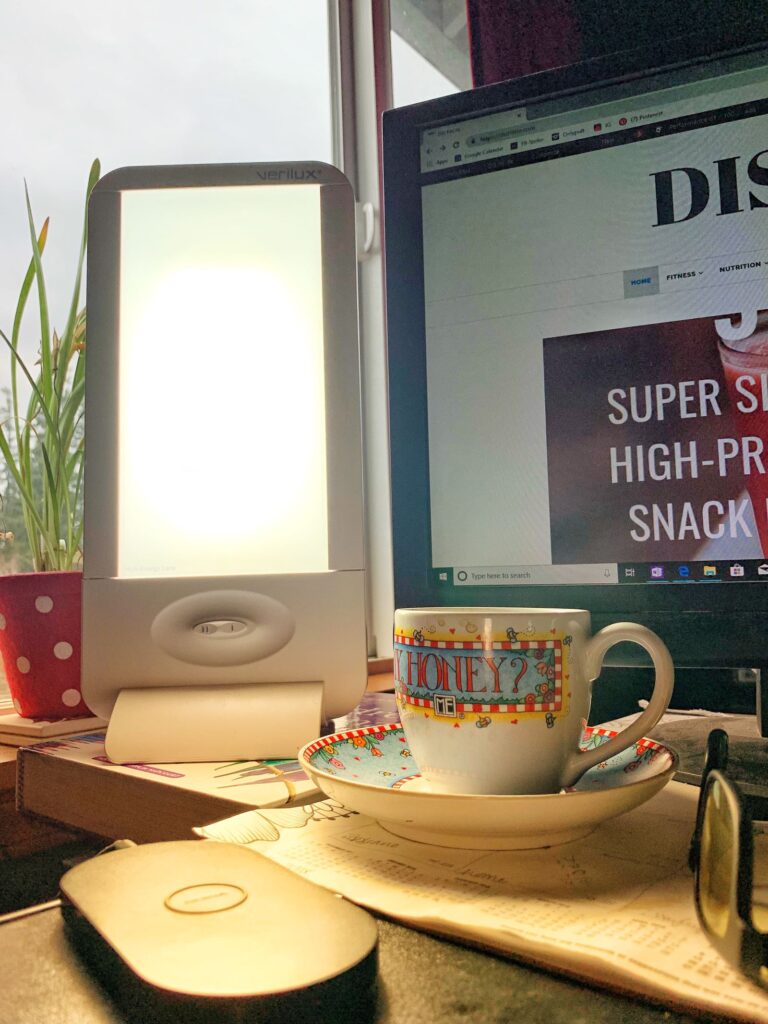 When I lived in Seattle, I suffered from Seasonal Affective Disorder (SAD aka the Winter Blues) and I used a happy light daily to try to beat it! So, naturally, a question I got asked was lot was how I usd the happy light, so I wanted to write about it once and for all here. ​​​​​​​​​​​​​​
First, some background: I grew up in northern-central California where drought was a problem just about every summer. We played outside in the sun all day. And I did all sorts of outdoor sports, from swim team to track to water skiing.
Winters were mild. Spring and fall were hot. Summers were scorching.
Skin Cancer Scare
When I was a teenager, my dermatologist became concerned about a very dark quarter-sized mole on my back. The cells were pre-cancerous, so the mole was removed a couple of times to make sure everything was gone.
All tests came back negative. But my dermatologist encouraged me to move somewhere with less sun. He was a University of Washington alumni, so he encouraged me to look at Seattle—famous for its rain and lack of sunshine.
Moving to Seattle
I wasn't really too excited about living in the big city, so my mom and I looked at the school on the other side of the state—Washington State University. I went there, met my future husband, and we decided to move to Seattle after college.
That move was more than 20 years ago, and we've since moved to Florida, but I still find I get the Seasonal Affective Disorder symptoms on cloudy days. For the most part, living in the Seattle area was great. But a few years ago, I started noticing something during the long fall-winter-spring months.
I was extremely moody, like, all the time. I would swing between being fine and then totally depressed.
Seasonal Depression
Jamey and I put a few clues together and discovered the moodiness would begin when the days became shorter and darker. We went ahead and Internet-diagnosed me with Seasonal Affective Disorder. Turns out, it's common in the northern parts of the world.
If you, too, are suffering from it, I suggest you seek someone to talk to about it. And please don't hesitate to call the national Suicide Prevention Line if you ever need to talk ASAP: 1-800-273-8255.
How to Use The Happy Light
One tool that I used to combat the "winter blues" that you can start using right away, though, is a happy light. I have this one: the Verilux HappyLight 10,000 Lux Lamp.
Once you get your happy light, position it somewhere sort of above you so that when you sit in front of the light it almost mimics sunlight coming in through a window.
Use the light first thing in the morning.
Don't look directly at it, but let it shine on you as the sun would.
Start small with the lowest light setting.
Start with about 15 minutes a day and work up to 30-45 minutes a day.
Once you've gotten used to the lowest light setting, try the higher light setting.
I had my happy light positioned above me on my desk.
In the morning, I would drink my coffee in front of it while I eased into my day. I may catch up on a show, write in my gratitude journal or look around on Pinterest. It was a nice way to "wake up."
Other Tips
Jamey swore he could tell when I had not used my light. I tried to use it every day. Sometimes I wasn't not sure if it helps. I think the key was for me to do all of the following things to combat seasonal depression:
Happy light
Gratitude journal
Vitamin D with Vitamin K
Get outside (even if it sucks out there)
Exercise
Watch or listen to something funny
I hope this helps someone. Do you use a happy light? What do you do while you sit in front of yours?