Do you ever have one of those days where you feel like you want to say something, but you have no idea what it is? And if only you could find the words because you are pretty sure it's really important for others hear it?
That's me today, so I'm going to do a little warm-up exercise and see what happens. Just gonna pick a subject and go with it for three minutes — it's all about how much I can write and not really about what I'm writing. This should be…terrible.
Oh geez, I can't even pick a subject. I keep looking at things on my desk — pens, a couple of quarters, a box of jumpo paper clips, a cough drop, some foaming hand sanitizer, a little boxer dog statue, a bottle of Newman's Own Light Italian. Okay, let's pick…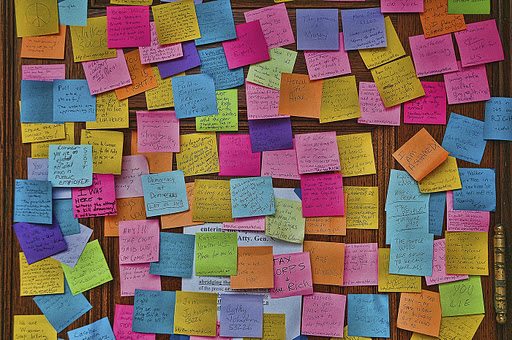 Post-Its
Do you use Post-its? I don't have real Post-Its but some knock-off ones on my desk. I like them because they have a pink border and a little picture of a cupcake in the bottom right-hand corner. I don't like them because they don't have Post-it-quality sticky stuff on them. They never stick to anything. They just sort of curl up after you peel the top one off the stack. This always makes me consider going in search of real Post-its, but I never do. Instead, I just "stick" the cupcake post-it to whatever and hope for the best. Whenever I say, "hope for the best," it reminds me of my friend Kallie. She always says that about her kids stuffed animals. "I just throw them in the washer and hope for the best." Makes me giggle whenever I hear her saying that in my head. I was just really getting going on this exercise — I'm about a minute into it now — and a computer restart button just popped up. Are you kidding me? Seriously. I'm in the middle of something here. So rude how your computer can just sort of interrupt you whenever it feels like. Sort of like a 3-year-old. Or my 3-year-old anyway. How many times do I have to say, "Wait your turn, please, I am talking to Daddy"? By the way, that's a trick question. Because it doesn't matter that I say it, he just keeps talking. Anyway, back to Post-its. I also have a stack of them that don't have sticky stuff on them. I guess those maybe aren't actually Post-its, right? Not even knock-off Post-its. What would you call those? When they are stacked up there's a picture of the New York skyline on them. My friend and former co-worker got it for me when she went to New York back when we worked in the newsroom. I just realized I never noticed if the Twin Towers were on there…
Times up.That was fun. I actually feel better.You should try this. Pick a topic and just start free writing for three minutes — see where your brain takes you. The rules: No thinking about your topic before you start writing. If you do, pick a new topic.
The idea is to not let your brain think too much.Well, that's certainly easy for me today.