I'm not gonna lie. I like running these faster times the Run Less Run Faster training plan is prescribing. When Mel (Tall Mom on the Run) had me running faster last summer with the awesome sub-2 plan she made me, I liked it then, too. 
Running fast feels good (when I'm done, of course). But running too fast does not. It's a fine line. When I ran the Santa Runs Tacoma 5K in December, I ran too fast. It hurt. A lot. And I knew I'd started too fast and would not be able to maintain it (I slowed considerably in the third mile — ouch). Not awesome.
But the Run Less Run Faster plan, like most training plans, gives you speeds to run based on your own times so the speed work is, like I said to Mel on the tempo run yesterday, "challenging, but doable." That's how I felt about the 8:23 pace we were running — my prescribed Mid Tempo pace. (Did I mention Mel is voluntarily doing speed work with me? Crazy woman.) 
The 8:23 felt fast, but controlled. Sometimes it even felt easy, and then it was superhard. Challenging, but doable.
And I liked it. Even more awesome with a buddy, of course!
The RLRF plan called for a 1-mile warm up, 4 miles at Mid Tempo pace, and a 1-mile cool down. I was worried I wouldn't be able to change, run, and change again on my lunch hour, so I decided to cut the mileage from my warm up and cool down. This is probably not a good thing to do, just FYI.
So, I warmed up for half a mile of jogging, butt kicks, strides and high knees. That's a lot of stuff in a half mile! And it hurt since I did the RLRF strength workout Tuesday night. Gluteus soreus maximus.
I met up with Mel and then we took off on the first tempo mile toward her office with the plan of running the nature loop around it. The first mile flew by and we were chatting a lot. We had a lot to catch up on! By the second mile, we realized maybe chatting so much wasn't the best idea, and we were a little quieter. Mile 3 and the chatting was sparse. Mile 4 and we were pretty quiet with a few outbursts — like me squealing WHEEEEE! as we rounded a curve I decided to pretend is a turn on a NASCAR track.
The last half mile of the tempo we cut through the parking lot back toward the road that leads to my office. It wasn't long until we were done, I snapped a photo of us (a few times till I got a keeper) and then we had to get  back to work!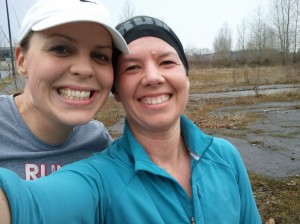 I looked at my watch and thought I was fine, but I couldn't remember exactly how far away from my office I might be. Turns out it was a little farther than I thought and so I sped up. My .84 cool down was at an 8:17 pace! This is probably not a good thing to do, just FYI.
I only had two minutes to de-stinkify and get back in my work clothes (which are just jeans and a long-sleeve tee, but still, it's hard to get dressed when you're sweaty)! Also, I forgot to pack new baby wipes…AND the deodorant in my gym bag is basically gone; I had to do some serious scraping and lotioning.
I went to a meeting with a tomato face and smelling of Bath and Body Works Exotic Coconut. It was awesome.
Last night, I was so sore, going up the stairs hurt. T Junior, who will be 4 in May, held my elbow and "helped" me upstairs. "Oh man, hurts so bad!" I said, to which he replied, "No, it doesn't hurt anymore 'cause I helped you up." Three-year-old logic: awesome.
You know what else is awesome?
Running fast.
It has taken me a long time to work up to these paces. Basically the first two years of running were base-building and learning how to not injure myself (after injuring myself). Since completing the marathon distance last June, it's been more about speed. I have to say, I am thoroughly enjoying myself. But there was a time even only just a few months ago when I was thoroughly enjoying just running to run and I didn't care about the pace.
And that was pretty awesome, too.