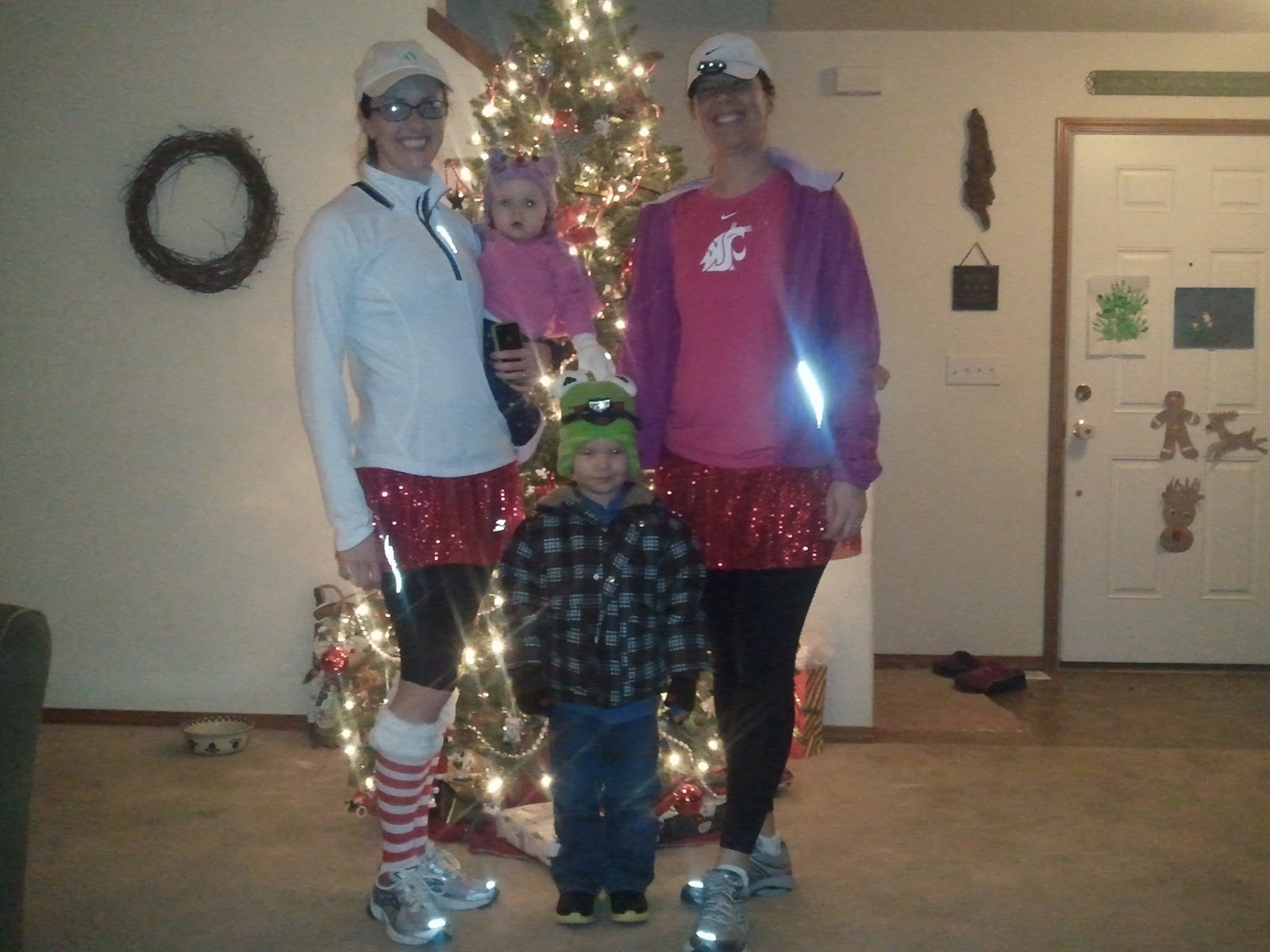 Zoë, Goob, T Junior and me in my living room. Zoë said sparkly skirts are
reflective, therefore we wore them for safety purposes. Mr. T made fun of us.
It was a "Christmas lightbulb moment," except one section burnt out.
Do you ever have one of those ideas that seems really good and then after you execute, you think, "Well, that was dumb"? I have them all of the time. It's like a sickness.
I knew I couldn't go to Wednesday's Tour De Lights in Bonney Lake, so I decided to do my own Tour De Lights of My 'Hood Tuesday night. Since Zoë doesn't live that far away, I asked her if she wanted to come along. She did!
I haven't run with the jogging stroller in a long time, and it showed. It didn't help that I filled the tires up a little too much with my husband's air compressor, which I very much enjoy using. I was all over the place. And T Junior was asking me a million questions — none of which I could understand. I also didn't think about sidewalk width and whether or not it could contain two side-by-side jogging strollers. Street-running in my neighborhood is usually fine, but there were a ton of cars last night. It was not an easy 2.2 miles by any means even though I did it in the same time I ran 3.1 miles on Saturday.
But it was nice to see my friend and all of the lights, and I loved the leg lamp window cling, too!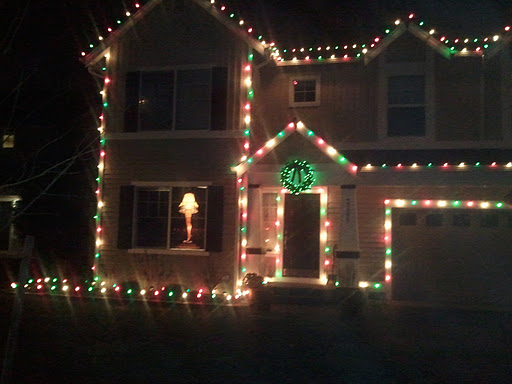 Must find one for my house.
Afterward, T Junior wanted to run. We said goodbye to our friends, put the jogger away and went for another short run. You think running with a 3-year-old in the daytime is nerve-wracking, try a night run with one. Holy crap.
I told him he to make sure he looked at the ground, so he looked down…and never looked up until I realized what he was doing as he's veering off the sidewalk. Then I told him that you have to look down and up. So then he's running and nodding.
Seriously, kid. Sometimes you are so smart, but sometimes you are so dumb.
Then again, I am the one who agreed to go night-running with a 3-year-old.