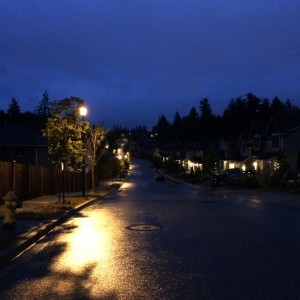 Coyotes, he said.
So today I made the mistake of checking Facebook before I left for my early morning run. A neighbor warned pet owners he'd seen coyotes "roaming freely" down the main street in our neighborhood about 30 minutes before.
Sweet. I LOVE coyotes…said nobody ever, especially not people who are already sort of afraid to run in the dark.
But I went anyway. Because I'm training myself to become fearless. Well, not completely fearless, but at least not afraid of stupid coyotes.
I did bring my pepper spray. Not sure if that'd be useful against coyotes. My sister said she throws rocks at them and that usually scares them away. I don't usually bring rocks, but I might be able to fit one or two in my iFitness belt.
The Workout
My schedule called for just a normal no-coyote run between 30-50 minutes, keeping the pace between 9:45 and 11ish. I felt GREAT since I took yesterday off due to the fact that I was dead tired (like seriously what a zombie would feel like if zombies could have feelings). I went to bed at 9 p.m. AND I took a melatonin tablet–didn't wake up once till my alarm clock made me!
BTW: Getting almost 8 hours of sleep is amazebollocks. (That's my new American/English slang word I just made up–my coworker from England taught me what bollocks means today. Think it may catch on.) It makes a HUGE difference. I have to put HUGE in all-caps. It's like impossible not to.
It rained overnight and was still sprinkling when I went out to run. It was cooler than it's been, but not cold. It was refreshing after some 95+ degree days. But all I could think about was coyotes.
I ran in and out of cul-de-sacs again. I hope I can get brave enough to try some new routes soon. Pretty boring. At least I have a good podcast to listen to (Talk Ultra again).
I ran 2.88 miles in 30 minutes. That's a 10:26 average pace. I mostly ran by feel and my splits are pretty consistent (10:33, 10:19, 10:25). So, yay me.
I had no problems with this workout except being on high alert for coyotes. What was that?! *swivels head around* Oh wait, I think it was just my shoe landing on the surface of the street.
Tomorrow's workout: It'll probably be a double because my coworkers want me to run with them. I am pretty sure they are using me for my Garmin. But, my morning workout will be: hill repeats – 10-15 x 30 seconds at 1500m-3K pace (7:09-7:31 mile pace) with 60-90 seconds of rest. Warm up and cool down of course. Let's hope the coyotes sleep in.