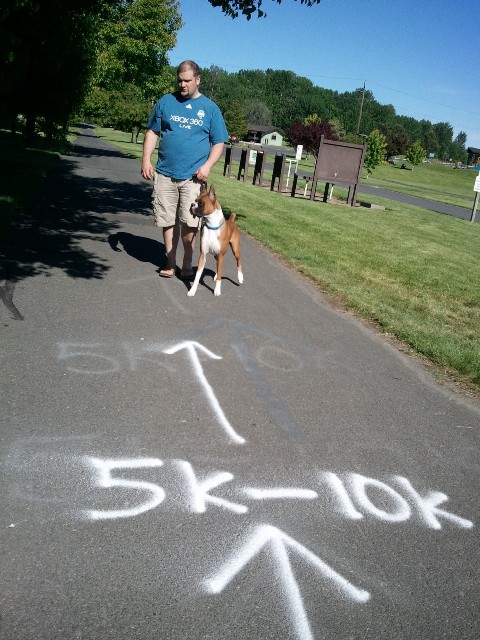 Mr. T and Bennie at a park in Yakima —
apparently there was a race here recently.
I was jealous.
If you've read this blog very long, you probably remember we have three boxers. One of them, our youngest, is a total nut.
Bennie is our only show dog right now. He's 15 months old and 65 pounds of muscle and energy…and lovey-want-to-hug-and-kiss-you boxer-ness. But he never stops moving…sort of like a certain three-year-old.
Bennie's mostly manageable at home. At a dog show, he's embarrassing. At the Yakima show this weekend, a dog-show friend suggested I take him running before the show to tire him out a bit. I didn't bring my running gear, so that was out of the question, but it did give me an idea.
I had been avoiding running much with Bennie since he was still growing. But his growth plates are closed now, and as long as we start slow, he can run with me. He really needs it. It'll help him build muscle and burn off some energy.
And he's actually good on a walk at home — not as many exciting people and noises and furry, fluffy little dogs outside our door as there are at a show.
Bennie and I will be starting a new routine tomorrow. We will jog-walk for 15 minutes in the morning for a week. Next week, we'll add five minutes. Technically, I will be "running" twice on some days and going on consecutive days. But we are going to go so slow and for not that much time.
I'm excited to start our new adventure together and hope that maybe, just maybe, the nut will make a great running buddy.