I've got a Jelly Belly. Unfortunately, not the delicious kind, but instead the kind that jiggles when I walk and bulges when I cinch my belt. Some moms might call this a baby tummy. But my son is almost 4, so I don't know if I can use that excuse anymore.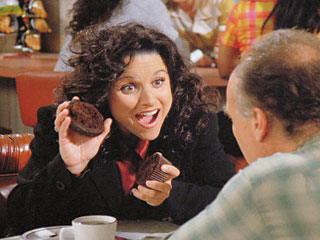 I cannot get rid of this thing! Okay, I haven't tried thaaaat hard yet, but I want it gone – especially for summer.
When I drive home from work, I have to drive by the local high school. This time of year, there is usually a run going on along the road. Track team, I assume. Yesterday, it was warm and muggy and some of the young women were just running in shorts and a sports bra. And this reminded me of when I was in high school, and how I would could run in my sports bra.
Can I just tell you how much I wanted to run in just shorts and a sports bra on Monday? I was really dumb and did a 7-mile tempo run (ahem, the day after a 9-mile long run) during the hottest part of the day on a trail with no shade, and didn't bring water with me. Luckily, I had on a new New Balance airy tank, so that helped, but I still was so, so hot, and I just wanted to take it off.
But I cannot bear the Jelly Belly. My thighs do enough jiggling in my shorty-short shorts, I don't want to add my stomach to the mix.
I was thinking about it recently, and last year when I was training for the full, I had a less jiggly stomach even though I weighed a little bit more. So how was that possible?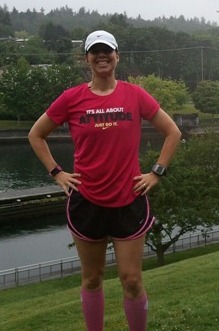 Then I remembered that I was doing Jillian Michaels's 30-Day Shred video 3-4 times per week in addition to running. I was only running 3 times per week: two 30-minute mid-week runs, and one slow, long run on the weekend with walk breaks, as I was trying to avoid getting injured. But I was doing my PT exercises and busting out some 30DS regularly.
Lately, I haven't been cross-training much. I haven't been making time for it and also my front bike tire keeps going flat. I Mr. T just replaced the tube, so I'm not sure what the deal is. The really annoying thing is that the tube has a weird air valve that doesn't work with the air compressor, so I Mr. T must pump it with the hand pump. I hate asking for help with it. So I haven't been riding my bike. I'm thinking of getting another new tube.
Anyway, I substituted JM's 30DS for cross training when I was training for the full, so why not do it again? It helped me a ton, especially with hills since I can't do hill repeats (they make my shins too sore, so PT said no, no on hill repeats – FINE BY ME!). But I have to find a way to, as my PT said last year, exhaust the glutes.
So, 30DS is a good start. Even if I do fit in a bike ride or a swim, I still want to do my 30DS on those days. I did Level 2 last night, then added a modified version of the Run Less Run Faster strength routine afterward. Modified, as in I just do squats instead of wall sits. I don't think I'm doing the wall sits correctly because they really hurt my knees and I'd rather not injure my knees, thanks. I also can't don't want to do pushups on the exercise ball. It freaks me out. So I did real, manly man, pushups instead.
How did you get rid of your baby tummy/jelly belly/muffin top? What's your favorite Jelly Belly flavor? Mine's popcorn. Have you ever done something as stupid as run a 7-mile tempo run the day after a long run?