Hang on, this is all over the map…
Rock 'N' Roll Full Training
It seems like all week people have been asking me how many miles I am running on Sunday. I started to freak out a little because I didn't know. I have all my long runs scheduled in Outlook, but last week, Zoë and I did 16 instead of 17, and I was beginning to think that would throw us off.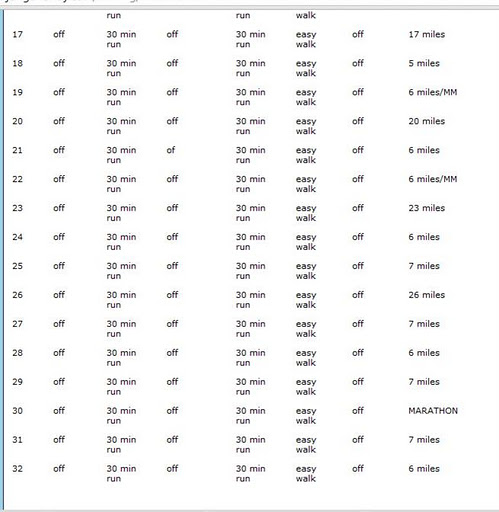 I just took a look and we are going to be okay. I am changing it a little. Jeff Galloway's long runs go from 14 to 17 to 20 to 23 to 26 and then taper, and then the marathon. But everyone I've talked to says 26 is not needed. We've done 14 and 16. I think I will change 20 to 18 and 23 to 20 and 26 to 23. Then taper. I hope that is OK. What do you think? (Zoë, that means we have 18 next weekend, FYI.)
This Sunday, I will be running 7 with buddy Chelsea. I'm not sure who else will be meeting up with us just yet, but I'm excited to run with Chels since this will be her longest run to date! I'm also going to run 5 or so on Saturday before the sun comes up because I'm going to a 9-hour scrapbooking event where I will be sitting, sitting, sitting, and eating, eating, eating. Oh, and chatting, chatting, chatting.
Today's Run
This morning, I ran outside before it began raining. The first mile was HARD. My legs were heavy and slow. I always start slow. I glanced at the time when my watch rang after Mile 1 and it showed 10-something. I'm learning what my body likes and it likes to warm up. By mile 2, I felt better (as usual) and saw an 8:xx pace every time I looked down the rest of the run except for on one hill. That definitely made me feel good because while I was pushing myself, I wasn't dying.
I was curious to see what my different paces were when I got home, but my Garmin is somehow set on Multisport and all I have is the average pace for the total run of 3.35 miles (9:06). Not bad, but I was annoyed that I couldn't dissect my stats.
Yesterday's Fail
I was going to run during lunch yesterday. It never happened. I had on my running socks and sports bra all morning under my work clothes, and everything. But my boss came by my office and asked if he could take me to lunch. Well, that was nice! So, of course, I went to lunch and I tried not to talk about running too much. (I had my sports bra on for the entire rest of the work day. Ugh. Not fun times.)
Do you talk about running a lot? I do. It drives Mr. T crazy. I know that if the tables were turned, it would drive me crazy, too. But I can't help it! Any advice? How can I stop blabbing away about marathons and paces? I have no self-control. Plus, I'm like Austin Powers when he comes out of the cryogenic unfreezing process: I have no inner monologue.
Wednesday's Run
On Wednesday, I met Mel for a lunch run. I forgot to set my Garmin on the windowsill to find a satellite, so we killed time while AJII searched, and Mel took our picture. Later, I discovered I also forgot to switch it from "bike" to "running." Argh! All this biking is screwing me up!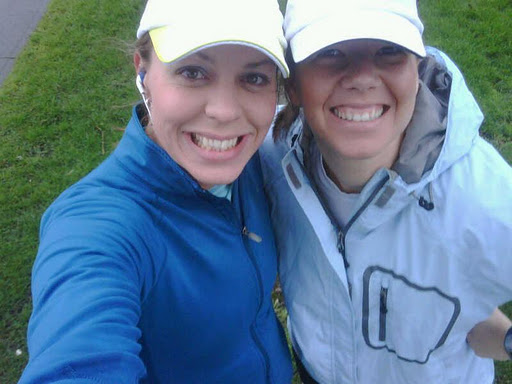 Team White Hats, Blue Jackets!
Then we were off chatting away and running. Our topics ranged from Boston training (which she is running in 17 days!!!) to potty training. What do you talk about on your buddy runs?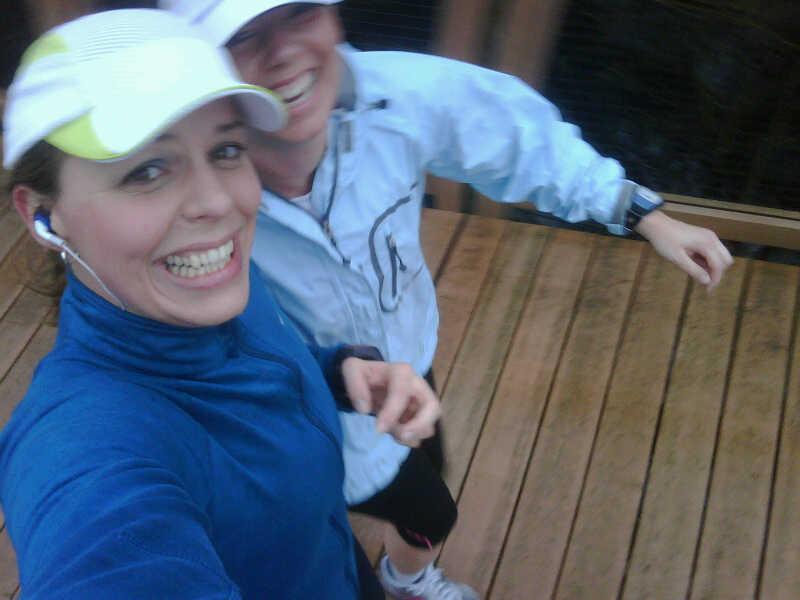 Mel was practicing running and shooting so she can
capture Boston on the move. What do you think?
The weather Wednesday started out overcast, but changed to a dense mist halfway through. We were getting soaked and the cold drops were pricking our faces. Since we discussed taking some "action" shots on our favorite bridge later, we joked that the mist was just photo-shoot prep. Our skin will glow and be dewy! We tried to stay positive about the weather because, well, this is Seattle after all.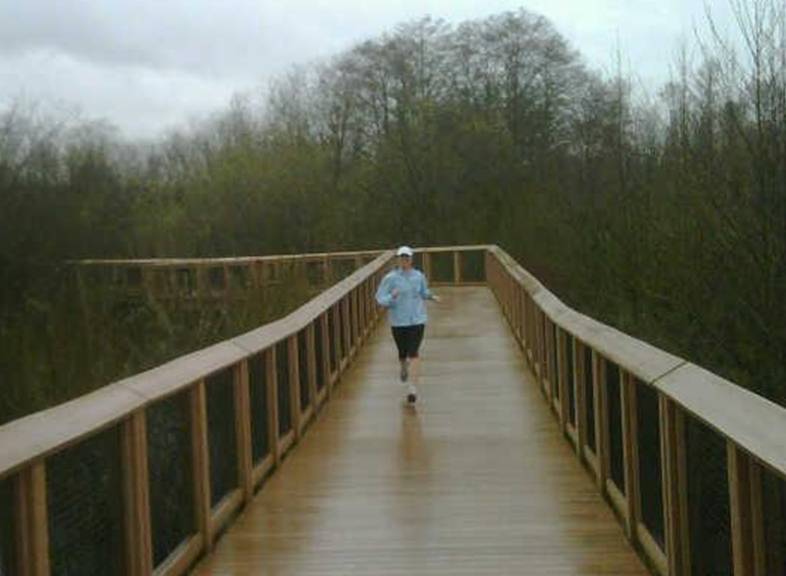 Good luck to my new running friend, K, in her first FULL this weekend, and to everyone who has a race!
(PS: Check back tomorrow evening for my take on the documentary film MY RUN.)