Is it wrong to look forward to long-run Sundays? Because I do. (Famous last words?)
It has a lot to do with having a different mindset this time around. And I think the easier training plan helps. I don't feel like I'm devoting every waking second to marathon training. I have time to live life and I fit running in around that. So long-run Sundays are like a special treat.
It means running outside for some-odd hours and, hopefully, with friends. (BTW, if you didn't see it before, I'm starting a women's running group in the Seattle-ish area. Contact me if you're interested.)
Sunday, Zoë (Run, Zoë, Run) felt ready to meet me for nine miles. Zoë isn't even three months post-baby and is in crazy-good shape. She rocks! We met up at the Soos Creek Trail — a trail between our houses and home of Zoë's infamous Hell Yes Hill. I was late (as usual), but I couldn't remember how to get there! I got lost. So I have an excuse. Sorry, Zoë!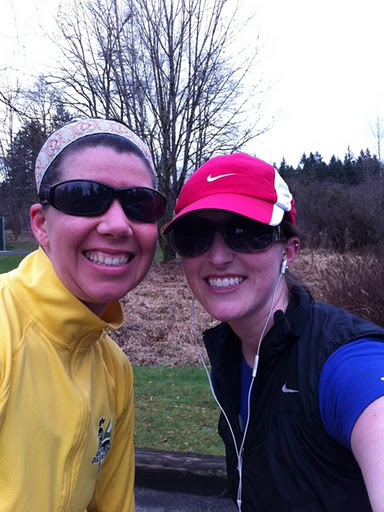 Post-run beauty shot!
My plan is to take long runs really slow, between an 11-12-minute pace using the run-walk-run method (5 minutes running, 1 minute walking). It worked well. I mean, we made it, so that's good. And, for the record, we kicked Hell Yes Hill's a$$.
We did, however, dub this a creepy run. For starters, the sun hid behind the clouds for a good part of the run, making it seem darker than normal. And we were wearing sunglasses, so that didn't help. Then, we saw the weirdest little whirlpool in a muddy marsh. It was so out-of-place. It was creepy!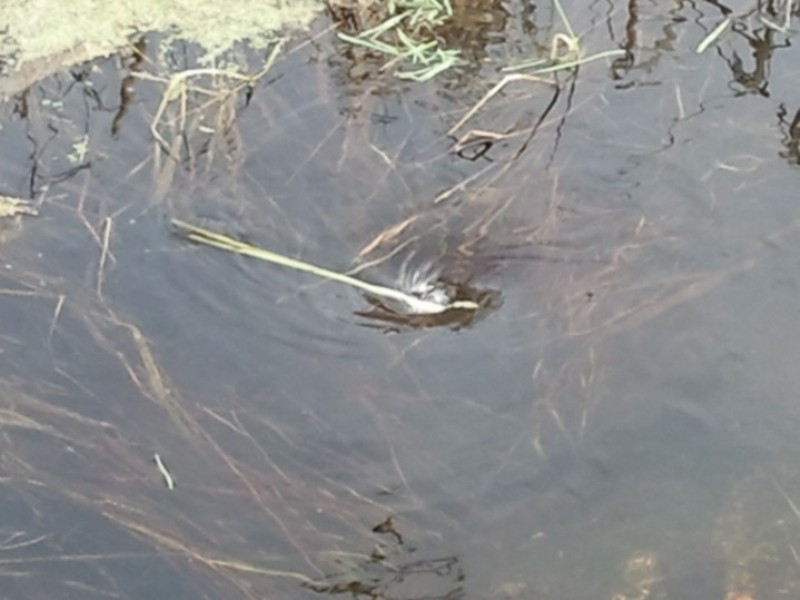 Why was there a tiny whirlpool? Creepy!
Then there was the burned-out house that's been there since, at least, last year when Zoë and I ran the trail. And the barn that's becoming one with the blackberry bushes. So creepy!
Burned and abandoned house.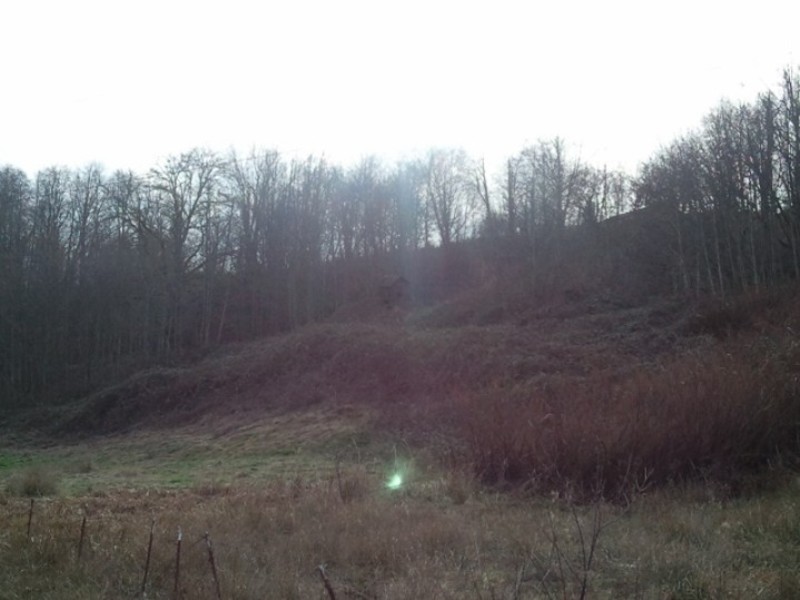 Look in the center of the picture, in the ray of sunlight, and you can see the steeple-thingy
on the barn that's becoming part of the landscape. Also, what's with the strange reflection?
What is that? Creepy!
And then there was the pile of sleeping bags, sheet music for piano and a…treadmill? Is it a treadmill?
Is that a 'mill?
What is it? Zoë investigated while I stayed back like a big chicken and asked, "What are you doing? What is it?" over and over again. Yeah, it was…wait for it…creepy!
Okay, yeah, you go check it out, Zoë. I'll just be right back here, you know, so I can take a picture.
It was a great run. It felt good to be outside — I've been running on the 'mill indoors for the past couple of weeks. Mostly we just had a good time. I talked a lot and Zoë laughed at all my dumb jokes…
I love long-run Sundays.
Nine miles: 1:48:59/12:06 pace