I had so many great comments from the post, Do Long Runs Scare You?, that I wanted to share them. We don't always get to read each others comments. I hope you all don't mind. (I paraphrased some of them. Exact quotes are, of course, in quotes.)
I was inputing all of my long runs into my Outlook calendar last week and getting really excited. I'm following the Jeff Galloway plan here.
There was one day, though, that made my stomach turn a little. A 26-mile run on Week 26. (It is May 29th if anyone wants to join me — although I'm considering bumping it back a week because this is T Junior's birthday weekend and because there is a FREE marathon on June 4 HERE. This could be fun!) The only thing that makes me feel better is that once I complete this run, I know I'll be okay during the actual race, Seattle Rock 'N' Roll Marathon on June 25.
The farthest I got last spring was 18 miles. It was a GREAT run, too. I ran 14 and then a friend met me for the final four. I highly recommend this approach.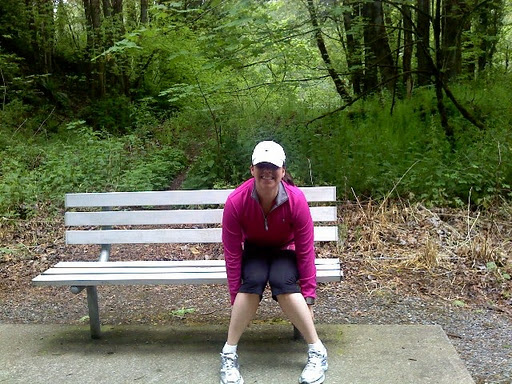 Me after 18 miles pretending to look tired.
Okay, now here's what everyone else thinks about the long run:
Lisa from Lisa Runs? Wait…What? said she remembers all the milestones, "getting past 3, then 5, then 10, then 13.1. Now when I say I only ran 5 miles, I think to myself, 'Who just said that?' That's when I feel like a runner, even if I am slow."
Eryn at Mommy's Mileage said, "To head out for an 'easy 5'…just sounds weird coming from my lips." She also said she hasn't run more than 6 miles alone.
@Eryn – I say, if you've got a friend you can drag with you, you are one lucky gal! Take advantage while you can!
Allie at That Girl is a Running Fool even though her training is off due to injury she's not worried. "Surpringly, I'm not at all worried about my half coming up on the 30th. Even though I got injured and my training has been sucking, I've run 13.1 before so I'm just not worried. I feel like maybe I should though."
Abbi at Higher Miles said the long run is her favorite now!
Marlene at Mission to A(nother) Marathon said, "I used to be a wreck over long runs. I would be nervous all week and have a terrible sleep the night before. What a great feeling to look at the mileage you want to run and think, 'NO PROBLEM!'"
Kelly at Revived Runner said, "The first time I trained for a half marathon, I remember my first 8 mile run that was on my schedule. I was so nervous but then so happy and stoked after it was over. Now I look forward to distances I have yet to cover, because I know that once finished, I will be so happy to have crossed another milestone! I actually like long runs better than tempo runs. For some reason knowing that I have to keep a certain pace for a certain amount of time makes me more nervous! Go figure! Honestly, come February/March, I can't wait to have completed my first 20 miler! 20 miles just sound so freaking far!!!!! Oye!"
Talitha at  Me and My Monster said, "My first scared-stupid long run was 5 miles. FIVE MILES! Crazy how easy that seems to me now. I was on vacation at my brother's house in eastern Oregon, I'd only been running for three months, and my longest to that point was 4 miles. One more mile may not seem like much now, but back then it was huge. I don't get nervous anymore, because I know I can finish it every run I start. It's become much more about improving with each run."
Heather at Momma Running Amok said, "I remember running with my Sunday morning crew last year and we thought we were 'bad ass' when we did an 8-miler. Last spring, I even remember going on USTAF and mapping a 9.5 miler that would even include a bridge…and we carb-loaded for a week. Now, 23 days before marathon #1, a 15-miler is not problem. My first 20 miler was actually a piece of cake and would never have even known that I ran more than a 3-miler. It is truly amazing what our bodies are capable of."
Amanda at 5 Miles 2 Empty said, "Yep, they don't scare my anymore either! I don't even get butterflies before races anymore…guess that is why I had to go and sign up for a half iron. Now, that gives me the straight up jitters!!"
Average A at Diary of an Average Runner said, "My first 'nervous' long run was hitting the 10-mile mark…after that was 15. Everything else beyond that seemed okay, until I got to my first marathon and totally pooped out. Once I hit the 22-mile mark during the race, I suddenly wished I had done MORE long runs!"
Melissa at Life by Melissa said, "I remember being terrified of my first 5 mile run."
Blanda Amania said, "I had no fear of anything up to 13.1 miles. I rationalized a 1/2 marathon as 90 minutes of soccer plus double overtime and injury time with active rest (jogging) at 1/2 time. Now that I'm training for a full, I'm terrified of anything over 13.1 miles! That distance has been my longest long run, so far. I look at 15, 16, 18 on the schedule and my heart starts racing, my eyes get huge, I panic inside! I know once I run them, the fear will be gone, but right now, I'm freaking out!"
@Blanda Amania: I love the soccer reference. How many soccer games is a full, you think? Maybe it's a tournament!
L.B. at Muddy Runner said, "They don't scare me unless I let them get to me. If I think about the distance too much, it does start to get to me. That doesn't happen too often, though, which is a good thing. But 12 or 15 miles now is not intimidating."
Glenn Jones at The Running Fat Guy said, "Anything over about 14 miles still intimidates me and I've been doing this for three years now. It's something that I would like to work on this year…"
James at The Runner's Bug said, "I'm in training for my first marathon and have hit the uncharted waters distances. Two weeks ago I ran the furthest ever in my life (13.5) and it was awesome knowing I'd never gone that far before. Last Sunday I did 16! I'm amazed at how quickly my body has adapted to going longer. It is a bit scary but also motivating!"
I loved this topic. If you didn't comment before, please feel free to chime in. Do long runs scare you? Or do they tremble in your presence?