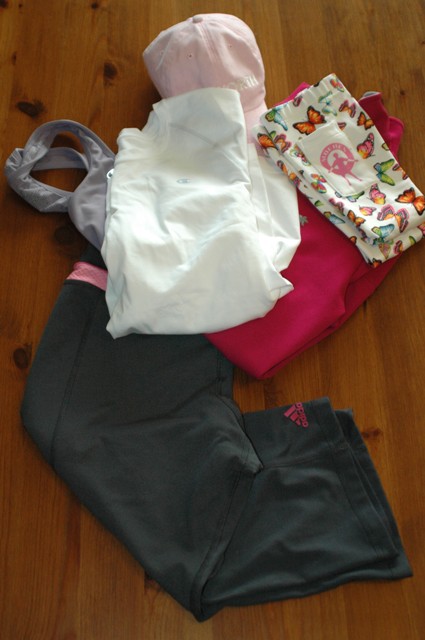 This is what I'm wearing tomorrow. I think it's pretty festive.
I was bummed earlier this week when I failed to find the fun pink long-sleeve Champion shirt at Target that both Mel and Zoë have. I thought it would be fun to match! But it's okay that I didn't find it.
Why? Three reasons:
1. I already have a lot of long-sleeved shirts and spring is coming.
2. I remembered I already have a pink half-zip shirt I got at Old Navy last year.
3. I'm going to be 33 this year. Am I too old to do the matching outfit thing? When's the cut-off?
The Million Inch Run will be the longest I've done. Ever. The items in the photograph are all things I've worn before and I know I will be comfortable — except the white Champion short-sleeve DoubleDry shirt I got today at TJ Maxx for $7.99, but I've worn the long-sleeve version before, so I'm not worried about it. I'm not really worried about anything.
In fact, is it weird that I'm not nervous about running 15.78 miles?
This morning, I was waffling over going for a short run. I posted my indecisive thoughts on DailyMile* and Facebook. Then, LB sent me the nicest e-mail with some great advice, and I did decide to rest. He just finished marathon training and completed his very first 26.2-mile race, so I'm confident he knows what he's talking about. (Great job on your marathon and thank you, LB!)
I guess I'm a little nervous that Mel, Zoë and Amanda will be waiting for me FOREVER at the end of the run. That's why I'm handing over the keys to my minivan to one of them so they can wait for me in there if it's raining.
NO TAKING THE VAN FOR A JOY RIDE, LADIES.
*If you have not joined DailyMile, yet, what are you waiting for? Go here to friend me!