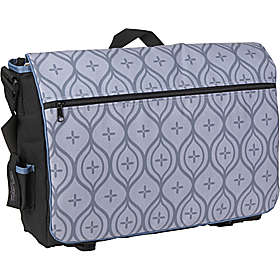 See this cute bag? It's been hanging in my closet just waiting for me to use it.
But I haven't.
It's a yoga bag and I can't  don't do yoga. Sure, I could use it for any other number of things — it would make a cute laptop bag, gym bag or diaper bag! — but I already have those things. I've always planned on giving it to someone, but who?
Anybody need a cute yoga bag?
The reason it is officially a yoga bag is because of these two straps on the bottom that will hold your yoga mat. It's actually really cool. I almost want to take up yoga just so I can keep the bag.
Here's
a link to a description and more pictures of the bag (including one with a mat, this one does not come with a mat). This bag is by Modern Union and retails for about $55! I have it because
I
won
it through a blog contest almost last year. It was a big basket of items and this was one of the prizes. The yoga bag still has the tags on it!
If you want it, enter below, and when you win, I'll ship it to you!
I'm paying it forward with a yoga bag…
Modern Union Yoga Bag Giveaway
Ends Sunday, Jan. 31, 2010.
Please leave a seperate comment for each entry. Thanks!
1. Leave me a comment. Easy!
2. Join (follow) my Virtual Running Buddies group and leave me a comment.
3. Post this giveaway on your blog or Tweet or Facebook it, and leave me a comment telling me you did.
4. Leave a comment telling me a yoga story. Ever tried it? Won't try it? You get the idea…