If you didn't meet my teammates yet, go HERE to learn a little bit about Nicole, Lauren, Lindsay and Zoe.
On Saturday morning, we are meeting (some of us for the first time) for coffee and to finalize our "costumes." There may be Team Sparkle skirts, crazy socks, wings and tiaras involved. My teammates don't know about the tiaras yet, but I think they will like this idea.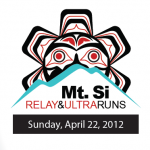 On Sunday morning, we start to run! Here's how the legs will go:
Leg 1: Mostly downhill on road and trail for 8.3 miles – Lindsay
Leg 2: Mostly uphill on road and trail for 6.2 miles – Zoe
Leg 3: Flat on trails for 5.7 miles – Lauren
Leg 4: Mostly downhill on road and trail for 6.2 miles – Nicole
Leg 5: Mostly uphill on road and trail for 6.5 miles – me
Leg 6: Flat on trail and road for 4.4 miles – Lindsay
Leg 7: All uphill (hahaha!) on trail for 7.1 miles – Zoe
Leg 8: Flat on trail for 4.1 miles – Lauren
Leg 9: All downhill on trail for 7.1 miles – Nicole
Leg 10: A little downhill, but basically flat on trail for 3.4 miles – me
I'd intended on running legs 4 and 9, but with my stupid left calf/shin giving me feedback, I asked Nicole if she wouldn't mind trading with me so I could reduce my miles a little. Plus, she need more miles since she's training for Seattle RNR Full! There will also be ultra-runners on the trail, although I think their route may be different, so I'm not sure I'll see any of them.
Here's what NOAA says the weather is going to be:

I hope they are right! Weather.com says something different. Either way, it'll likely be warmer, and so I need some compression shorts to go under my Team Sparkle skirt. I looked at Dick's Sporting Goods, and there weren't a lot of options. I liked the way the UnderArmour ones felt, but since I have thighs that touch, they made a loud swishy sound as I fake-ran in the dressing room. That would drive me nuts — sort of like running in cordouroy.
I do NOT want this to happen to me:
So today, I may actually head up to the outlets near Mt. Si and see if I can't find a good deal on some non-swishy compression shorts. Any recommendations?
Can you tell I'm excited? I heart trail running, but am still new at it. I wish I could run trails for EVERY run. I do have the one across the street, but it's not that long and it's "groomed." And it freaks me out a little bit because some sketchy characters use it to "commute" on foot, to hide after they break in to a house, etc. That's not what it's for! It's for being out in nature, you A-holes! Why don't you NOT do something illegal, get your license revoked and drive like the rest of us. Oh, and get a job and stop stealing!
Anyway.
Do you run trails? Any last-minute advice? What source do you use for weather forecasts? What is the deal with bad guys that ruin trails for the rest of us?