Lately I run half marathons like a boss.
I give someone else my bib and they run it for me.
Sunday, however, I ran a half like what I really am: a lowly desk jockey.
But everyone knows the truth: Underlings have more fun.
Okay, I don't actually think that's true. I feel like we're going to have to let this analogy go. We're phasing it out. It's a matter of copy editing cuts.
Okay, I'll stop. I should've quit while I was ahead.
Okay, okay. Seriously now. I'm done with that analogy, but just know it will be all I'm thinking about for the rest of the day, and by not writing my thoughts down, my brain won't be well-suited for anything else.
Why am I here again?
OH yeah. To give a race report for the My Better Half Marathon, which took place on Valentine's Day 2016. See? I'm really getting down to business now.
The plan was to wear Tina Fey and Amy Pohler shirts with Mel in honor of Galentines Day.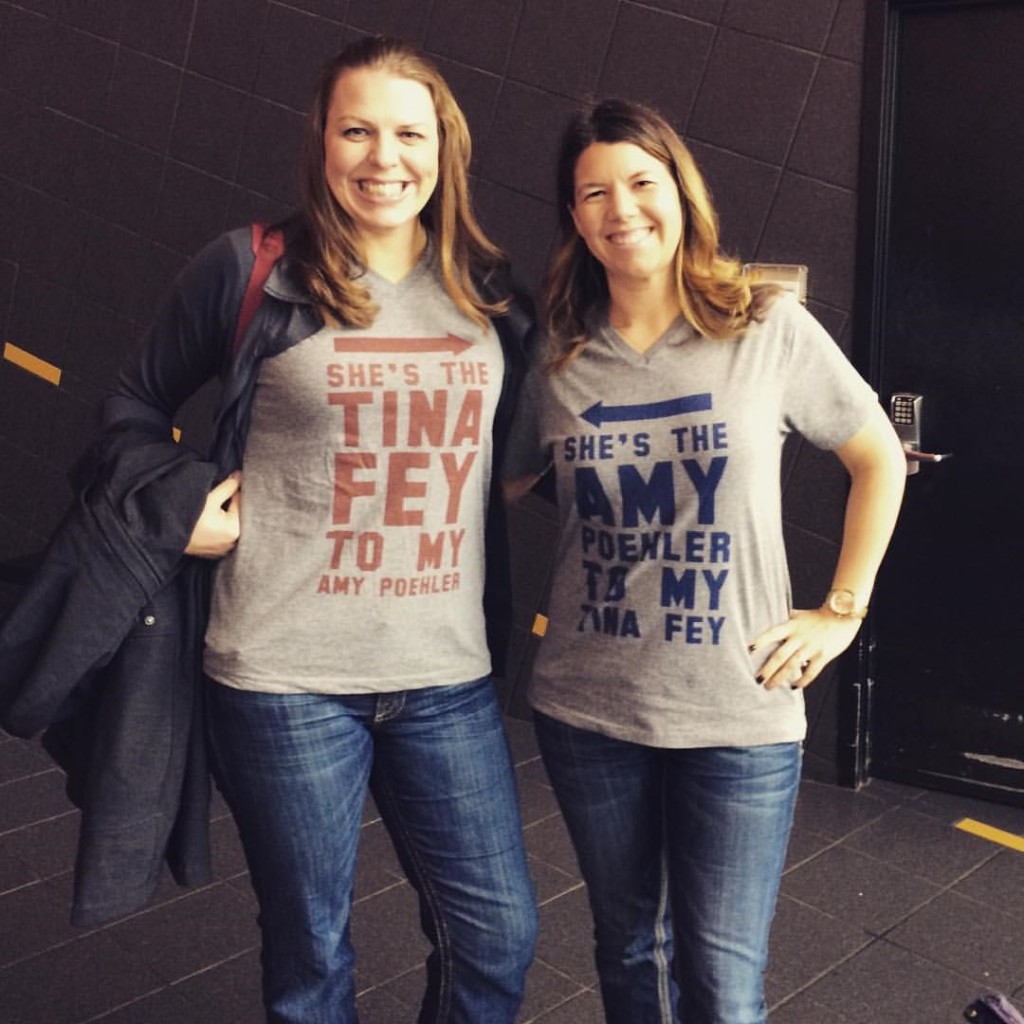 But you know what they say: The best-laid plans of mice and men often have to go ask for directions.
The problem was A) we didn't know how our non-running shirts would hold up in the rain, and B) where the hell would we pin our bibs so that you could still read the big text on the shirt? We couldn't answer these questions, so we had to go to our back-up plan, which was there wasn't one.
This is why in the picture below (Exhibit A) Mel is wearing a green jacket and I am wearing the race shirt. We ran with our friends Tiffany and Alyssa, who as you can see, are obviously  better at matching outfit back-up plans than us.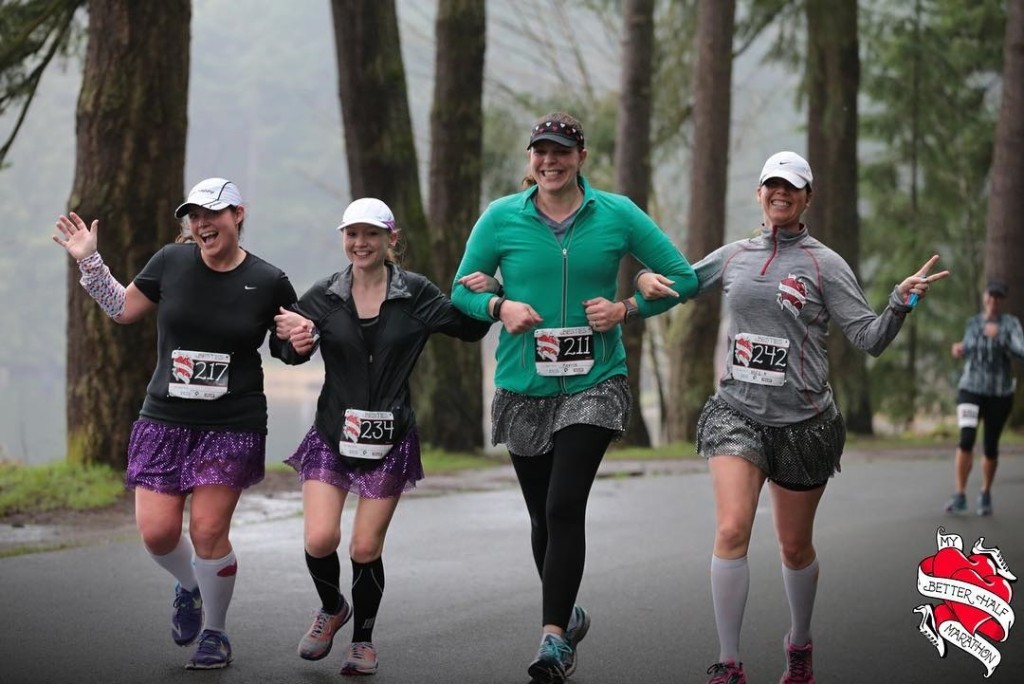 The rain did stop about the same time as the race started. Of course, it got windy because we hate being warm in the Pacific Northwest. Luckily, there was a nice big tent that was warm inside. We huddled in there till it was time to start.
The race was a matter of loops. Each loop was about 2.5 miles or so, except for the first one that took us up a hill and off the main trail for an extra half-mile or so, presumably to get us out of the way for the 5K and 10K racers or so. If you're a list-maker, you might like the loops as I did. Also if you you have three fun friends to chat with.
The trail ran along the shore of Lake Washington, and it turns out, it was only windy on the park side where the start was, so we were all rather comfortable for most of the race. The paved trail was also plenty wide for the number of racers, so it never felt congested, except for the start.
At the end of the loop, there was a steamy "Tunnel of Love" (don't worry it was a fog machine, what were you thinking?) stocked with running-themed candy hearts and chocolates. Right after was the water stop, which we took literally.
On our 5th loop, we were done and excited to get back to that warm tent where smell of soup had been taunting us each time we ran by. Obviously, it was lentil, which as you know, is the tauntiest of the soups. Seriously, lentil, get over yourself. (It was really good, though.)
Other good stuff:
-The candy hearts were actually pretty freaking good while running. Plus, I helped come up with some of the sayings so I felt special and also that I should just try to eat all of them.
-Free Clif-Shot Gels for us dum-dums that forgot to bring our own.
-Running along the water.
-Lots to look at even on a loop, like the gatrillion-dollar homes across the lake.
-Flat, except for the first loop, so if you're into that sort of thing.
-Cute shirts that work well, too. I wasn't wet, too cold or hot. Oh, who am I kidding, I was totally hawt!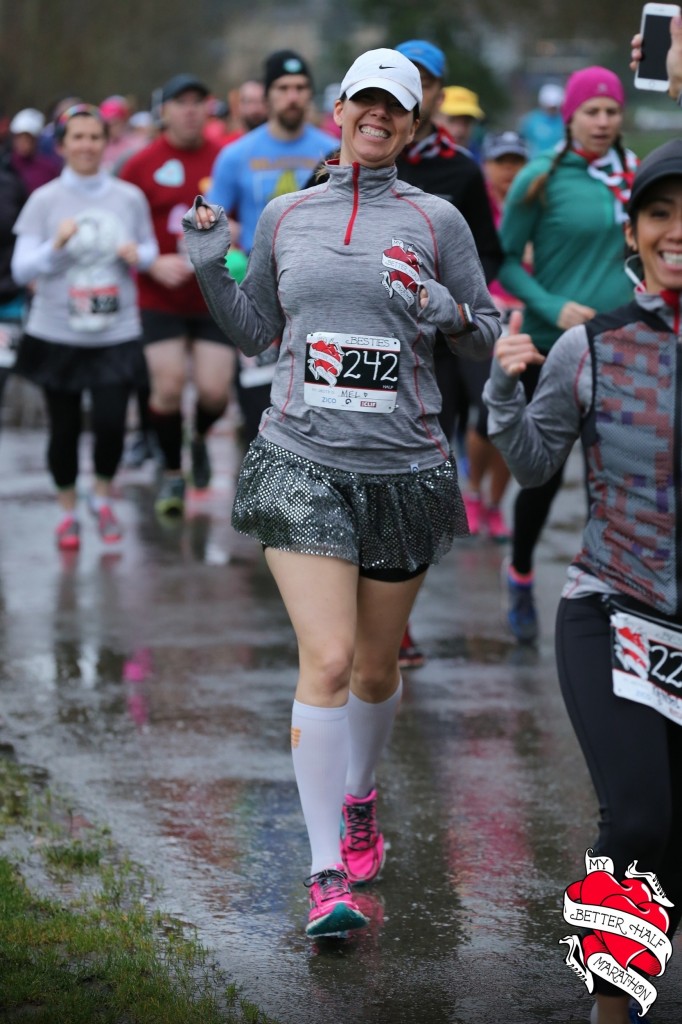 Oh, and FREE photos. So you know we were posing for all the shots.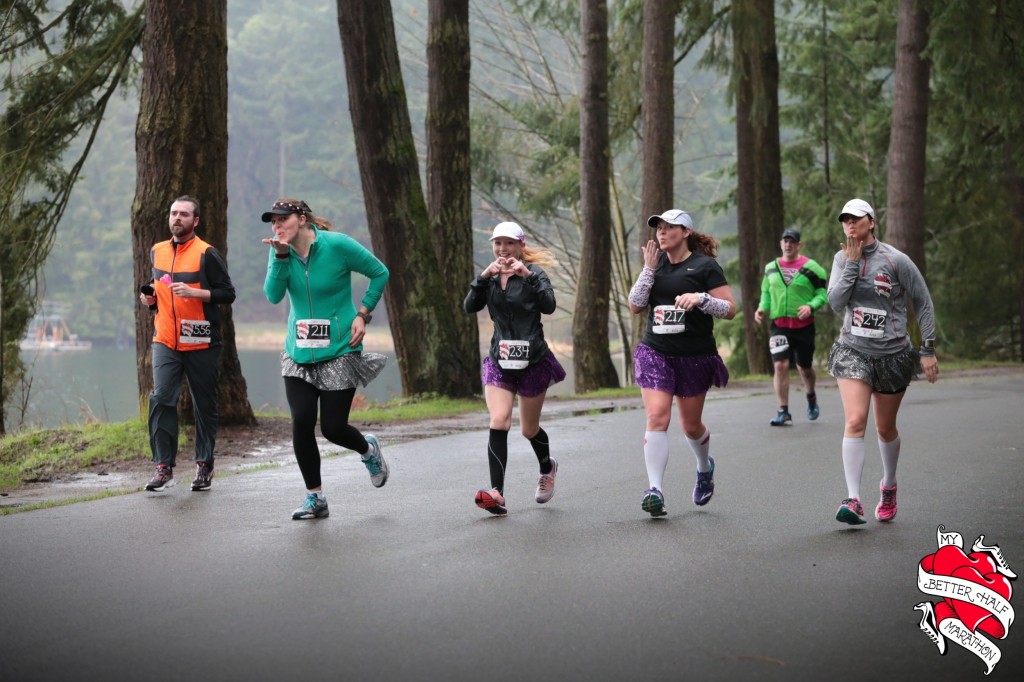 Thank you Orca Running for putting on a great race. You can check out upcoming Orca Running races here.
I decided I won't be quitting half marathons quite yet. And I won't be running them like a boss.
I'm gonna OWN them like a muthafuckin CEO.