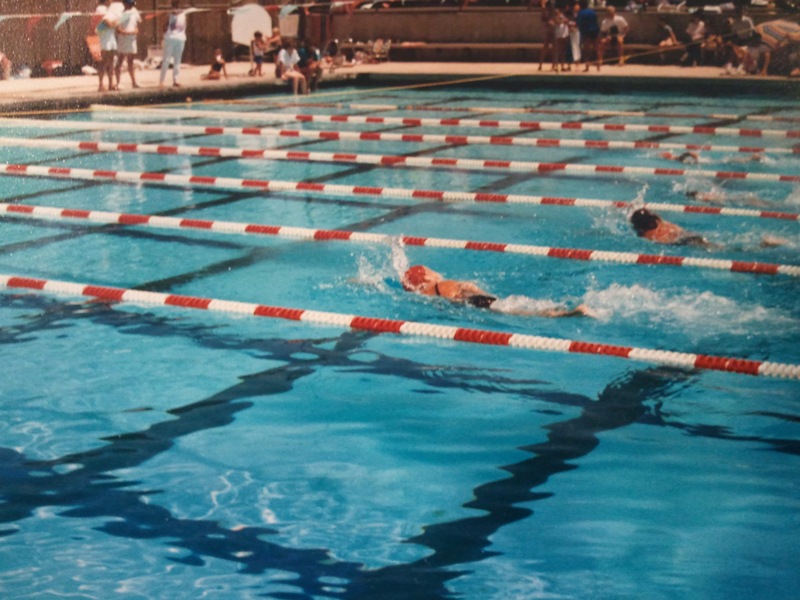 Swimming back in the day on the Sierra Marlins Swim Team.
I was maybe 10, but I can't be sure.
I have mostly good memories of the pool. I practically swam year-round growing up in California.
But it's different now.
Here in Washington, there aren't enough pools to go around (not a fact, just my feelings). The closest one to me is 15 minutes away and it is crowded because it's pretty much it for our area. The next closest one is near where I work, so it's an option, but it's pretty crowded, too.
Last week, I showed up to the pool near my house at 5:30 a.m. only to realize I was there on the wrong day. When I went the second time (Monday), I showed up too late. Oh yeah, lap swim is only from 5:30-7 a.m. M, W, F; noon-1:30 M-F (um, I work and have a child); 7:30-8:30 on M and W (right at bedtime hour for the child); T and Th from 8-9 or 11:30-1 Sat-Sun. What is up with the one-hour increments. It's impossible.
I don't like to work out at night. I want to spend time with Mr. T catching up with TV shows and eating Skinny Cow Sundaes. That's my reward for working hard throughout the day, OK?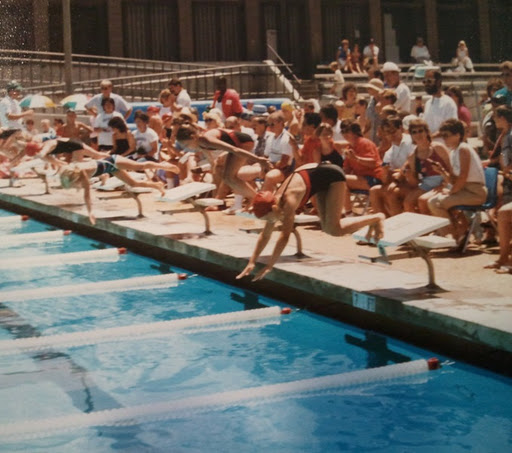 That's me closest to the camera. Wow. I needed to work on my dive.
At least I was beating the girl next to me.
But I didn't want to get up early to swim Friday morning, so I decided to go Thursday night. I hadn't done any exercise all day and I was itching to do something. And since the last week was a total bust, I wanted to redeem myself at the pool. So I got ready after putting T Junior to bed. I came downstairs to grab my workout bag and, what the hell? My swim cap is missing. It's just gone. I threw everything out of the bag all over the floor of the kitchen, mumbling to myself. Mr. T asked me what was wrong.
I threw my hands up. "HOW IN THE HELL DO YOU LOSE A SWIM CAP WHEN YOU HAVEN'T EVEN BEEN SWIMMING?!!!"
I was slightly pissed. You know, if I hadn't had the trouble I had last week and Monday at the pool, it probably wouldn't have bothered me. But this was just another thing to add to my new and growing list of hating the pool.
Excuse me, the bool. I renamed it. (See I took "boo" and added an "l" to get "bool"…)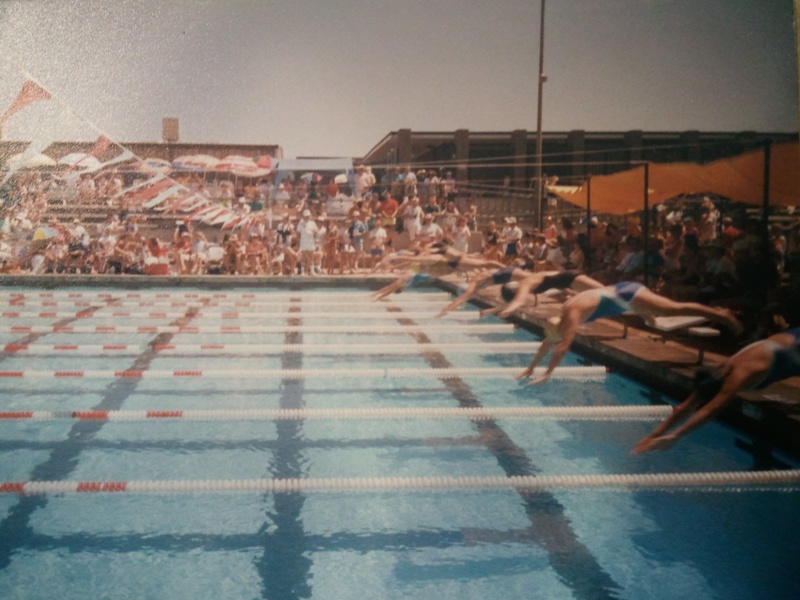 I'm second from the right in the gold cap. This is years later (15 or 16?) and I was
on a different team (Loomis Basin Dolphins), but at the same pool as above.
It's where the big state meet was held. STILL need to work on my dive.
Anyway, Mr. T calmly asked me if I really needed a swim cap.
"YES! BECAUSE OF THIS!" I grabbed a chunk of my grown-out bangs and held them up. (Still haven't gone to get that haircut.) "ARGH!" I stomped upstairs to see if it fell out of my bag at some point. I remember last week that I had it because I had put some baby powder in it the night before I was going to swim. And I remember seeing it my bag during the week when I was changing for my lunch runs.
But it wasn't upstairs and so I accepted that I was going to have to swim without a cap. But now I was late. I'd wanted to be there at exactly 8. Instead I was leaving at 5 to 8. When I pulled into the parking lot, there were a ton of cars. I sighed. I hope this is leftover from swim practice or swim lessons.
I flip-flopped into the front desk area, which was full of wet kids and tired parents. Loud. The teen-age girl at the front desk saw me and pulled a face. "It's pretty busy in there," she said. "Do you want to go look before you pay."
I hesitated. "Um, sure. Thanks." It's $5.50, so this was really nice of her. I mean, that's at least a tall latte at Starbucks. I hustled through the locker room and out to the pool. Ugh.
The deep-water aerobics class was taking up half of the six lanes. And there were only six of them! The middle lane had two fast teen girls that looked like they'd stayed after swim practice to get some more laps in. OK, I get that. But that lane was out. The slow lane had a father and two daughters, who were beginning swimmers. Can't fault them either. The medium lane had two slow older men. Crap.
I went back out to the front desk. "I wonder if it will clear out around 8:30."
She shrugged. "You could swim laps in the shallow end."
"Yeah, I said. "That's full, too."
She looked confused. "It is?"
"Yep." I stood there. I almost left. But I really did not want to be at this pool for a third time and not get to swim. I couldn't let The Universe win. I just stood there thinking instead. Finally, the teenager said, "Just go in. I won't charge you." God bless her. I told her I'd go in and sit, and see if maybe some people left.
It was 8:15 when I sat down poolside. Nobody in any of the lanes looked ready to leave. Nobody looked tired. Finally, at 8:17, I decided I'd just have to share a lane with the two men. I went back into the locker room and took off my sweats, and put my goggles over my hair. Annoying.
By the time I came back out, one of the older men had left. Yippee! At least it would just be two of us in a lane. Last week, I made a little sticky note with a beginning swimmer workout I'd snagged from a beginner "tri" Web page. I know I'm not a beginning swimmer, but it's been a long time since I've done a swim workout. I put the bright pink (of course) sticky note under the starting block of Lane 2. I grabbed a pull buoy out of the bin and put it next to my sticky.
When the older man was at the other end of the lane, I slipped in. I came up and my bangs covered my goggles. This is going to be fan-freaking-tastic. I started my "warm-up": 2×25. Not really a warm-up if you ask me. But whatevs. Swimming is not easy, and it's really hard when you take a breath and your mouth fills up with wet bangs. I had a really annoying time breathing. I had to take more breaths since the ones I was getting were not quality.
Next was 2×50 pull. I had to wait at each end so the man could get far enough for me to go again, so I didn't really get to do consecutive laps, by the way. Okay, done with that. Next was 25, 50, 50, 25. Again, those 50's were more like 25's since I had to wait at each end. After that, it was a 2×50 cooldown.
I checked the clock. Um. Yeah, that workout took me about 10 minutes. I didn't know what to do
next. I need a plan. I considered doing the workout again. But I felt like doing my favorite stroke: breaststroke. Wow, it hurt my back. That was a surprise. I only did a couple laps before switching back to free for 100 yards.
That passed some time, then the two girls in the fast lane got out. I ducked under into that lane and did another 50 breaststroke, 25 free, then did 25 back. I was about a quarter of the way into another 50 free when I noticed a man hauling ass toward me in my new lane. "Oh man," I groaned under the water. I decided this would be my last 50 free. I stopped at the end of the lane because the man was gaining on me and I wanted to let him go by. Then I chased him (not really, he was too fast), and knew I was done.
Then, as if I thought I could still do this, I grabbed the starting block and tried to hoist myself out. My ass fell back in the water and I laughed at myself thinking I could still do that after about 15 years of not doing it. Like a dog with it's tail tucked, I ducked under lane ropes till I got to the ladder…put there, thankfully, for us old people.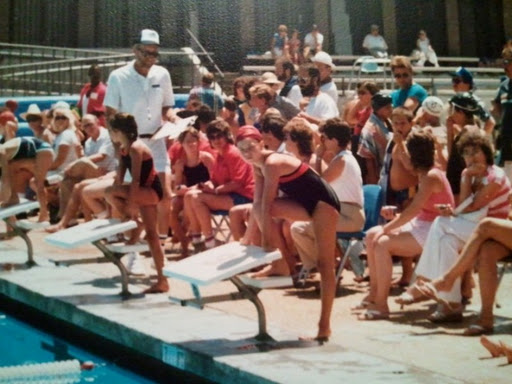 Me in the red cap looking fierce. Yeah, right.
Later, I admitted (to myself) swimming is not the same anymore. I chuckled when I thought that maybe it's because I have to be responsible for getting myself there when it used to be my mom chauffering me to and from practice (and then making us dinner). Or maybe it's because I'm not on a team where I have set hours and can just go then instead of trying to accommodate the crazy pool schedule.
That's me coming out of the water (I'm pretty sure I was kicking ass in
this race during a Junior Lifeguards competition in Santa Cruz).
We had to swim out and around the dude on the board out there.
This morning, though, after writing this, actually…I realize this is part of what I love about exercising as an adult. It's all just a big adventure. I was missing adventure before I started running, and that's a piece of what keeps me going. You never know what's going to happen during a workout, whether it's trying to get your swim on or pulling your toddler behind you on the bike, or setting out for 18 miles with a buddy.
But I'm definitely not going back to the bool for a while if I don't have to. Or, at least, not until I get a new cap.