I was supposed to run with Mel (Tall Mom on the Run) and Zoe (Run, Zoe, Run) on Sunday morning,  but cleaning and feeding puppies in the morning's is a JOB and I didn't want to leave Mr. T with all of that, plus our three adult dogs, plus our three-year-old on a weekend morning. It's just a lot to handle for one person. So, I had to cancel.
No worries, I still planned to get a nice long run in — 6 miles or so. I have a 5k in two weeks, so next weekend, I plan to reduce my long run just to give my legs some extra rest.
But I am so tired of running in my neighborhood. And, I am NOT a fan of cul-de-sacs.
So, late in the afternoon, I set out toward neighboring Ravensdale. I've run this route one other time back around Halloween. This time, I stopped to take a picture of the spectators.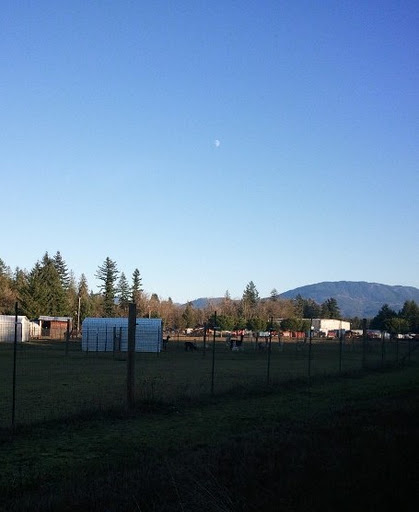 All the alpaca's stop and stare when you run by.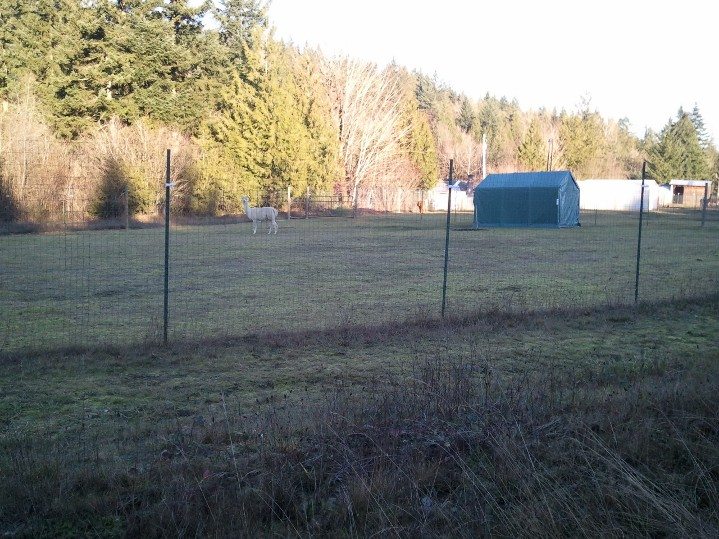 The lone alpaca. Must be a dude.
I had a hard time getting my mind off my pace at first. My legs wanted to fly, but my lungs couldn't keep up. I was thinking too much. Once I saw my alpaca friends at about two miles in, I sort of forgot about paying attention to what I was doing and I let my mind wander. This was even good for my pace. I hadn't set out to go fast, but running by feel, I came up with a pretty nice 6-miler:
Mile 1: 9:11
Mile 2: 9:00
Mile 3: 9:03
Mile 4: 8:26
Mile 5: 8:33
Mile 6: 8:31
The last three miles were faster as they were slightly downhill, I wasn't thinking too much except that I felt bad leaving Mr. T home alone with all the "kids." Speaking of kids…
Before I left for my run, I had to convince T Junior to let me go alone. He wanted to run with me. I finally convinced him to let me go by myself after promising I would go for another run with him when I got home. I thought he'd forget.
Nope.
The second I stepped in the door: "Can I run wiff you now, Mom?"
"But, don't you want to do gingerbread houses?" I asked.
He did not. He wanted to run. So, we put on his sweat pants and NIKEs and set out on the trail. He told me he wanted to run for "five days." I assumed he meant miles. He asked me how far I ran before. I told him six. He told me we would run for "six miles, but first five and before that, four."
Okay.
I figured we'd be gone for 10 minutes.
We were gone for nearly 30. He ran almost the entire time. I finally convinced him to walk after about 1.3 miles. We were home at about 1.5 miles. When we'd turned into our neighborhood (after I bribed him with candy/gingerbread house decorating) at about a mile, he then made me run all the cul-de-sacs!
He was relentless! "C'mon, Mom. Run!"
In one cul-de-sac, a nice family was out putting up Christmas lights. "WE'RE GOING FOR A RUN!" T Junior shouted at them while jogging sideways — like a pro.
The kid's hands were ice and snot was running down over his top lip and he STILL wanted to keep running. It was getting dark! Finally, back home (where he told me he was sad we didn't run 10 miles), we warmed up with hot cocoa covered in whipped cream and sprinkles. And, later, we decorated gingerbread houses. I think we he ate more candy than he put on it.
But he earned it, I guess.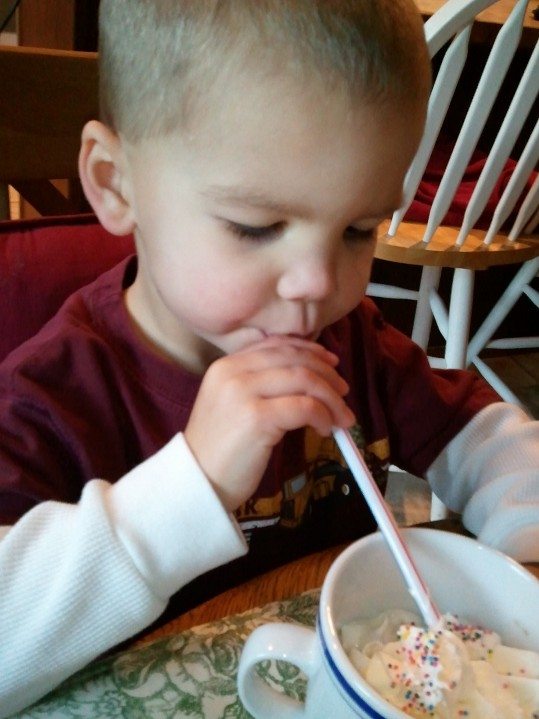 So, in the end, I got 7.5 miles on the day. I wonder what Coach T Junior's going to make me do next week.
***
Note: I need to clear up two things:
1. I can't run on the treadmill and type. I am walking on the treadmill and typing.
2. I do not need to qualify for CIM unless I enter after Oct. 1.