Sometimes I just need to change things up.
I've sorta been bored on my flat straight Cedar River Trail route lately. Except for Wednesday's coyote scare excitement, it's been…meh.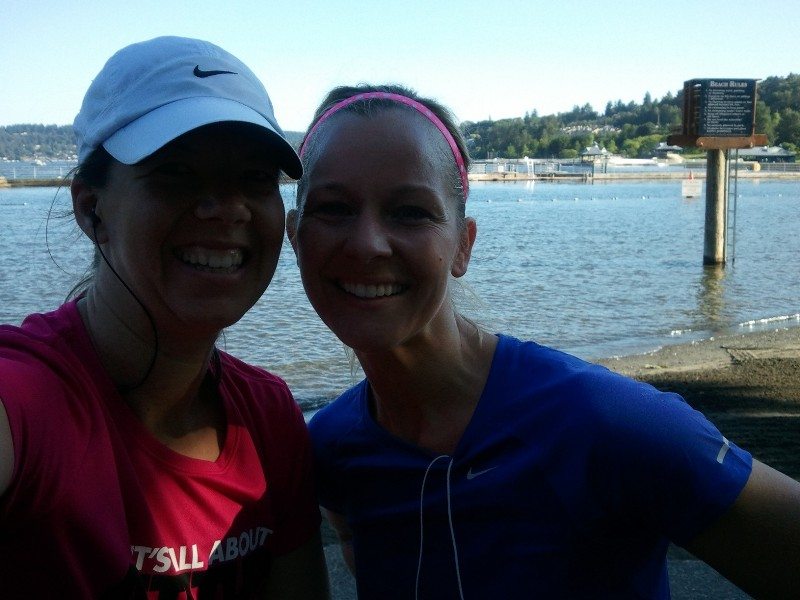 Me and Michelle back at the beach at Gene Coulon Park
along Lake Washington after 8 miles.
I suggested a new location for a 10-miler and Zoë was game. I posted that we were looking for a new route on the Women Runners of King County Facebook Group page and Michelle responded with a cool-sounding run along Lake Washington. She also was up to run with us! Sweet! The more the merrier!
I left the house at 6 a.m., eating my PB&J in the car, to meet the ladies, but Zoë texted and said she needed sleep. She's sleep-training a baby, so um, I totally understand that. But Michelle would be there. Suddenly, I was nervous. Zoe and Michelle had met before, had run together before. But I'd never met Michelle.
How would I recognize her? What would we talk about? But when I pulled into the parking lot, I know who she was because she looked like a runner! And we had NO problems in the talking department.
We synchronized our watches and we were off — leaving the parking lot of Gene Coulon Park and heading to Lake Washington Boulevard. We shoulder-ran, but this is a very lightly traveled road with just the local homeowners driving on it basically. I think we saw more cyclists than cars. We even got a "woo-woo" from one group of male cyclists. That's a first for me for sure.
What's great about a new running buddy is that she hadn't heard all my old stories yet. Michelle hasn't run with a buddy a whole lot so she's not used to chatting and running. She apologized that I had to do a lot of the talking. Ha! Guess what? I talk a lot anyway so I didn't even notice. (I listen, too, though. I'm just really, really good at keeping the convo going.)
Things we discovered:
I grew up in the city right next to where her husband lived when he was in high school (in California). In fact, I know people who went to the same high school he did.
We both have three-year-old boys.
We are both afraid of Canadian geese. See? I'm not the only one!
We ran some rolling hills along Lake Washington Boulevard and then met up with a paved trail that runs alongside I-405 for a bit. One portion had a lot of trees and a bald eagle even swooped across in front of us. Pretty! The sun was shining, the air was cool, but not cold, and the lake views were gorgeous. Perfect morning for a 10-miler.
Michelle had just raced on Sunday, though, and wasn't feeling completely recovered, so we turned around at about Mile 4. On the way back, in that same treed area, we stopped in our tracks when we spotted a bald eagle (the same one?) sitting on a low tree branch above the trail.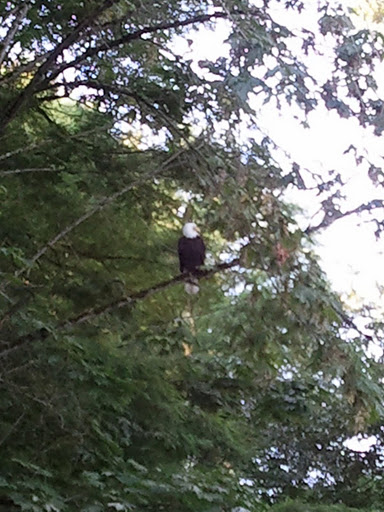 I took pictures of course and he (she?) watched us. Then watched us walking closer, then under, then walking away. He was huge. Michelle was guessing about 40 pounds. But maybe looks are deceiving with all those feathers? Michelle was freaked out, which was great because usually it's me freaking out about wildlife!
It seemed like, all of a sudden, we were back at the car. We'd just been chatting and chatting. Time flew by. I dropped her off at about Mile 8…after a picture, of course!
Then I ran the short lakeside trail to pick up two extra miles. Since the first eight we just ran and didn't worry about pace, I decided to try for my goal race pace for the last two. I wondered if I could hit my goal time after already running 8 miles.
Guess what? I can! Mile 9 was only four seconds off with an 8:49 and Mile 10 was an 8:40. Hello, confidence-boost. If you are interested in all the splits, you can go HERE.
Sometimes meeting someone new, running somewhere new can feel a bit scary, but it almost always pays off! After all, I met Zoë on a blind running "date" back in 2009 during a training run for our first half. And we just ran our first marathon together.
Me and Zoë in November 2011. You can see that my
self-portrait skills have not improved since then.
Here's to new running friends and routes!