How did I get here?
As you probably know, I'm running the Hood to Coast Relay THIS MONTH on a Nuun-sponsored team, Nuun Platuun. Yeeps! (That's a combo of yikes and jeepers. I think it works.)
Two years and about 50 pounds ago, I was a couch potato with a painful sciatic nerve issue who never dreamed she'd be doing something as crazy as I think HTC is, and yet, here I am…a few weeks away. How did I get here?
This is your chance to ask me a question. I've been tagged by some of my "nuunmates."

Me!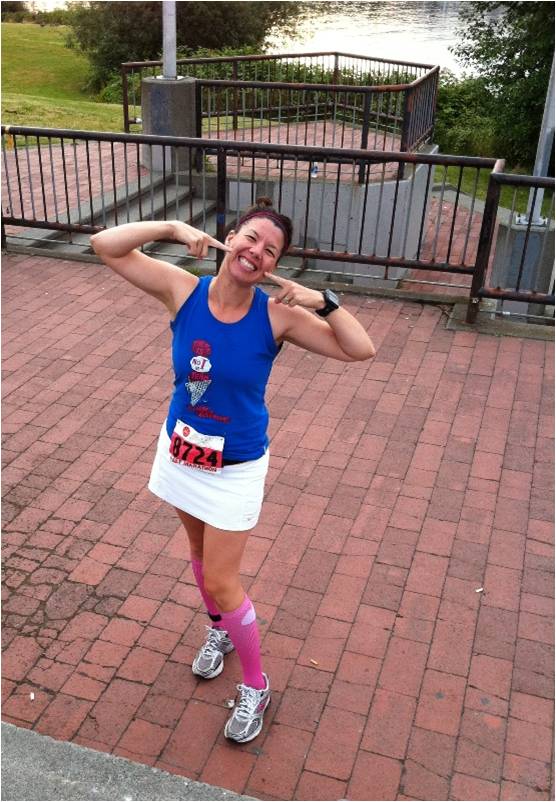 Okay, so ask me something. Anything. It can be running related or not.
I actually have a hard time with these, I can never think of anything to ask (which was a leeeetle bit of an issue when I was a journalist). I can't pee ask on command, okay?
Here are a few tidbits about me to give you some ideas.
I met Mr. T at a frat party.
I do not like to be sad.
If I came out a boy, my parents would've named me Brady. 
I was a foreign exchange student in Switzerland.
My friend once stuck a baby carrot up my nostril. We were in high school.
My favorite new Nuun flavor is Strawberry Lemonade!
Oh, and I'll give you an incentive to ask a question:
TWO of you can win some Nuun! Yummy!
If you are a regular reader of this blog, then you know that Nuun pretty much rocks my world on long runs. I won't go on and on about it because I've done that…repeatedly. But, basically, what makes it awesome is that it has:
No sugar
Lots of those electrolyte thingies we all love
It's less than 8 calories
Helps your body absorb water 
If you don't want to wait to win, though, Nuun is having an awesome discount for Team Nuun Platuun – Mom vs. Marathon followers through the end of September! Use the discount code NUUNPLATUUN at checkout for 25% off some delish Nuun! Go HERE.
So the giveaway/question-asking will start NOW and end on Sunday, Aug. 7 at 11:59 p.m. PST. There will be TWO winners, and each winner will receive a tube of Nuun and a Nuun bottle (which, by the way, are my FAVORITE bottles).
To enter (leave a comment for each entry so all of your entries will be counted):
-Ask me a question in a comment below.
-Be a follower of Mom vs. Marathon. Leave me a comment.
-Like Nuun on Facebook HERE and tell them I sent you. Leave me a comment.
-Like Mom vs. Marathon HERE and write something funny (but appropriate, m'kay) on my wall. Leave me a comment.
-Follow Nuun on Twitter HERE. Leave me a comment.
-Follow Mom vs. Marathon on Twitter HERE. Leave me a comment.
-Share this giveaway on your blog, Facebook page, in an e-mail, on Twitter (make sure you tag @momvsmarathon and @ministryofnuun)…whatevs! Leave me a comment.
Good luck and let the asking begin NOW!
PS: Actual running post (hopefully) coming tomorrow to recap Sunday's 11-miler and Monday's adventurous 4-miler.