Ever been dehydrated?
Yeah, it's not a good thing. These days, I'm careful about drinking enough water, but back in high school, I wasn't. In fact, I remember collapsing in the dirt after one race on a particularly hot day. I never paid much attention to my fluid intake then. I often got stomach cramps when I ran, and I blamed it on the Sacramento Valley's scorching summers, but it was probably due to dehydration.
So, yeah, drinking water and staying hydrated is important.
Recently, I received some Nuun (pronounced "noon," according to the company) to review. I heard about the product because I read a ton of running blogs and my co-worker uses it, but I had yet to try it myself.
Nuun, described as portable active hydration by the company, are tablets that look to be about the same diameter as a quarter and the thickness of a SweetTart candy. Nuun comes in tubes of 12 tablets, and each tablet is dissolvable in 16 ounces of water. A perforated line down the center makes the tab easy to split in two if you only want 8 ounces of water.
I was given Nuun to test at the perfect time — last week, just before the Million Inch+ Run, so I had a nice, long distance to use it on. I hadn't heard anything about Nuun causing tummy issues (there's a reason for that…read on), so I felt it would be okay to try it out during what turned out to be 16.3 miles.
Nuun's main purpose is to replenish electrolytes and salt lost during exercise. The company's Web site also makes it clear that it is not an energy drink. Nuun is also sugar-free.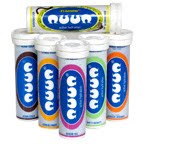 Here's what the Nuun Web site says:
"What's in Nuun?
-four essential electrolytes: sodium, potassium, magnesium and calcium
-a nice, refreshing flavour to remind you to keep drinking
-a bit of fizzy stuff to ensure it dissolves quickly without having to mix or shake
-a smidgen of colour in the form of riboflavin (vitamin b2) and beet juice depending on the flavour
-a sprinkling of love
What's not in Nuun?
–no sugar. we didn't want to upset your gut or overwhelm your taste buds and wanted to give you more control over your calorie intake.
-no scary things (like crazy doses of caffeine) so you can happily drink nuun morning, day & night.
-no artificial colours – do you need neon green to hydrate? need we say more…?
Why no carbs?
the one-size-fits-all mentality doesn't work in our active lives. we simply want to keep you hydrated… allowing you to focus on your gels, bars, bananas or cookies. anyway, would you pick a sticky drink over a brownie if you had your choice?"
You can read about the science behind Nuun here.
I was given three flavors to test: Banananuun, Tri-Berry and Lemon+Lime.
I tried Banananuun last Friday because I was curious about the taste. I didn't run that day because it was the day before the Million-Incher and I didn't want to overdo it. I was skeptical about a banana-flavored water drink. But I was surprised. I actually liked it! The banana flavor is very light. It's not a rich, ripe banana-with-brown-freckles taste, it's more like fresh, just-picked yellow-green (my favorite time to eat the fruit in the banana-ripening process).
For Saturday's longest run ever, I stored a Lemon+Lime tablet in my fuel belt. Around Mile 9, I took it out, easily snapped it in half and dropped a half tab in my 8-ounce Amphipod bottle. I held on to the bottle while I waited the two required minutes it takes to dissolve. I thought that might bug me, but it didn't. I was chatting with Linda, an inspiring 67-year-old Marathon Maniac, at the time.
Nuun is a little bit fizzy, but not carbonated like soda. I wasn't quite ready for the spray when I opened the mouthpiece on my Amphipod bottle.
The Lemon+Lime flavor is quite nice. It's a little like flat 7-UP, but not with the sugary, syrupy flavor. It doesn't coat your tongue or leave an aftertaste. It is refreshing and is now my favorite flavor.
I didn't finish the entire 8 ounces at once on Saturday. I drank half and put the pod back on my belt, then continued drinking every now and then as I felt I needed it until it was gone. I made a major mistake on Saturday and ran completely out of fluids around Mile 14. I still had half a Nuun tablet in my belt that I really wanted to use. I should have refilled both pods at the Mile 11-12 water stop. What a noob! Lesson learned.
Luckily, before Saturday's run, I stashed a 16-ounce bottle of water in the minivan for after the race. Once the search party found me post-16.3 miles, and we walked back to the Odyssey, I dropped in a Tri-Berry tablet and let it dissolve as we made our way back to the starting line. Like the other two I tried, this flavor also is very light. I am not typically a fan of the berry-flavoring that goes into a lot of drinks, but this was different. Not sicky-sweet. Just lightly flavored.
And, I should note, I was definitely still hydrated after my 16-miler. Hungry, but not dehydrated.
GIVEAWAY!
The people at Nuun offered to give away a special gift pack of Nuun products. What you'll win: 3 tubes/flavors of Nuun, a Nuun waterbottle and a pair of Nuun socks for athletes. You have three chances to win and the giveaway closes February 24, 2010, at midnight. Good luck!
1. Visit the Nuun Web site, here, shop around and then leave a comment telling me something interesting you learned or saw that you liked. (Required.)
2. Become a Mom vs. Marathon Virtual Running Buddy then leave me a comment, or let me know if you already are.
3. Tweet, Facebook or post this giveaway on your blog, and then come back and let me know that you did.
More reviews coming up: Jelly Belly Sport Beans, BodyGlide Liquified Powder and Champion Body Balance shirt.