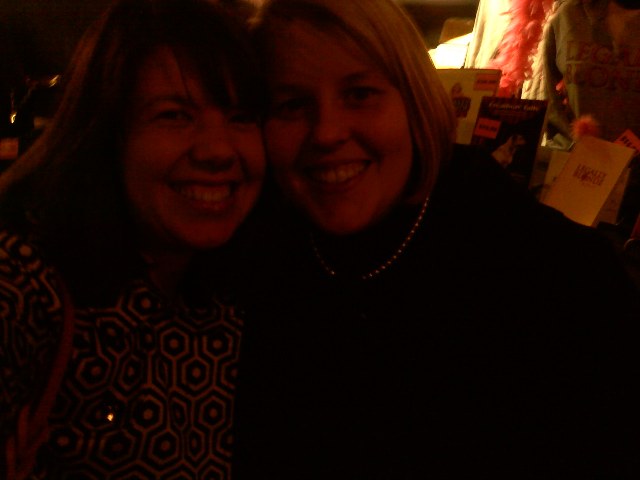 Me and Kallie in the lobby at the 5th!
If you feel comfortable using legal jargon in everyday life, then you probably know where I went on Tuesday night. Here were my clues from Tuesday's post:
1. Exercise gives you endorphins. Endorphins make you happy.
2. Wow! I feel so much better than before.
3. It's a completely brilliant plan!
4. Her husband bought her two tickets to a show and she was instructed to take a friend.
5. ME!
6. All those opposed to chafing, please say, "Aye."
7. What, like it's hard?
8. I wanted to slip on my pink plaid Running Skirt since it would've been the perfect color for where we were going.
9. Omigod. Omigod, you guys.
Alma F. (The Average Woman's Running Blog) is the winner! She guessed Legally Blonde The Musical first! Alma, e-mail me your mailing address: kerrie (at) sanitydepartment (dot) com so I can send you a prize!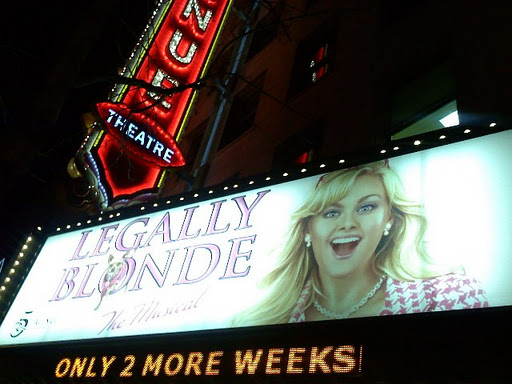 I loved the (first) movie and the musical version of Legally Blonde was fantastic. If you are in the Seattle area (or in any of the upcoming cities — here), get tickets and go see it! It was so fun and funny! The songs were hilarious!
I watched The Search for the Next Elle Woods on MTV in 2008 (you can watch it here), so I was really excited to see Rhiannon (one of the contestants) as Elle's ditzy friend Margot. Becky Gulsvig is the touring Elle and she is fantastic. The original Broadway Elle was Lauren Bell Bundy and MTV actually aired the musical  back when it first came out. Watch it here. In my opinion, Becky Gulsvig is a perfect Elle!
We were really close to the stage thanks to Kallie's husband, who got her the tickets (thank you, Dan!). Close enough that I could see everyone's amazing defined calves. I guess running around for 2.5 hours in heels will do that. After the show when we went outside to 5th Avenue, the memory of the Seattle Half came running up the street right at me and I couldn't help pointing out a couple spots where I stopped to take pictures.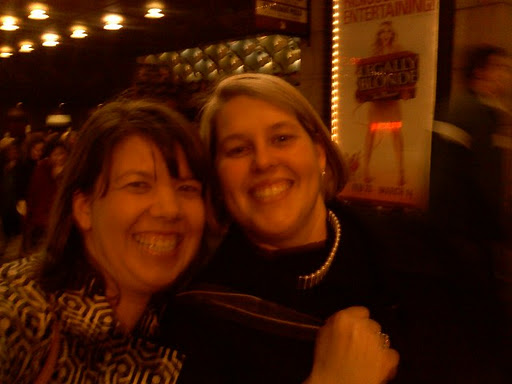 Me and Kallie outside on 5th Avenue on Tuesday night.
Runners on 5th Avenue for the Seattle Half, Nov. 29.
Another shot of 5th Avenue on Nov. 29.