Sweat dripped into my eyes, stinging my left one and causing it to close up involuntarily. Passersby secretly wondered how Grumpy Cat had taken the shape of a female trail runner—and why is she winking at me? As I shuffled over the dusty gravel, the smell of the dry weeds lining the trail made 88 degrees feel like 100.
That was my long run two weeks ago, and I ended my misery at 5 miles. My feet and legs were chewed up after less than an hour of running. I hung my head as I stepped into my air-conditioned home. I wanted to take my Cascadias and burn them.
How was I going to manage 15 miles the next weekend?
That next weekend was this last Sunday. And I got tears in my eyes on the trail again. But not for the same reason.
I finished 15.25 miles on Sunday. It was my longest run since 2011. And I was so proud of myself I cried right on the trail at mile 14. But it wasn't necessarily the act of running that I was proud of.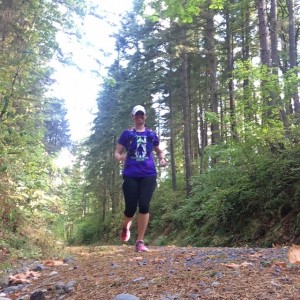 It was my perseverance. My willingness to put myself out there again even though the previous week had been torture. And my attitude about it all.
Of course, things didn't go exactly as I'd hoped they would prior to the run.
First, I'd ordered the Hoka Stinson Lites from 6pm.com last Monday, and I didn't realize they ship ground UPS. So then I just had to cross my fingers that they'd arrive, at least, by Saturday, which of course, they did not.
Second, it took an hour to get my gear together for Sunday's run, which became frustrating. (The clock was ticking between when I'd eaten, and when I needed to leave and get running. This always happens!)
However, I got over the shoe thing pretty quick because I didn't have a choice. So I just had to accept it. It took me forever to get my gear together because I'd purchased an Ultimate Direction Jenny pack and I've never used a hydration pack before. (I love it! More on it later.)
All the gear troubles aside, from my first step in my old Adrenalines on Sunday, I knew I was going to have a good run. I said to myself: This is going to be nice. This is going to be good.
I didn't do this on purpose. I'm not that forward-thinking. I just felt good.
But, about halfway into my run, I realized that just saying my run was good was a self-fulfilling prophecy. Am I having a nice run because I just feel great or because I keep telling myself I'm having a good run?
I think both.
After that, I made it a point to remind myself often about how good my run was going. Obviously, this became harder after a couple hours of running, but by then I was in the homestretch.
No, I didn't have my nice squishy shoes (the new Hokas arrived mid-run I learned in a text from my husband). And yes, my feet felt like they'd been whacked repeatedly with a meat tenderizer after 10 miles, and my knees and hips acted like they were 90 years old. But I AM HAVING A GOOD RUN. THIS IS NICE. I AM REALLY DOING THIS.
Don't underestimate the importance of a good attitude on your long run. I 100 percent believe this is why my run went well.
Okay, you can stop reading here.
If you like to read details about long runs, then go ahead and keep reading:
I wore my Brooks Adrenalines, a pair of Lululemon capris, and my Rainier to Ruston short-sleeve shirt. I also wore my Run Happy Brooks hat (I always have a better run in a hat).
I purchased the Ultimate Direction Jenny pack (Ultra Vesta) and the UltraSpire 2L bladder. Money well spent! I could take water, Nuun, pepper spray, chapstick, food, and I had a place for my phone. And I didn't have to hold anything! I could never do all that with a fuel belt. (I'm so over fuel belts.)
I didn't really think I would need so much water and Nuun, but I wanted to try out the pack, so I filled the bladder up half way with water. And I put Nuun in the two front water bottles.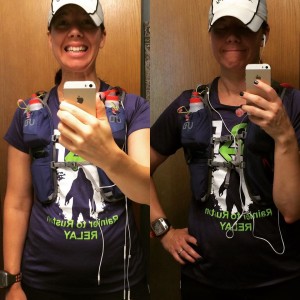 For food, I took two Snyder's Hanover hard, salty pretzels to eat at 5 miles and again at 10 miles. I checked and each one had 250mg of sodium. Plus, the Nuun has sodium. (I'm freaked out about overhydrating and dying from hyponatremia.)
My hydration worked out as it was pretty warm and I ended up running in the sun for much longer than I'd expected. (Also, so glad I had the chapstick!)
The first 8 miles were really, really good. I actually thought: Hmmm. Maybe I could do an ultra. Maybe I overreacted before. (That changed by miles 14-15.)
I ran on my usual trail across the street from my house, which is dusty and gravelly. But it has a lot of trees and is cooler…and one part of the trail is near a donut shop. I kid you not, I almost stopped and got one.
At about 3 miles, it connects to the Cedar River Trail. This trail parallels a highway. Trees are scarce, it's loud and it is paved, so there are many cyclists.
I purposely ran a long out and back, so that I would not have to run past my house multiple times or anything that would tempt me to be stop and be done. (I did a little out and back at the beginning going in the other direction that totaled just over a half mile, so I ran to 8 miles out in order to not have to do that little out and back again at the end because I knew I'd quit early if I had to do it again.)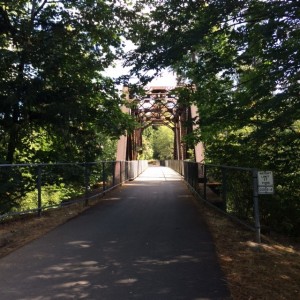 The sort of sucky thing about this out and back is that the trail is slightly downhill on the out and slightly uphill on the back. But, instead of being annoyed by that, I decided to think of it as a good training tool, since my marathon is an out back that is slightly uphill for the first half and slightly downhill for the second half. It'll be easier!
For two hours I listened to my favorite long run podcast: Talk Ultra. That really helped pass the time. Then, when the going got really tough (and my podcast was over), I put on a playlist full of Billy Joel and Elton John songs. (I started to cry during Rocket Man at mile 14 when I was almost done and could barely believe I ran 15 solo miles without talking myself out of it.)
I should mention that I have changed my training quite a bit since I started training. While I like the idea of Matt Fitzgerald's 80/20 training, it was mentally exhausting for me. I had to think about running too much and I felt too pressured to get in all the runs. Maybe if I didn't have a kiddo and a job, it'd be less stressful. Basically, it just didn't work for this time in my life.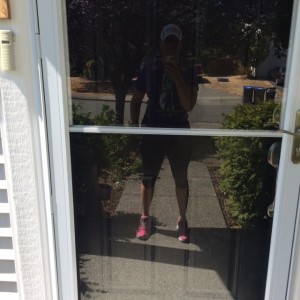 A few weeks ago, I went back to what I did for my first marathon (in 2011), which is the Jeff Galloway plan: two 30-minute runs during the week and a long run on the weekend. Boom. Done. Plus, I missed my strength circuits. I was able to get back to strength training last week doing the #20x20challenge with other JillFit fans. (You can see my check-ins on Instagram: @momvsmarathon.)
I am also using JG's run/walk method. For my long run Sunday, I ran 5 minutes and walked 1. That does two great things: it breaks things up mentally (especially important at the end!) and it helps your feet and legs hurt less.
I was sort of curious how the run/walk would affect my time, but I think I actually was able to do the run faster because of it. I mean an overall pace of 11:10? That's pretty good for me for that long of a run.
It took me 2 hours and 53 minutes, but I got it done. And with a smile on my face…well, at least for most of it.